posted: 7/2/23 | July 2, 2023
Planning a trip can be tedious. And I say that as someone who loves travel planning. Hunt cheap flights, find things to see and do, make travel plans, get visas, buy gear. The list goes on.
It takes a lot of time and energy to plan a trip — whether it's a two-week or two-month trip. Between reading guidebooks, travel blogs, and checking social media for tips, most people spend dozens of hours planning a trip.
Now, the company wants to simplify that process using the latest craze: AI.
With the advent of AI, there are now even more tools available to travelers to help them make the most of their trip.
The best tool I've ever seen is GuideGeek.
What is GuideGeek?
GuideGeek is a personal AI powered travel assistant created by The Matador Network – the leading travel and adventure publisher that has been around as long as I have.
They've built a state-of-the-art AI that combines OpenAI's ChatGPT technology, real-time travel info (i.e. live flight searches) and human curation from their in-house travel experts.
You can ask GuideGeek about anything:
Accommodation
Travel plans
Local customs & slang
Places to eat
Things to see & do
Safety Tips
Budget tips
And much more!
It's 100% free – just open it guidegeek.com and use the QR code to connect with GuideGeek via WhatsApp (runs via WhatsApp, so you don't need to download a separate app).
If you don't have WhatsApp, they plan on rolling out on Instagram, Facebook Messenger, and SMS soon (although since the world outside the United States uses WhatsApp, it's worth installing if you plan on spending any amount of time abroad).
GuideGeek provides tips and advice to help you decide where and when to go, plan itineraries, and get suggestions on what to see and do. Along with travel guides and/or travel blogs, it is a powerful tool that will streamline your travel planning.
But does it really work?
I want to test and see if it actually works. For starters, here's how it looks when you start using GuideGeek: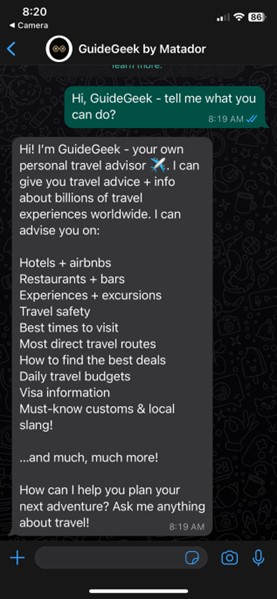 Now, since I recently moved back to NYC, I thought I'd ask for some suggestions to see how this works. I know NYC well so I wanted to see if it would provide BS or a real answer: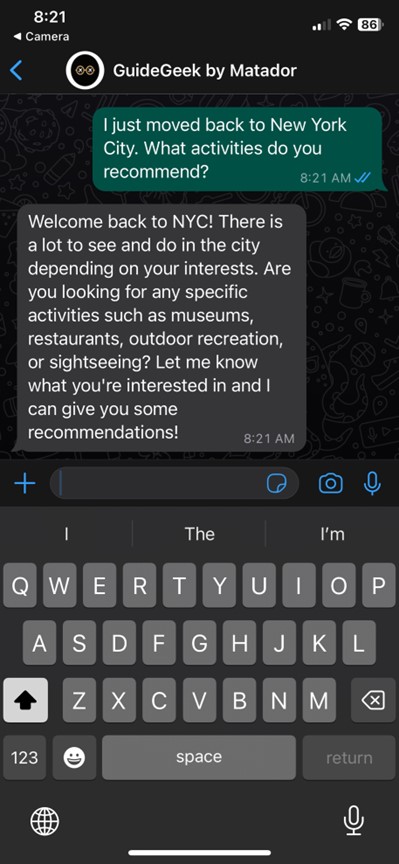 What's really interesting is that it doesn't just spit out general info. It asked me to be more specific so it could better adapt its suggestions to my travel style and interests: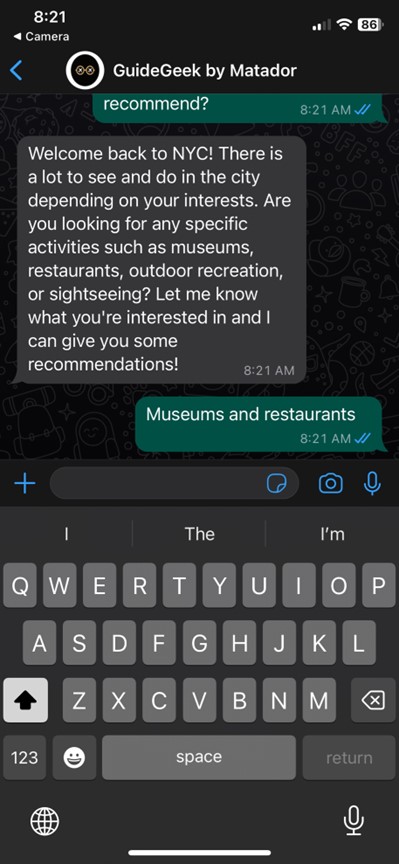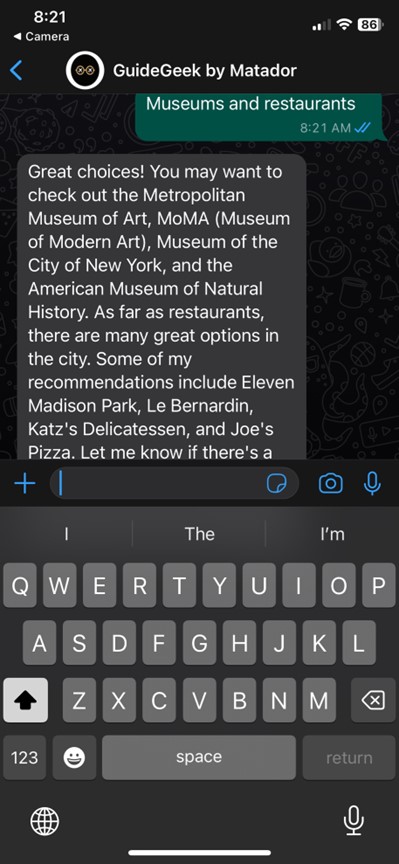 This is a good start, but let's get specific and ask about history-focused museums and sushi restaurants: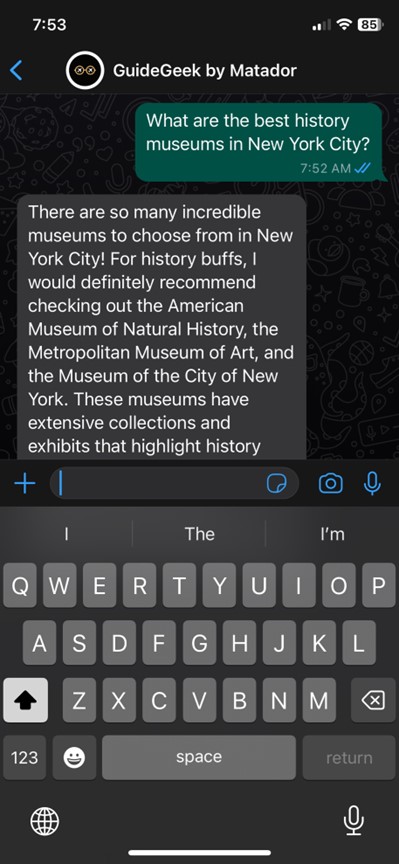 Besides museums, I also asked about some colonial historical sites (something I've read and researched myself):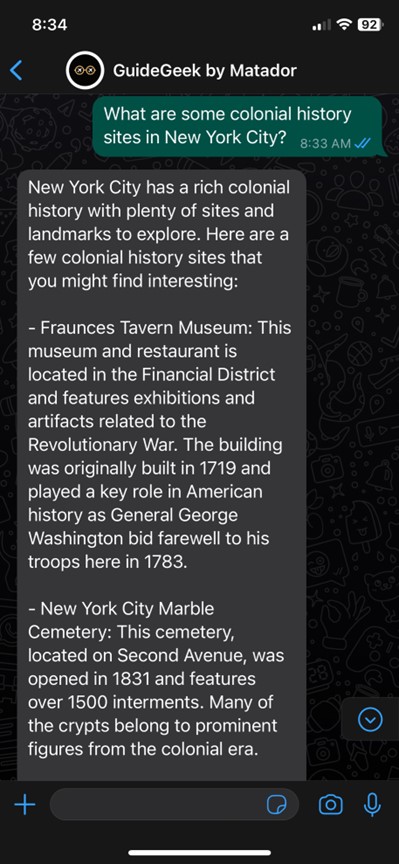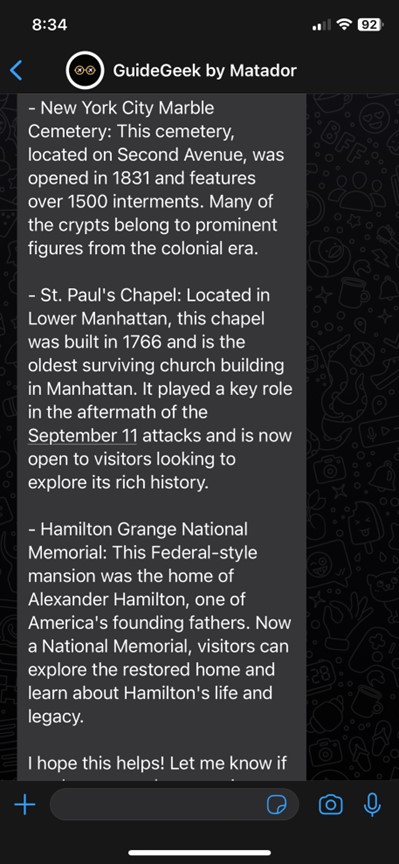 With our history covered, let's ask a question about food—sushi, specifically.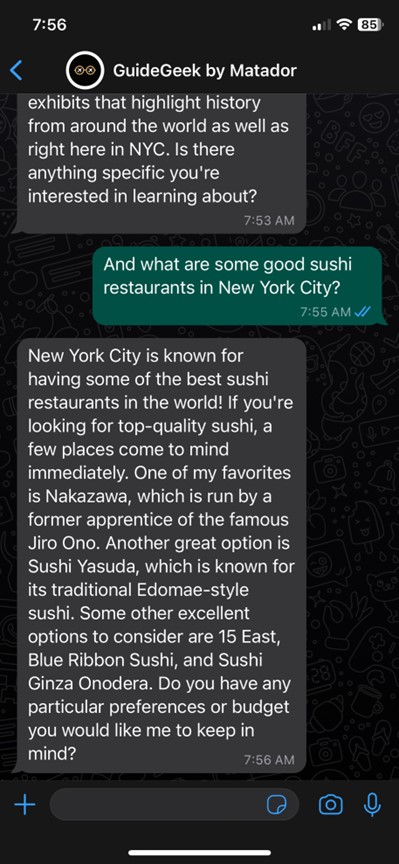 This is some high end sushi place and not very affordable. Let's see what we can find that are more budget-friendly: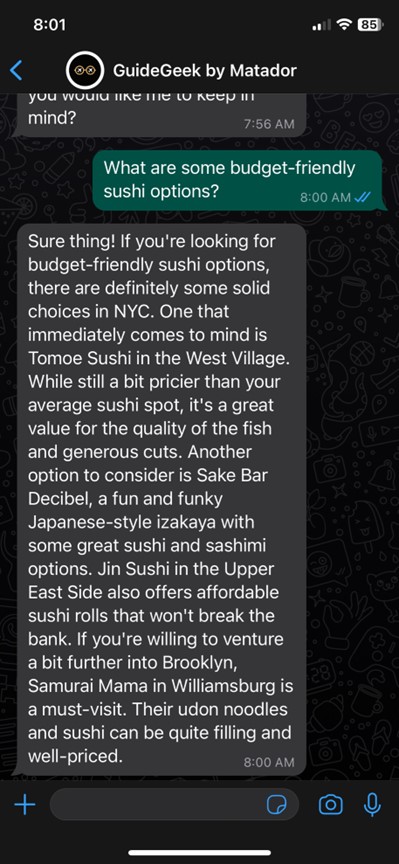 This is pretty solid advice, and definitely a great place for visitors to start. (To be fair, I'm a sushi snob, so I'm hard to impress!)
Fortunately, each response only takes seconds to receive and you can ask almost anything about things to see and do (and places to eat).
Travel Example
To see how helpful (and accurate) this tool can be, let's use it to plan a two-week trip from scratch.
First, let's assume you have some time off in October. Let's ask where we should go: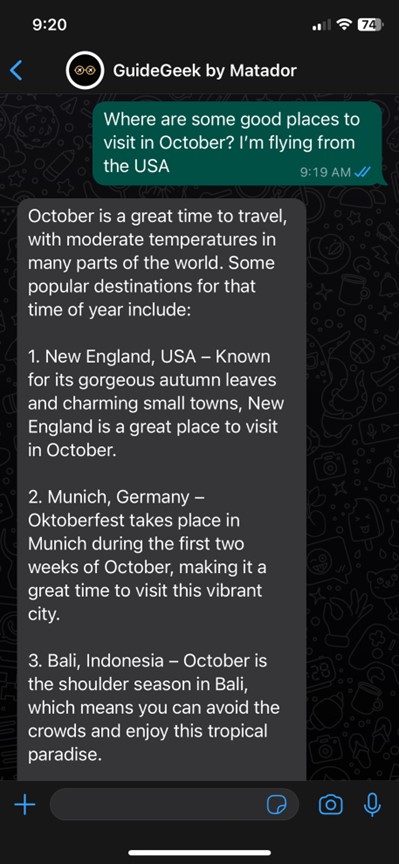 It suggests New England, Munich (for Oktoberfest), Bali, Japan, and Patagonia. All great suggestions and October is a great time to visit each of these places. Assuming we don't want to live in the US, let's continue with our planning: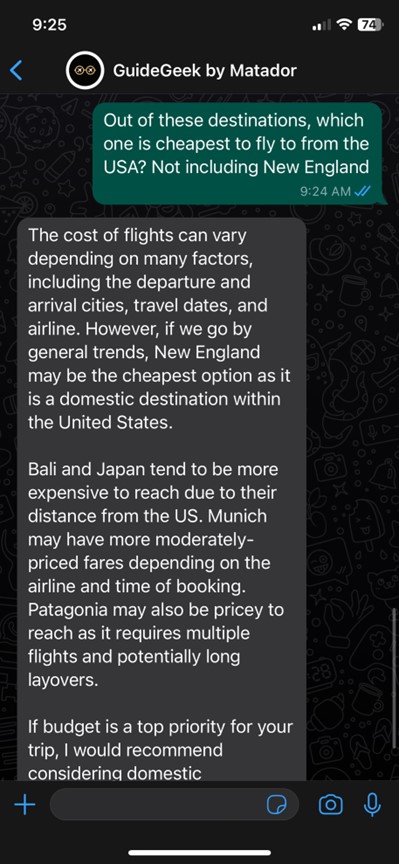 With that information in hand, let's narrow it down even further: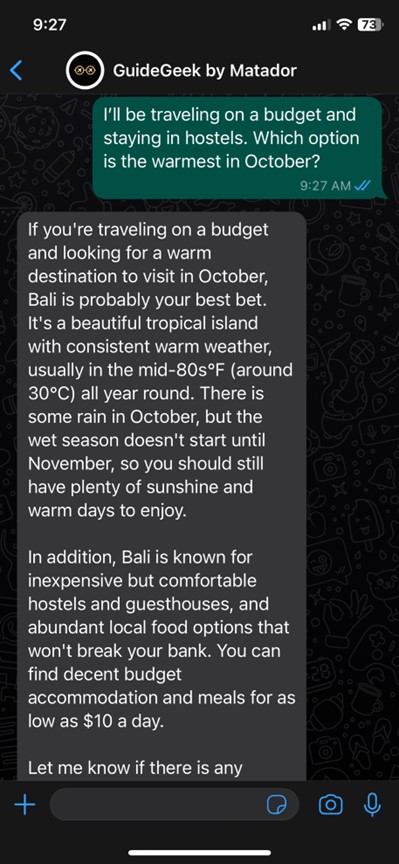 Bali it!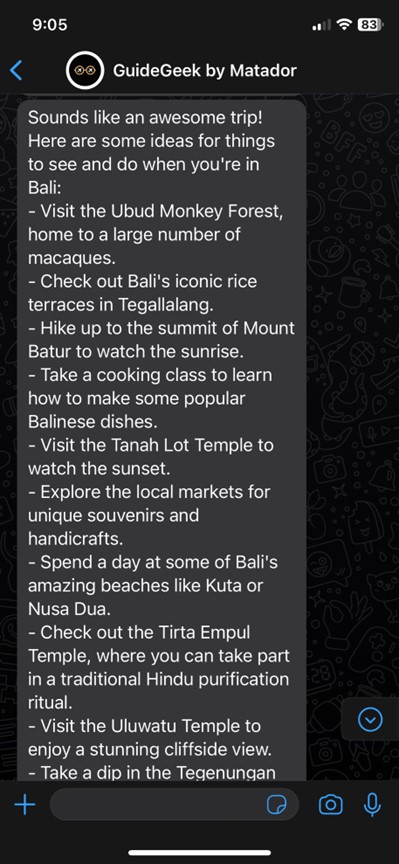 This screenshot shows about half of the advice GuideGeek offers, giving me lots of suggestions that I can then dive deeper through guides and blogs to learn more and see what I want to prioritize.
With my activity outlined, it was time to ask about housing: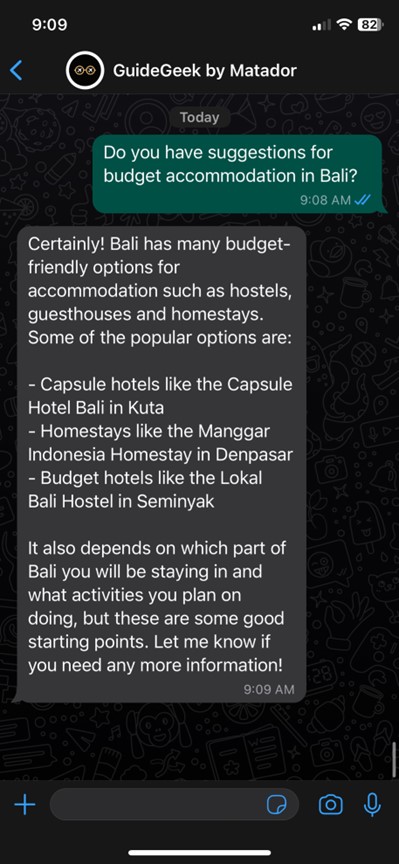 I can now take this suggestion and check it online through websites like Booking.com And Hostelworld to look at pictures and reviews and see what works best for my travel style and budget (it did send me clickable links, but not an hour or so after I submitted my inquiry).
Using this tool, I've found places to go, things to see and do, and accommodations — all with just a few quick questions sent to GuideGeek. It not only helped me narrow down my search but gave me some solid information I could use to dive deeper and place my order, likely saving me a lot of time.
***
The travel industry is constantly changing. By embracing easy-to-use AI tools like GuideGeekYou can save hours of time while arming yourself with a reliable personal travel assistant that will ensure you get the most out of every trip.
Will it replace blogs, people and travel agents? No, not yet. Maybe in the future. But not now. But it adds another free, easy-to-use tool to your arsenal as you plan your trip.
Book Your Trip: Logistics Tips and Tricks
Book Your Flight
Find cheap flights using Skyscanner. This is my favorite search engine because it searches websites and airlines around the world so you always know there's no stone unturned.
Book Your Accommodation
You can book your hostel with Hostelworld. If you want to stay somewhere other than a hostel, go for it Booking.com because it consistently returns the cheapest rates for guest houses and hotels.
Don't Forget Travel Insurance
Travel insurance will protect you from illness, injury, theft and cancellation. It's comprehensive protection in case something goes wrong. I never travel without it as I've had to use it many times in the past. My favorite companies that offer the best service and value are:
Want Free Travel?
A travel credit card lets you earn points that can be redeemed for free flights and accommodations — all at no extra cost. Check out my guide to choosing the right card and my current favorites to get started and see the latest best deals.
Ready to Book Your Trip?
Check out my resource page for the best companies to work with when you're on the move. I list everything that I use when I travel. They are the best in class and you can't go wrong with them on your travels.