Good morning from Krung Thep Aphiwat Central Terminal Station. This weekend I set off again on one of my train trips to promote rail tourism in Thailand. I do two main destination trips per month with the good cooperation of the Tourism Authority of Thailand (TAT) who assist me with logistical support. I was on this trip with my friend Mike from Thailandee.com.
This journey consists of two parts. We first took the train to Nakhon Ratchasima. And then bus to Phimai to attend the light and sound show. Then the next morning we returned to Nakhon Ratchasima to take the same train but this time to the end of the line at Ubon Ratchathani. We then chartered a van there for a two day trip before catching the sleeper train back to Bangkok on Monday night.
Travel Date: 18-20 February 2023
Here are photos and notes I live-tweeted during the trip.
(2) We first took Special Express No.21 (thaitrainguide.com/timetables/no-…) to Nakhon Ratchasima. This four-hour journey costs 423 Baht. The price includes meals, snacks, coffee and water. Next we will take a side trip to Phimai and then return to the station tomorrow to go to Ubon.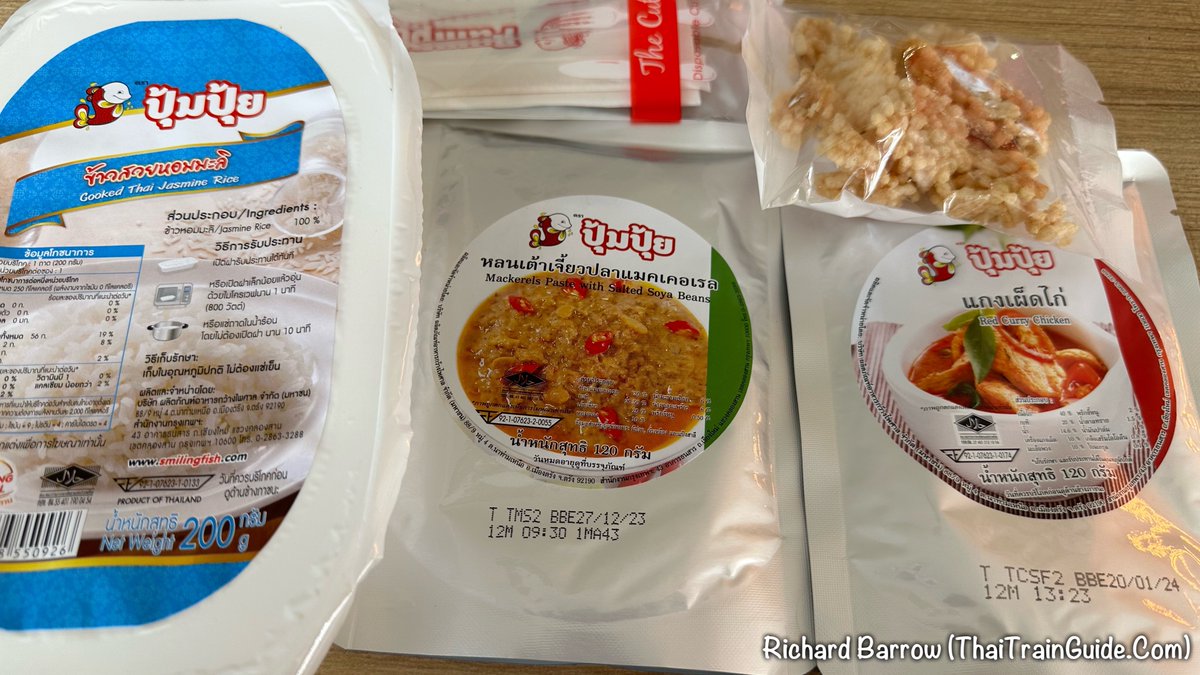 (3) We arrived at Nakhon Ratchasima Railway Station on time at 10:01 am. We then took a Tuk Tuk to the new bus terminal. It is 100 Baht. There are also motorbike taxis in front of the station for 60 Baht.
📍MAP: map.app.goo.gl/VtnrbEFX9R4vh4…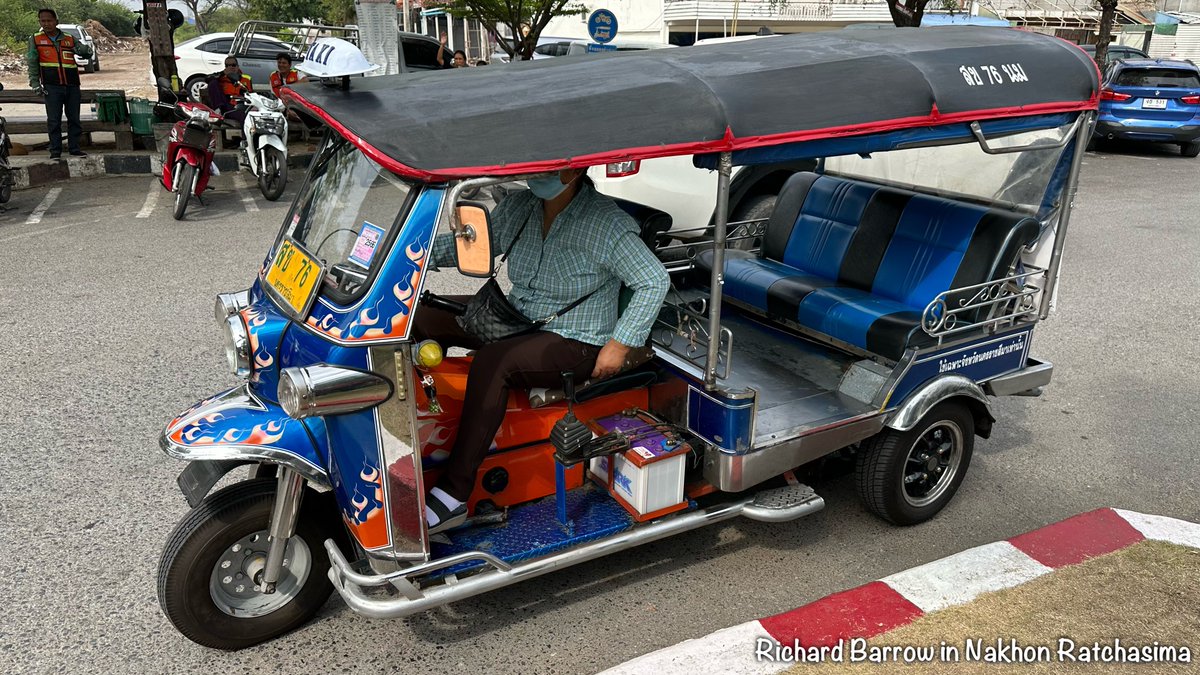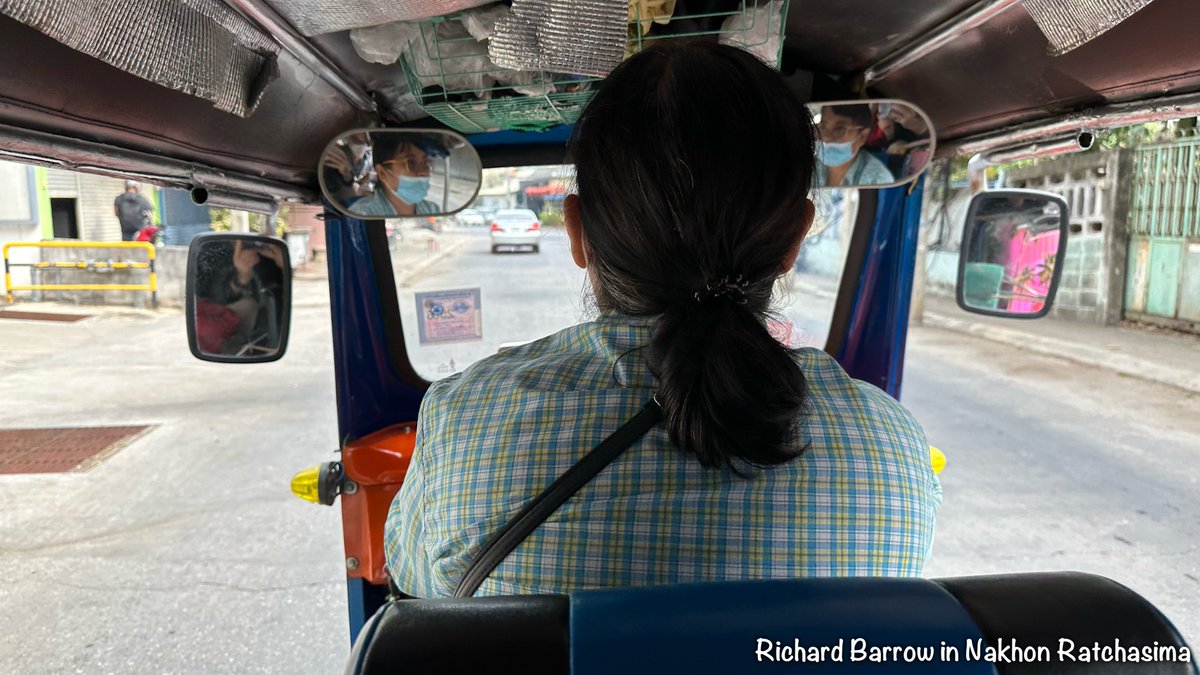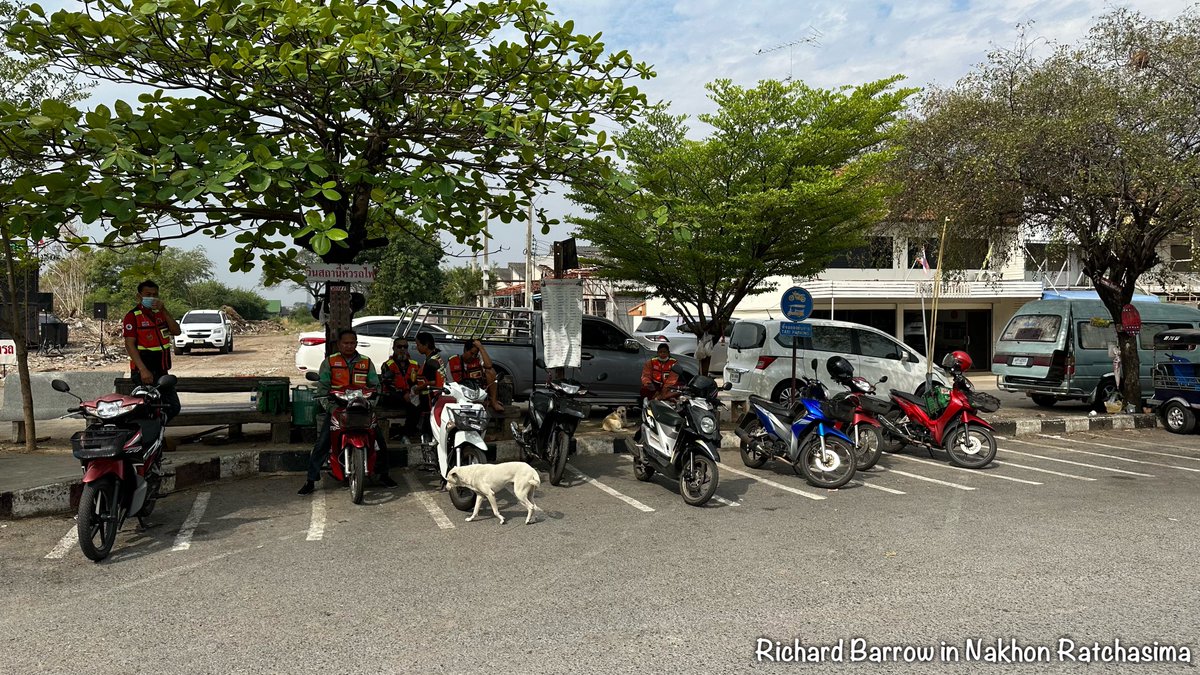 (4) The new bus terminal in Nakhon Ratchasima less than ten minutes from the train station. The bus to Phimai costs 59 Baht. The next bus was scheduled to leave at 11:30 so we had an hour to wait.
This is the Facebook of the company: facebook.com/profile.php?id…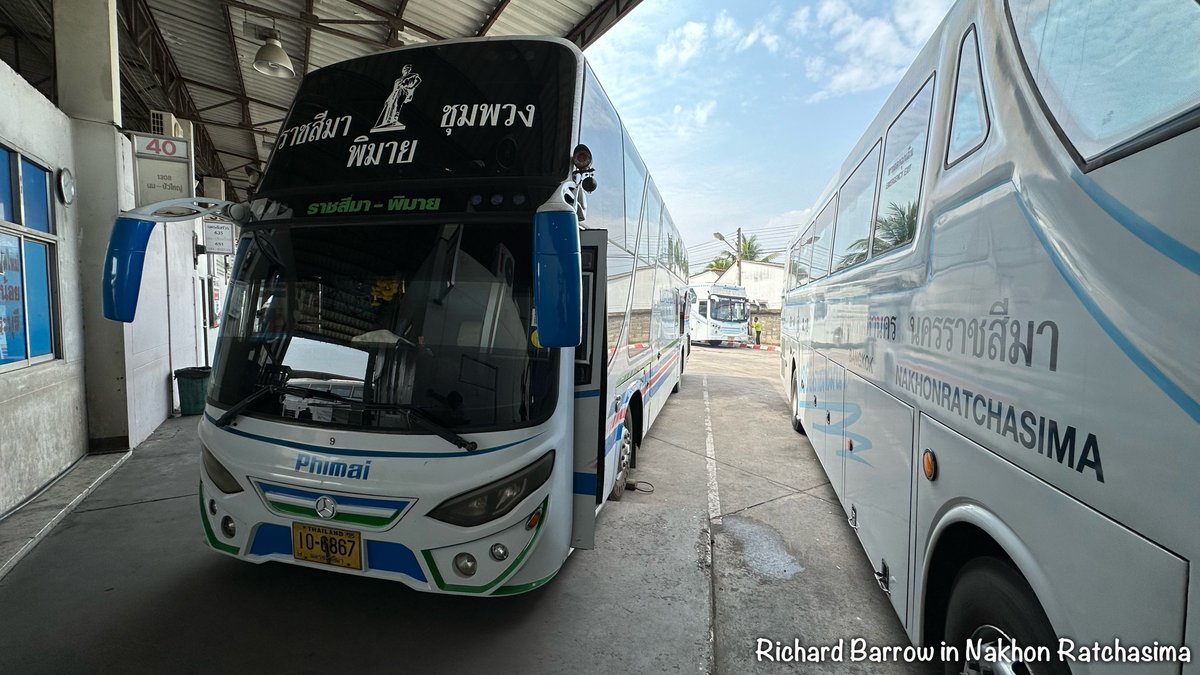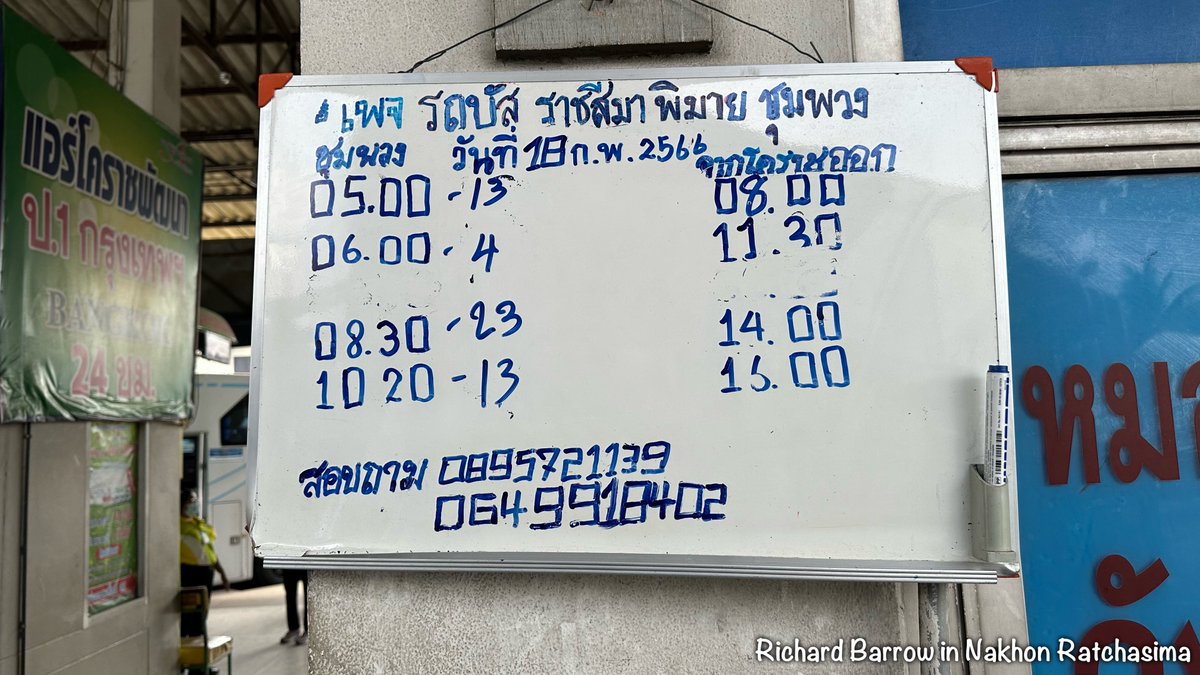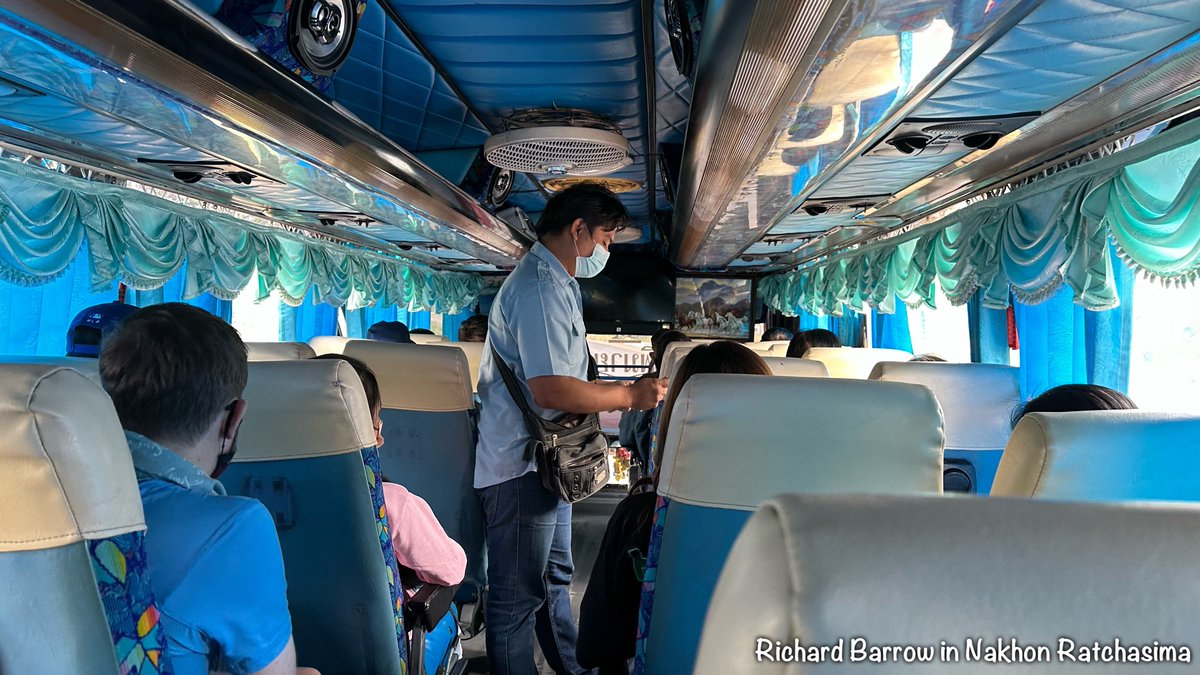 (5) Buses to Phimai only takes 90 minutes. He dropped us near the entrance to the historical park in the city. Then a few minutes walk to our hotel, Phimai Paradise Hotel. Only 550 Baht including breakfast.
📍MAP: map.app.goo.gl/y1M9srU2AEdQ9n…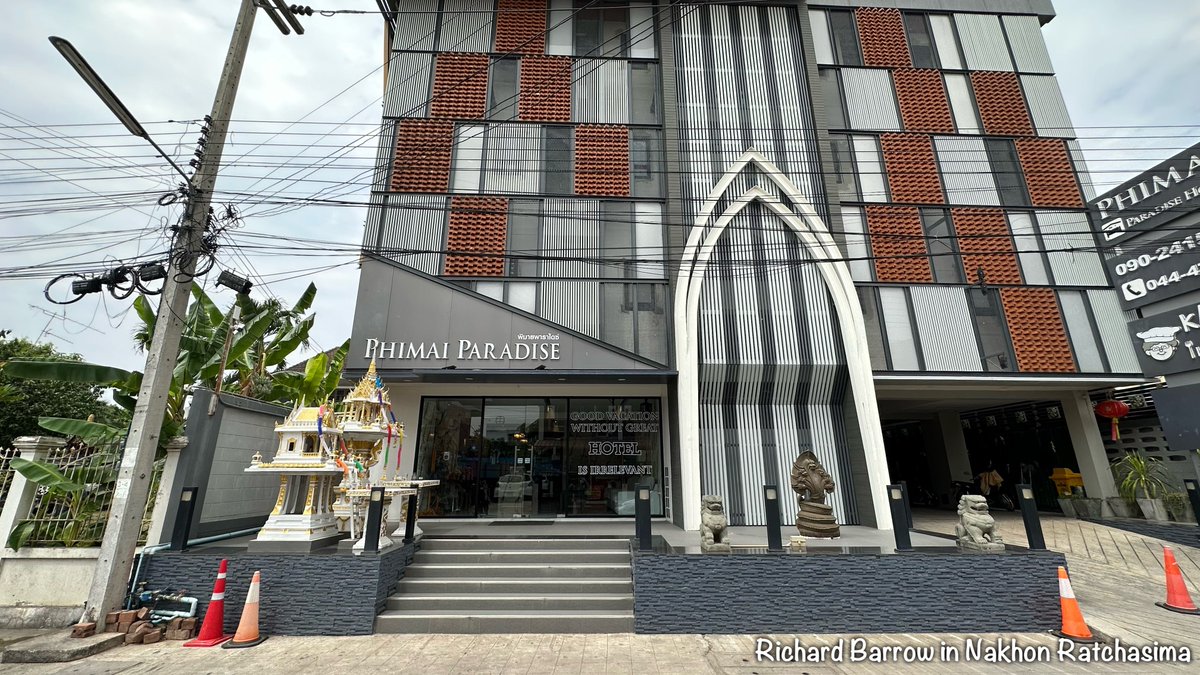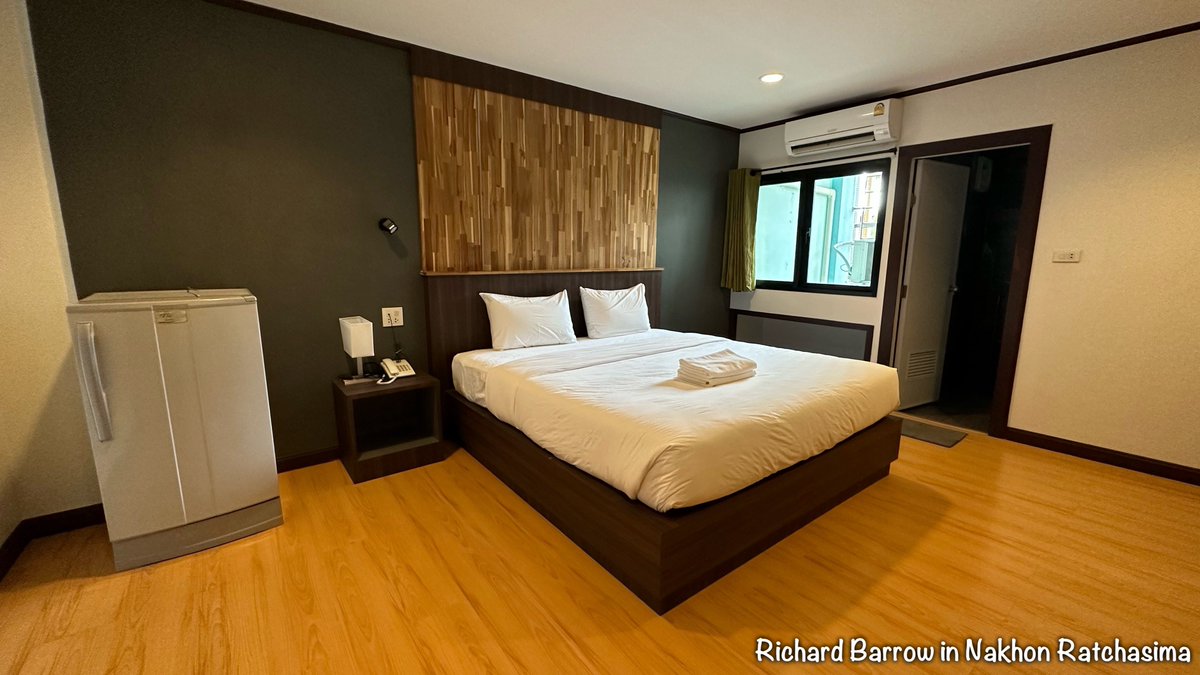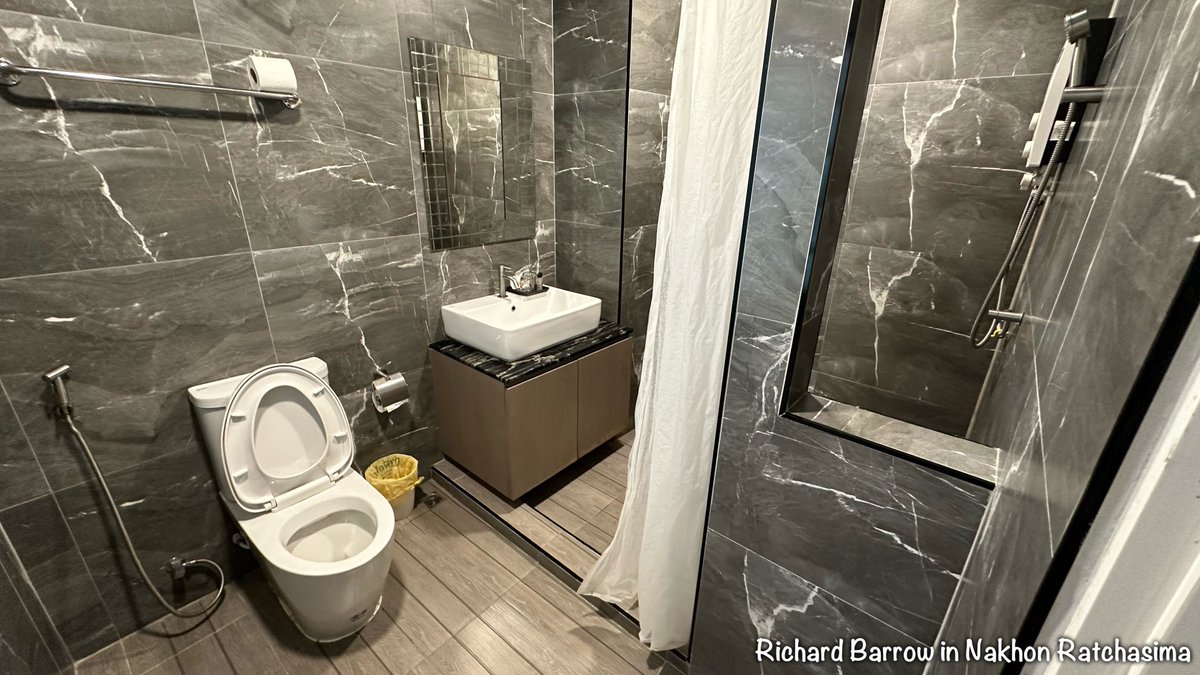 (6) A good place to start when exploring Phimai in Nakhon Ratchasima is Phimai National Museum. Bilingual exhibits and information boards give you a good introduction to the historical sites in the area. Entrance fee is 100 Baht.
📍MAP: map.app.goo.gl/Rd7B6wwNwq42n5…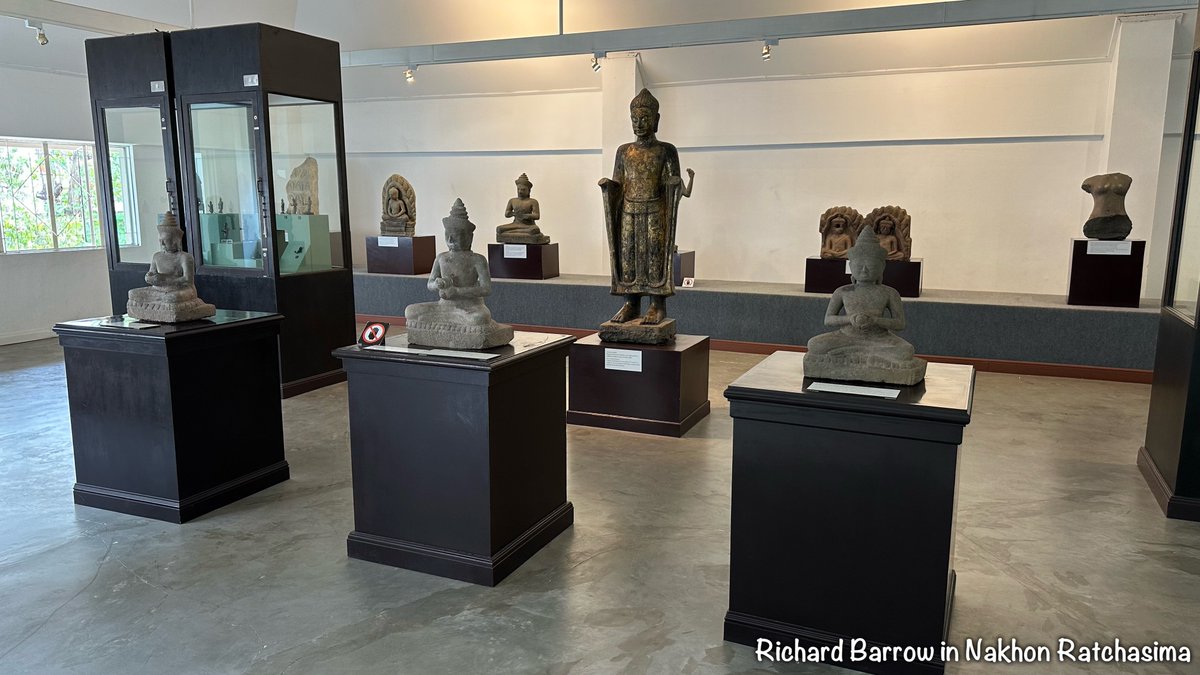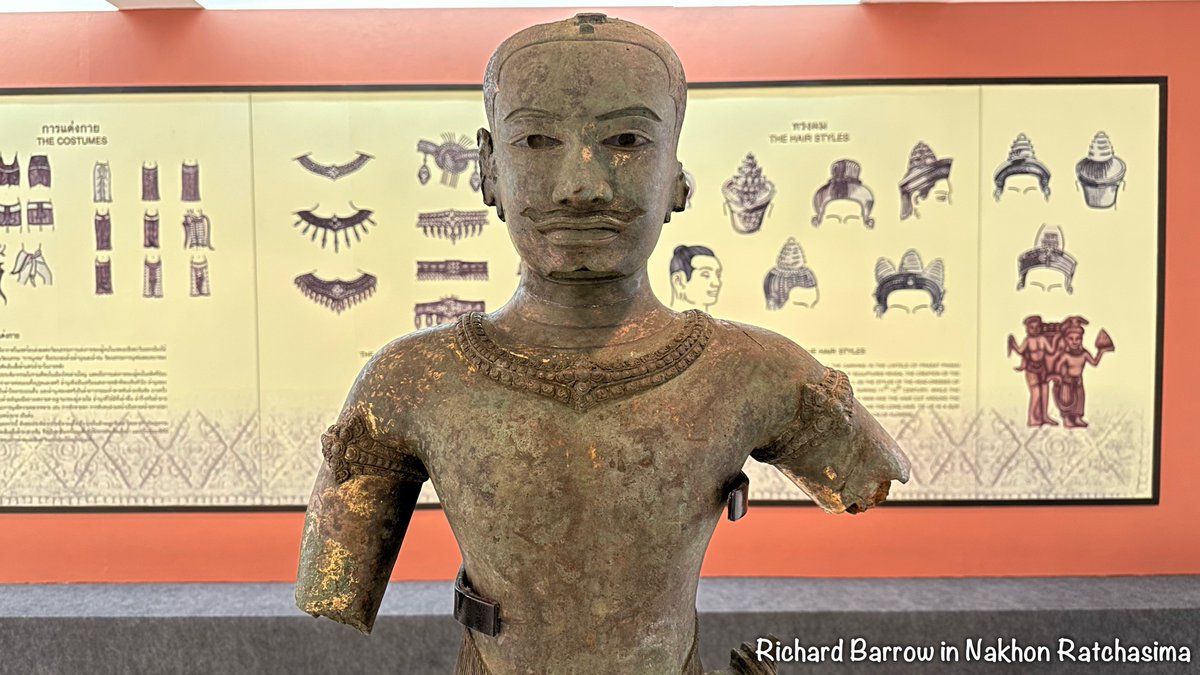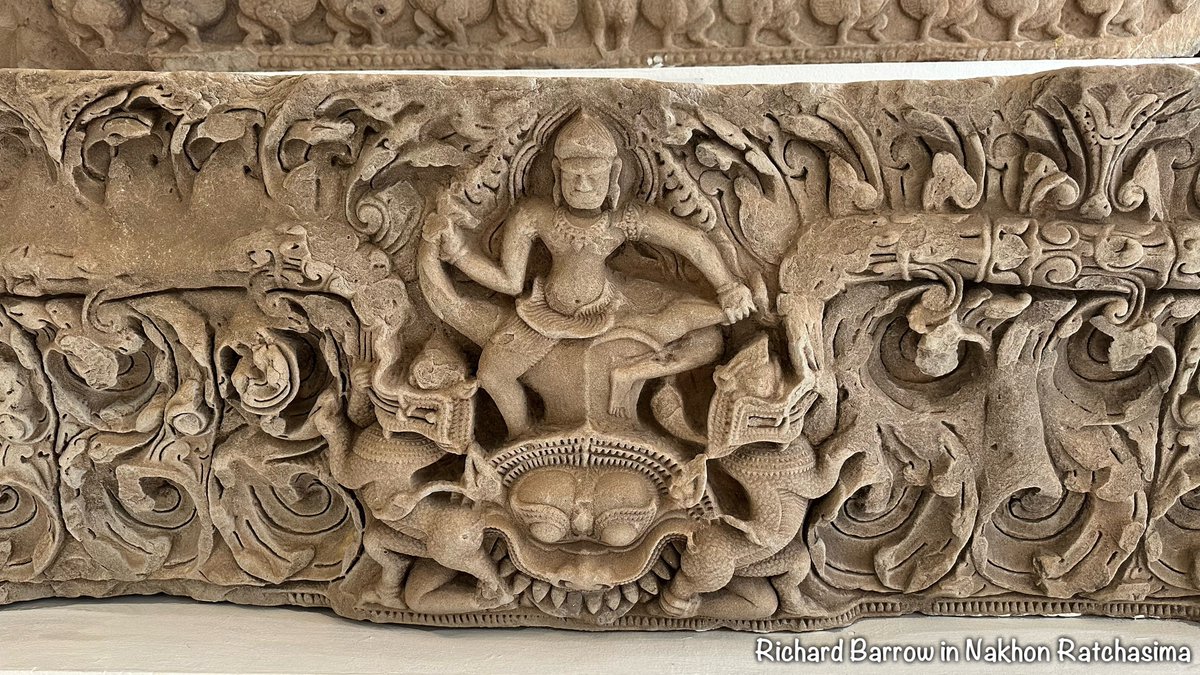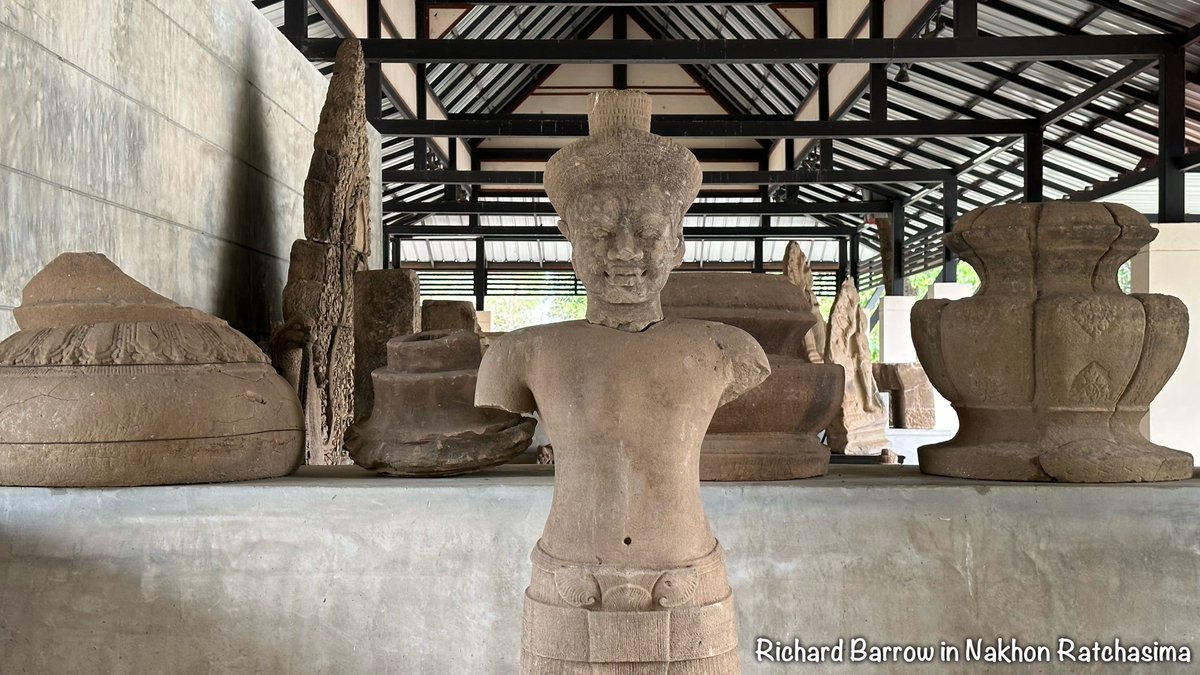 (7) The highlight of any visit to Phimai is without a doubt Prasat Hin Phimai one of the biggest Khmer temples in Thailand. It was an important city during the time of the Khmer Empire and is connected to Angkor by major highways.
📍MAP: map.app.goo.gl/J8Dx7MNa9nFcNB…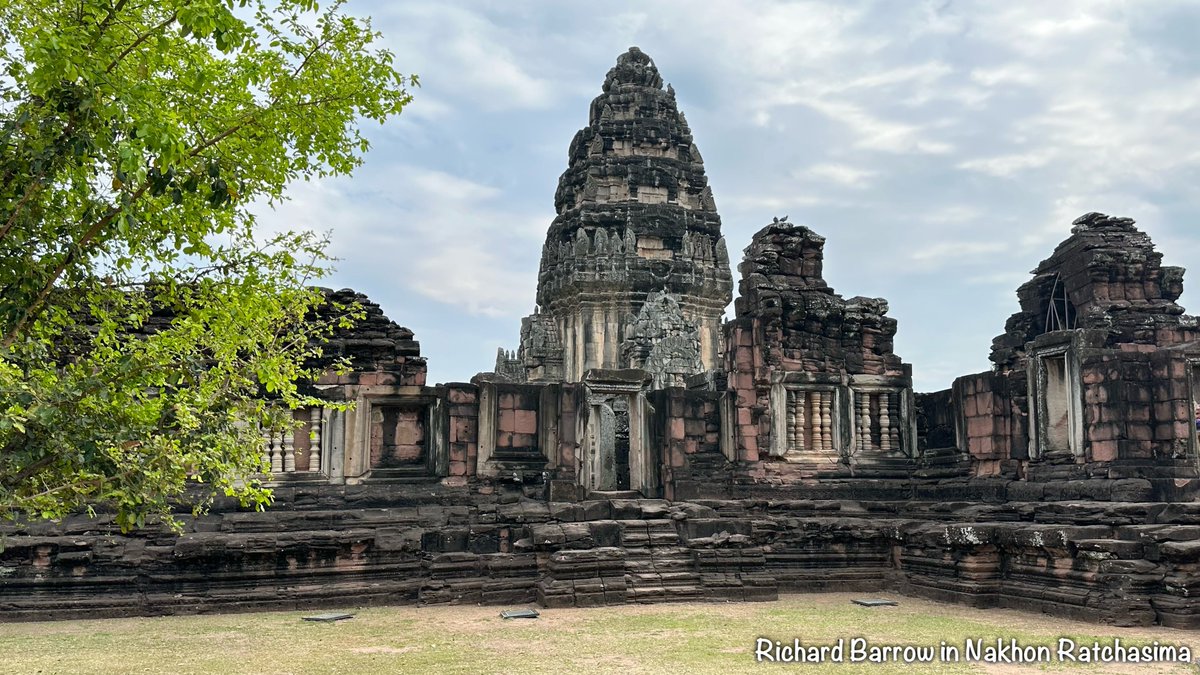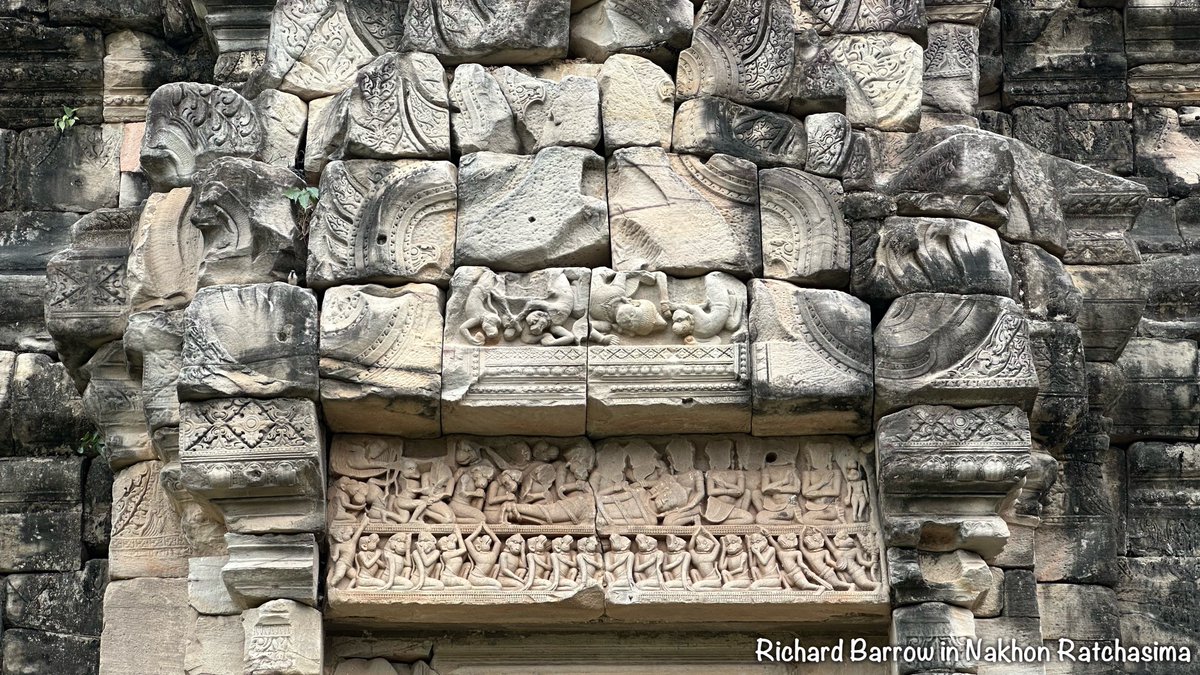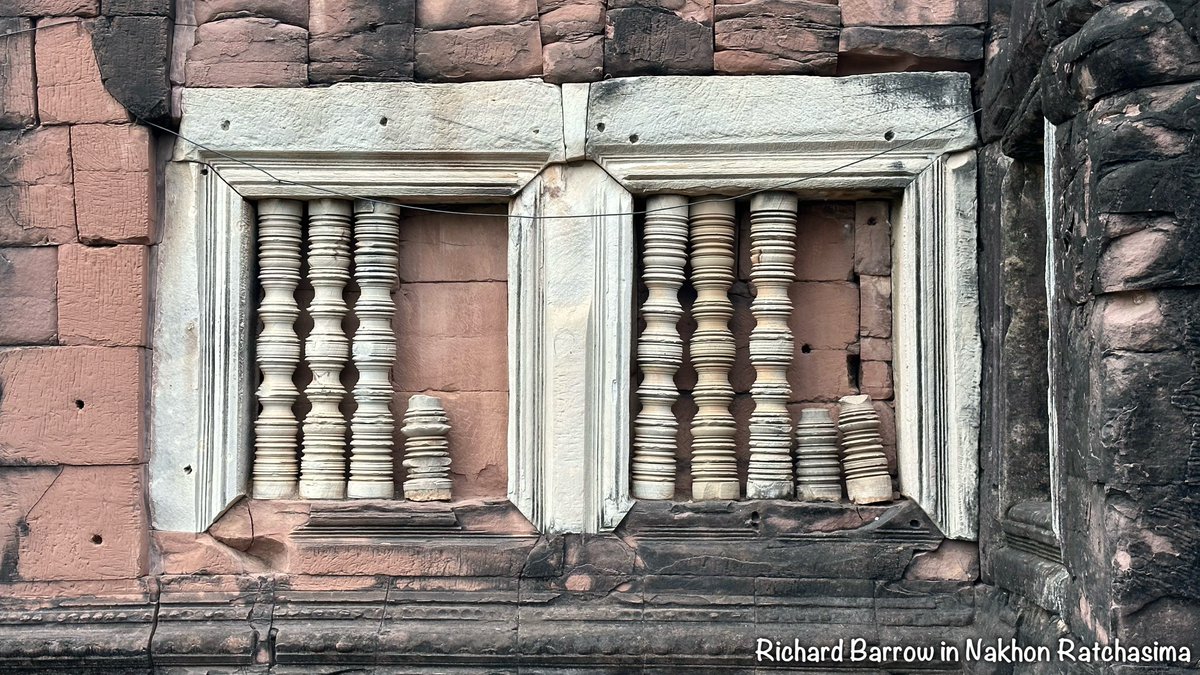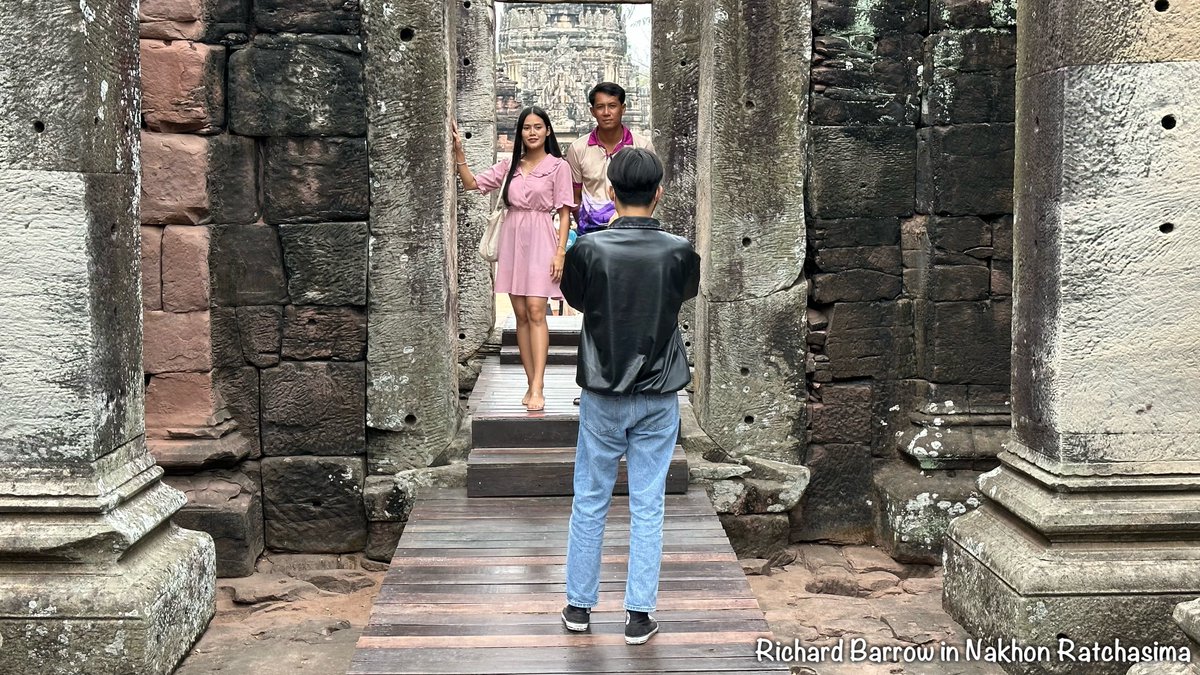 (8) In Sai Ngam in Phimai there is a very large banyan tree and a bunch of smaller ones joined together.
📍MAP: map.app.goo.gl/Rc2aUaY9g8Fayf…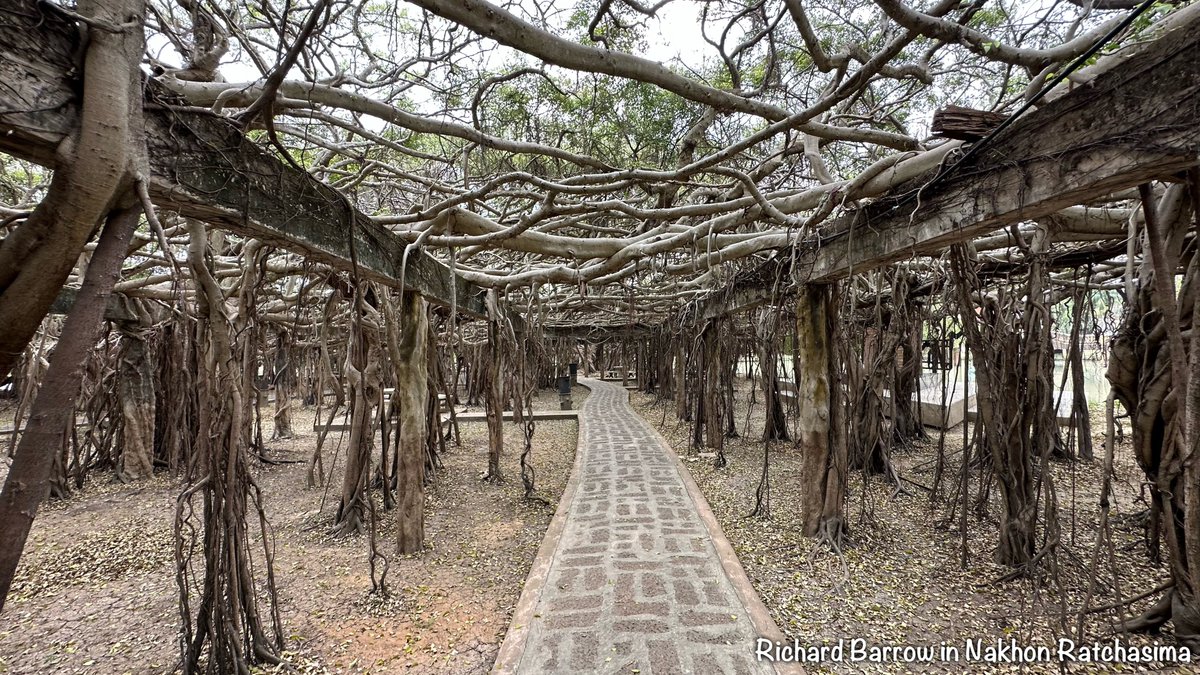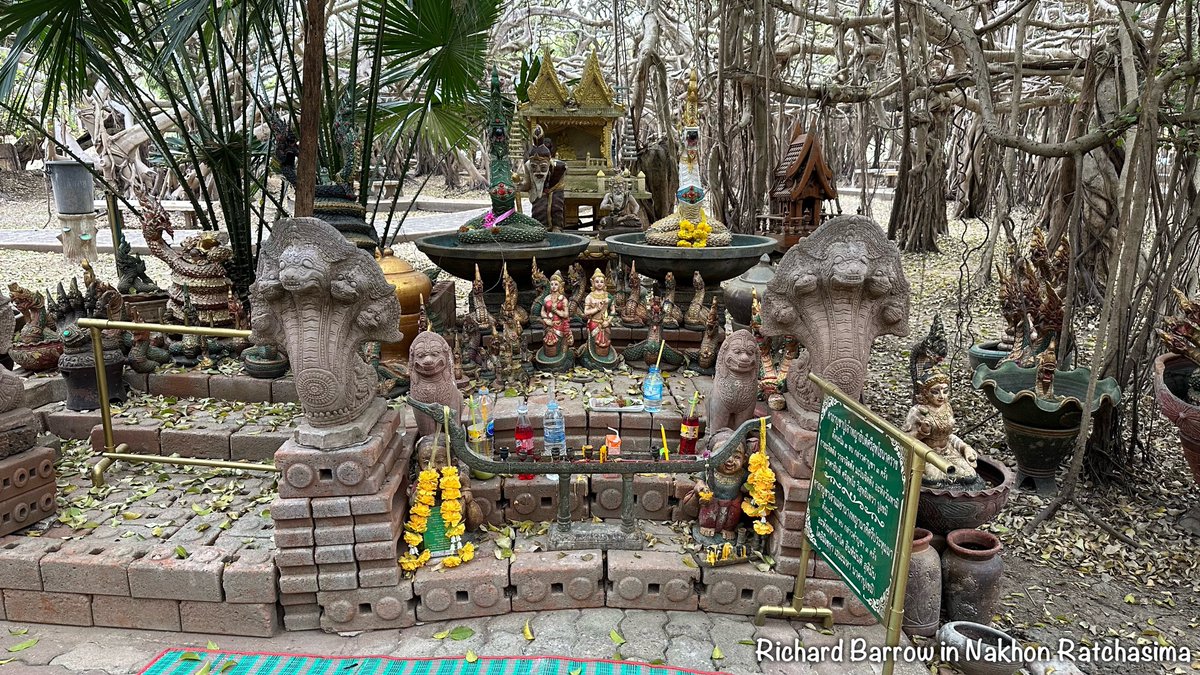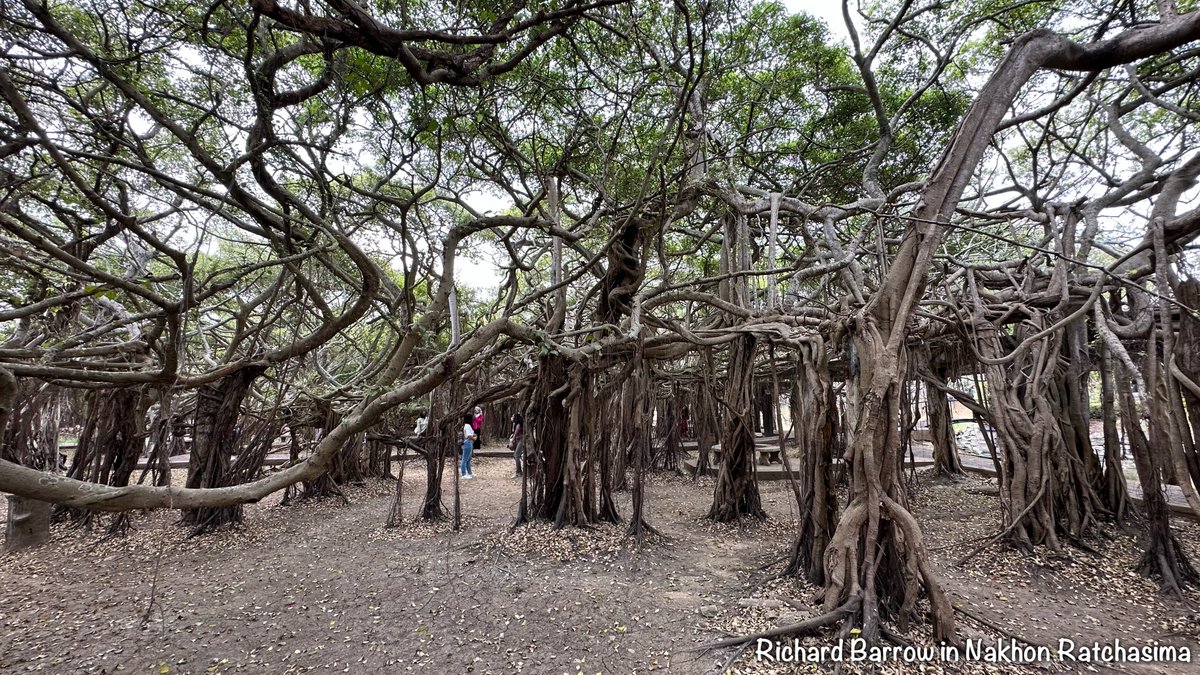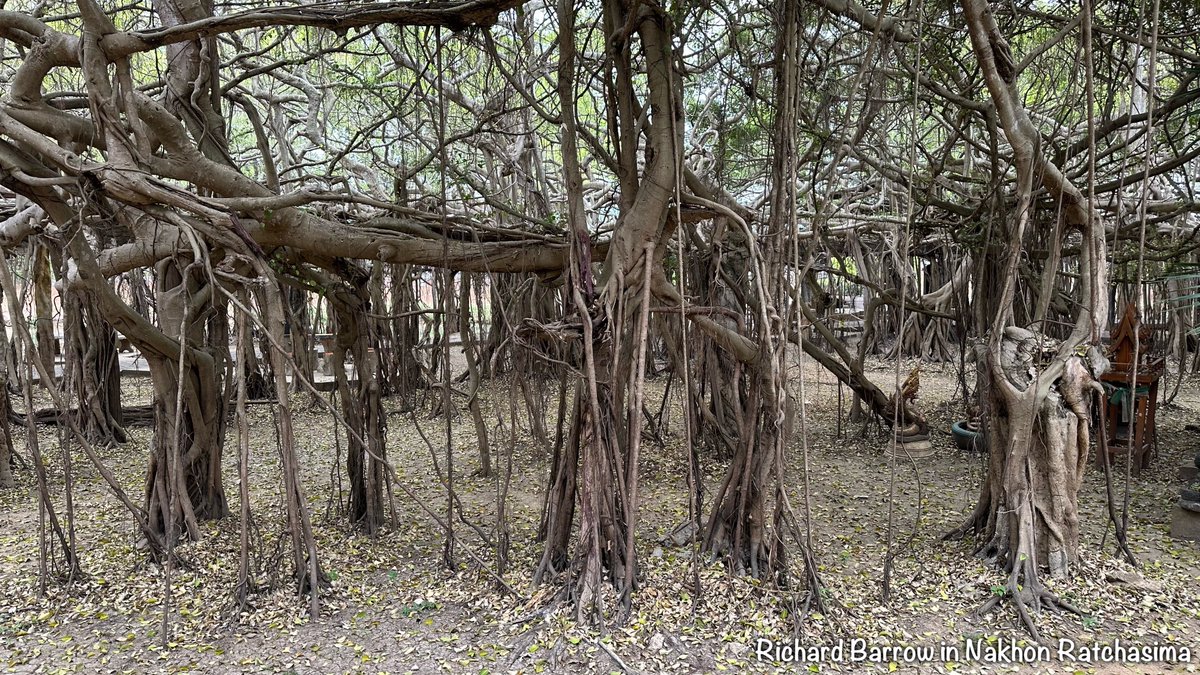 (9) You won't go hungry when you visit Phimai. In the afternoon or evening, I recommend visiting night food market by the clock tower. Many choices there.
📍MAP: map.app.goo.gl/XenyKw4g42UNua…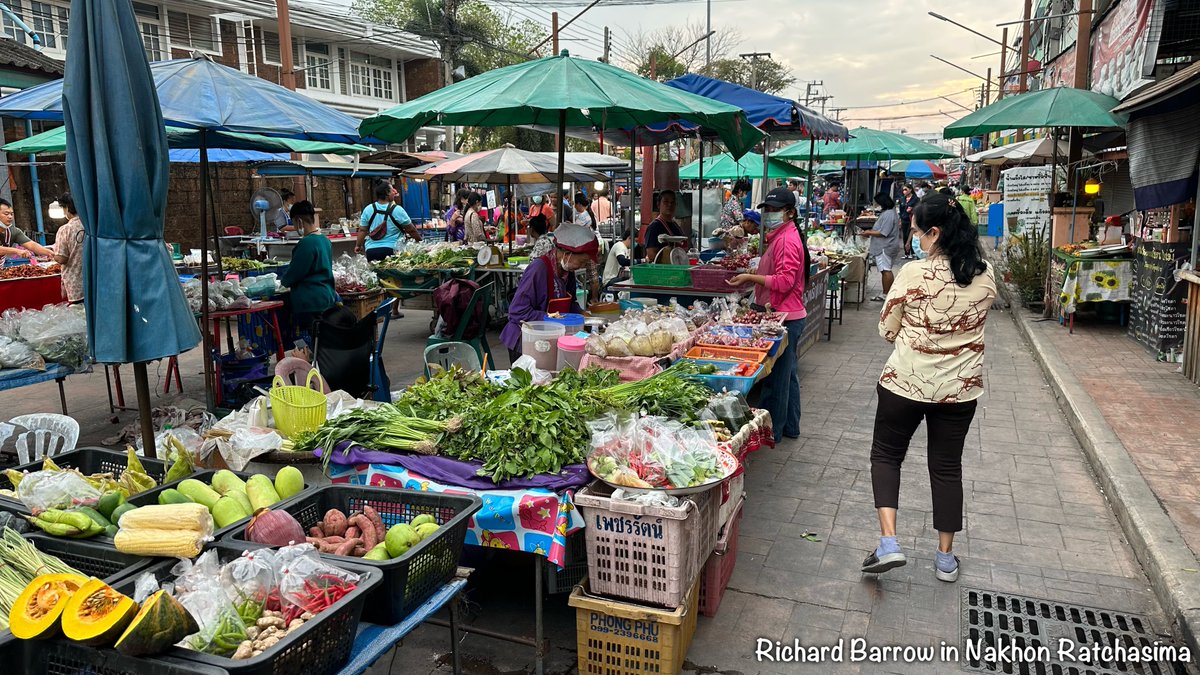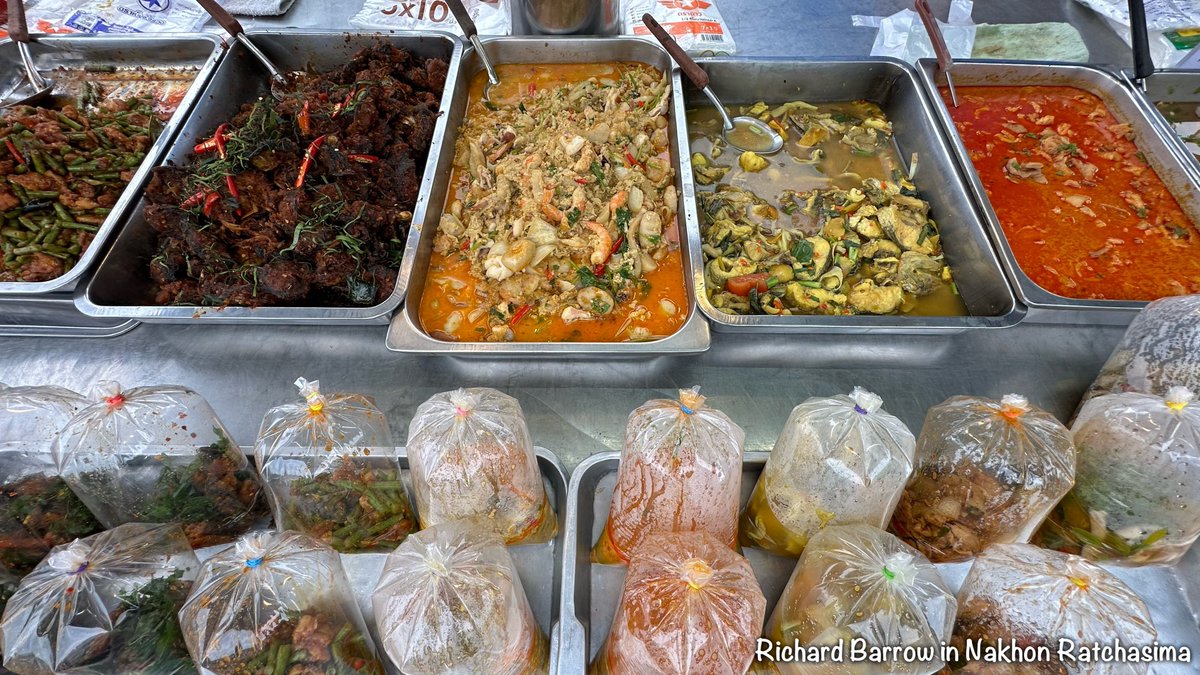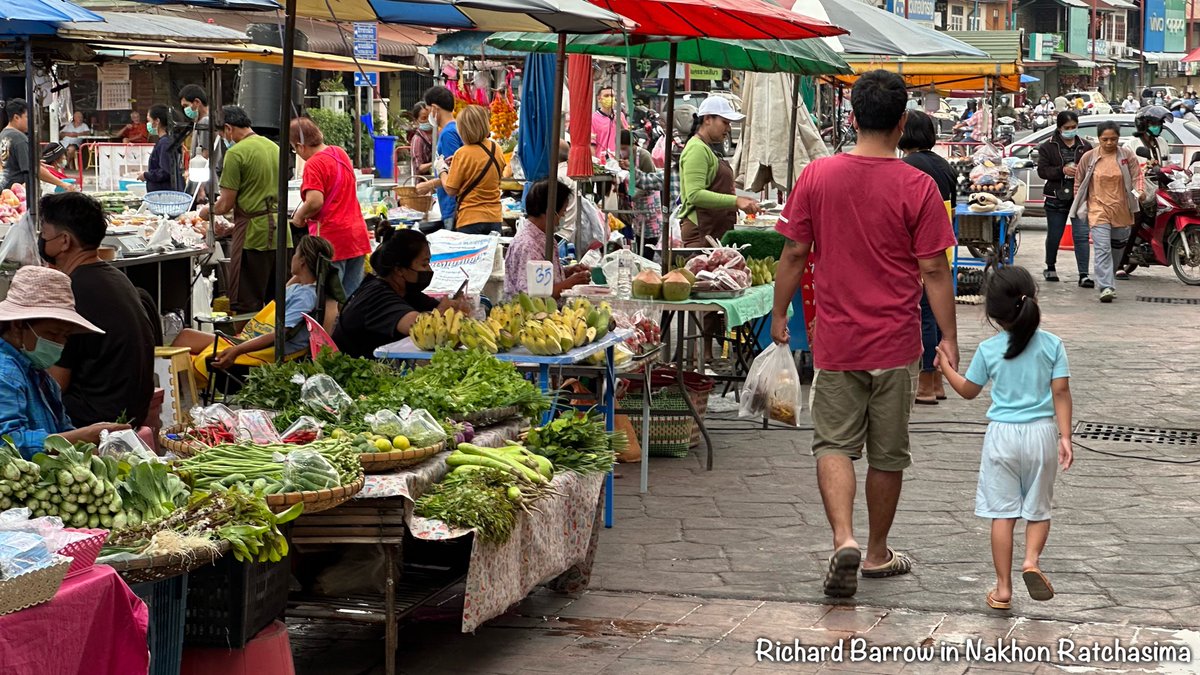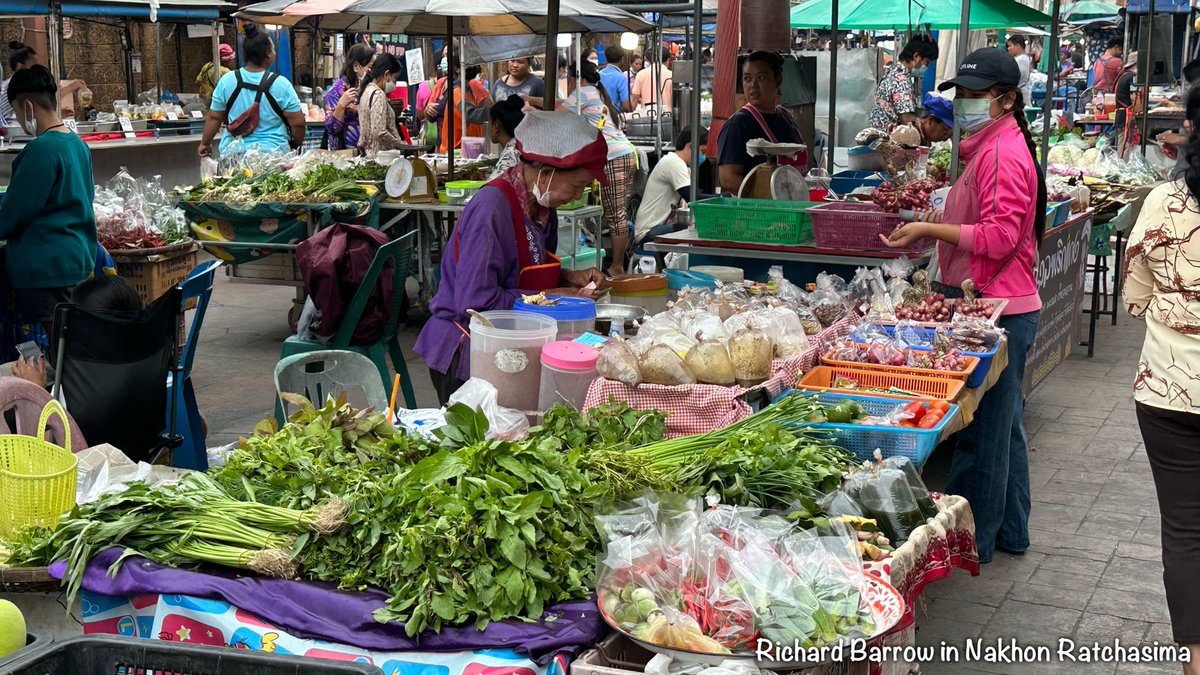 (10) Tonight I attended Mini Light and Sound Show at Prasat Hin Phimai Historical Park. During January and February every year they have two free events. It starts around 4pm when they start selling food and OTOP products in the park.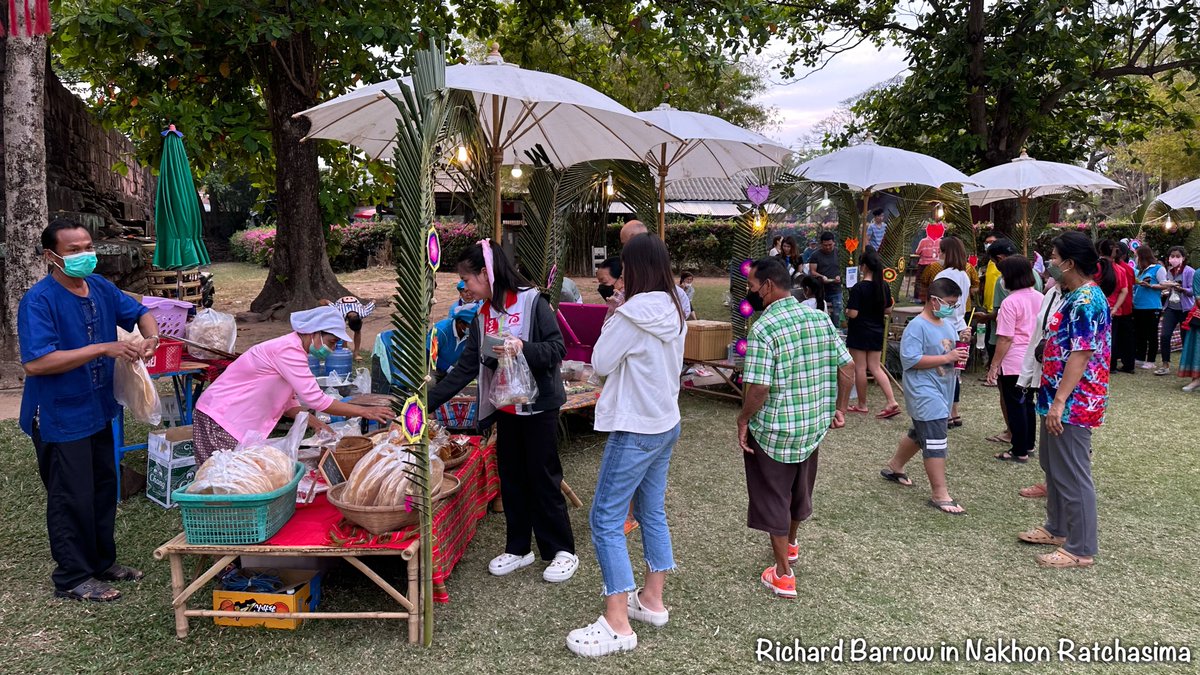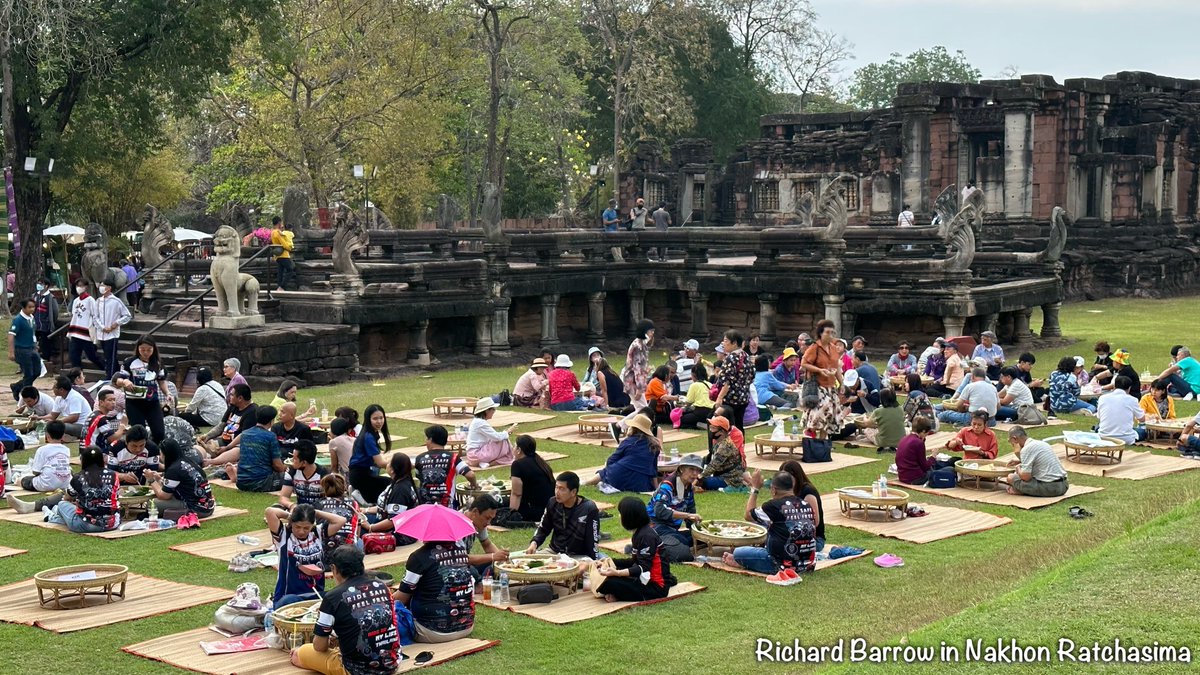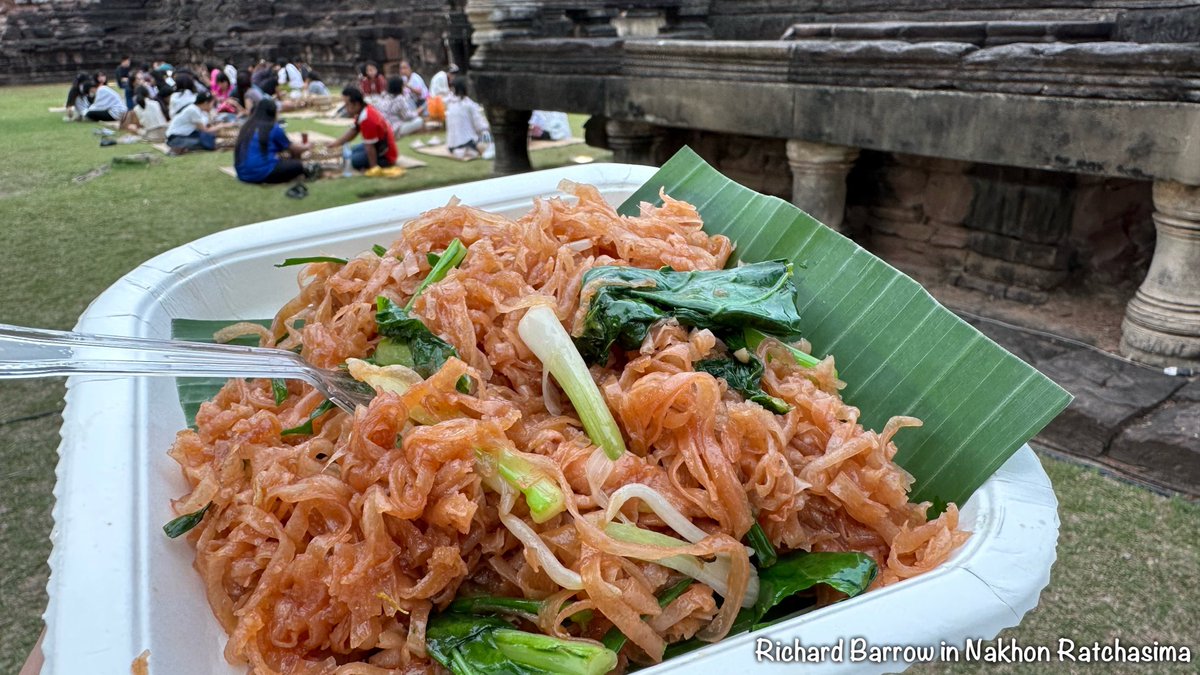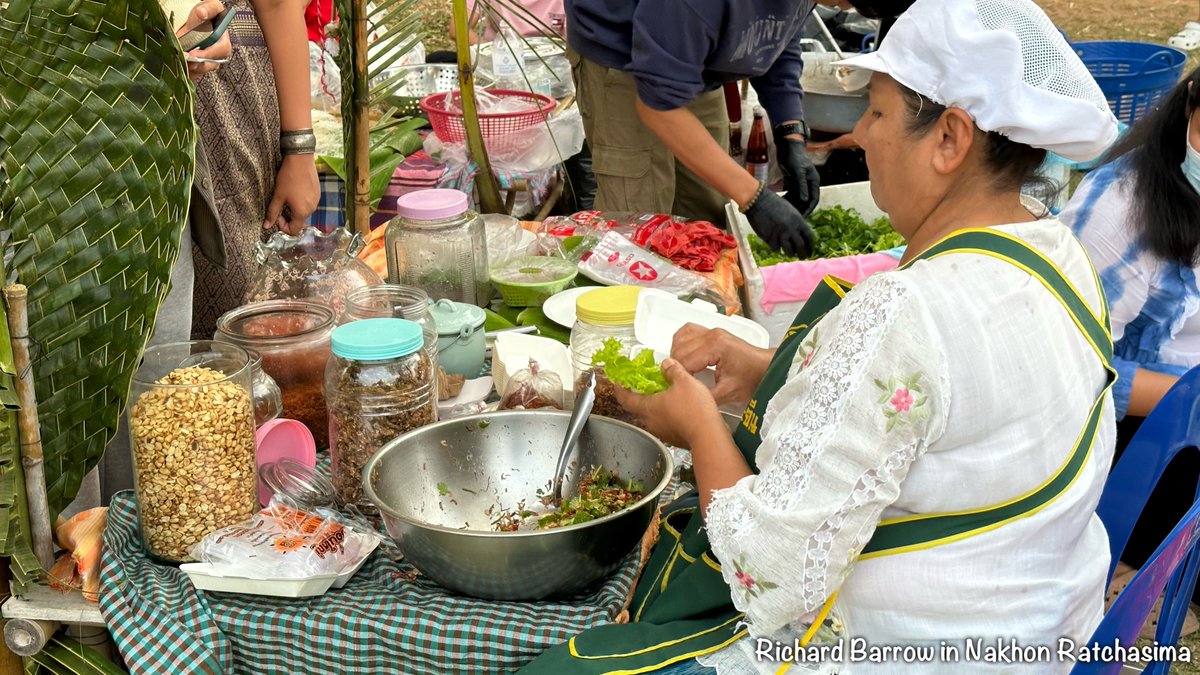 (11) The highlight is the Mini Light and Sound Show displayed in front Prasat Hin Phimai. The performers came from Phimaiwittaya School. Performance preparation is part of the curriculum. They did two mini shows in January and February and then a big show in November.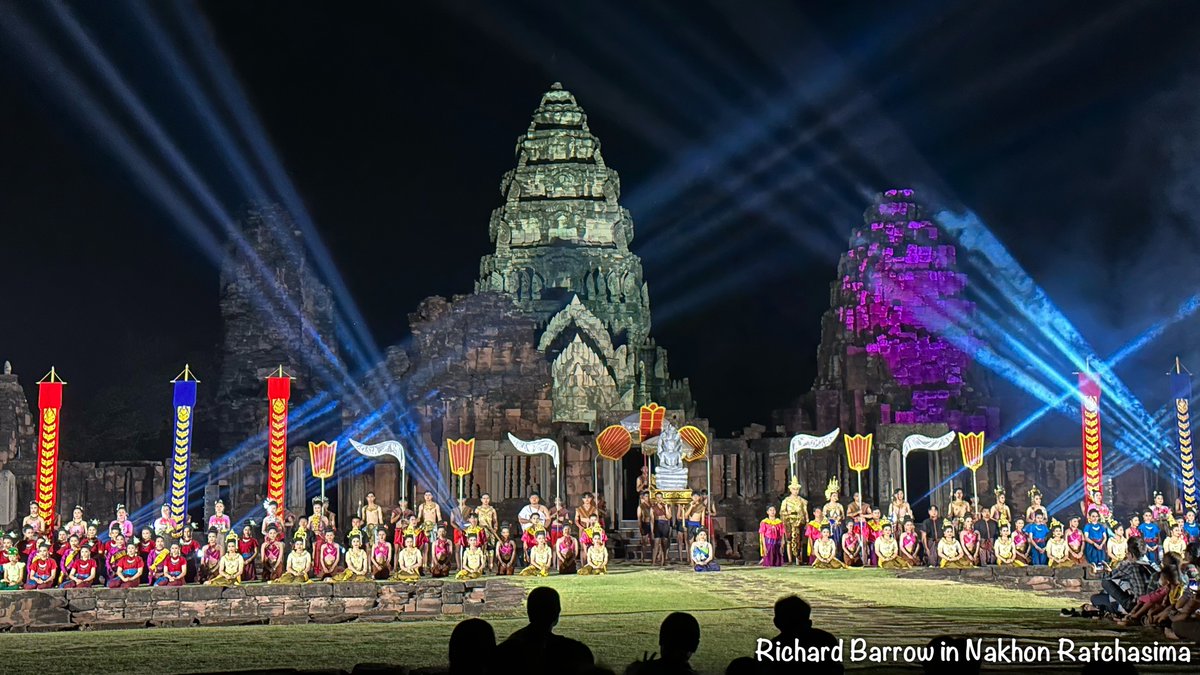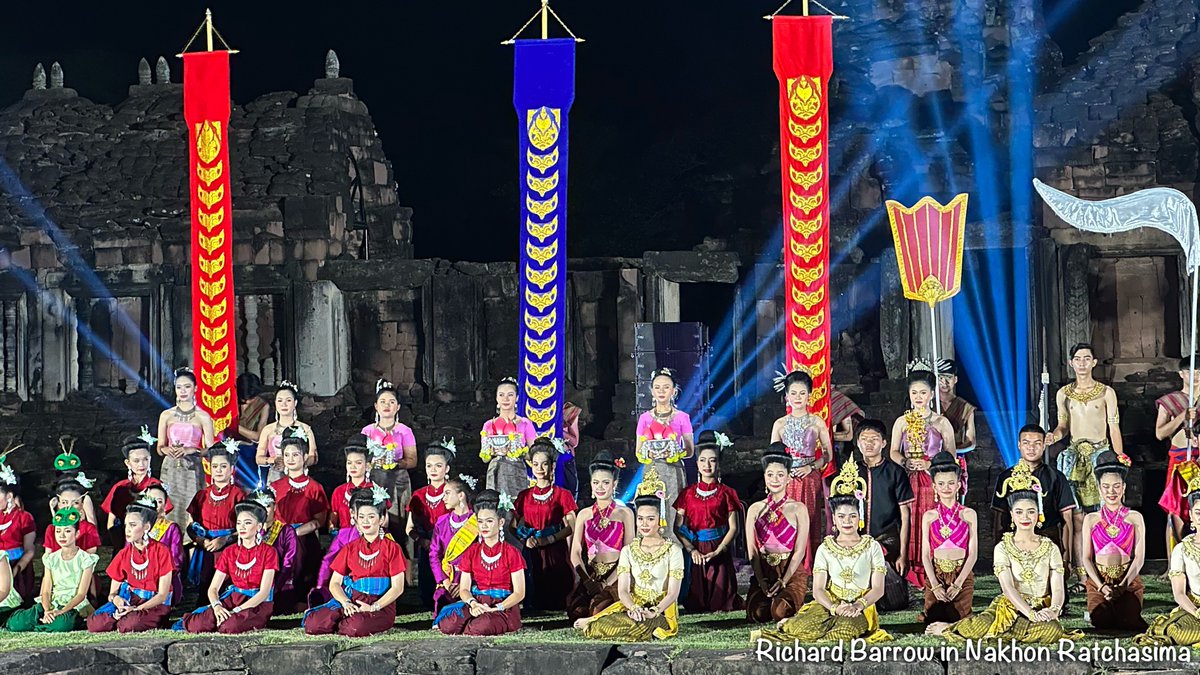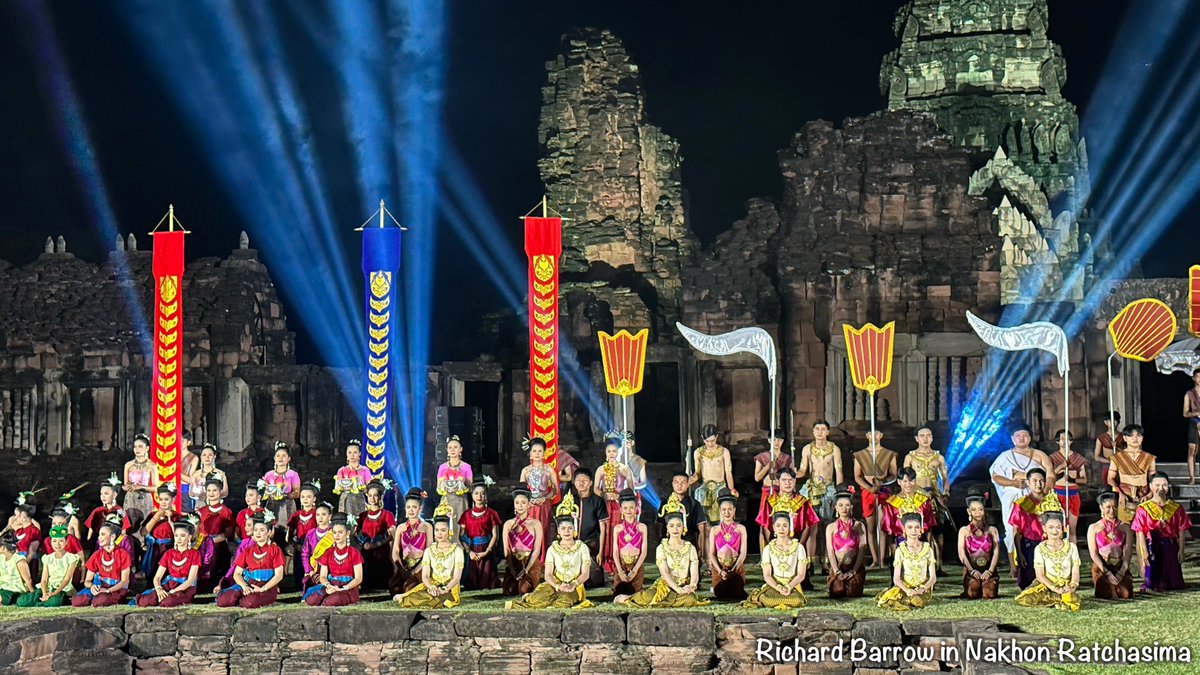 THE SECOND DAY
(12) Good morning from Phimai in Nakhon Ratchasima Province in Northeastern Thailand. This is Day 2 of a three day trip. We will go to Ubon Ratchathani next.
These are some drone photos of Prasat Hin Phimai in the middle of the city and very close to my hotel.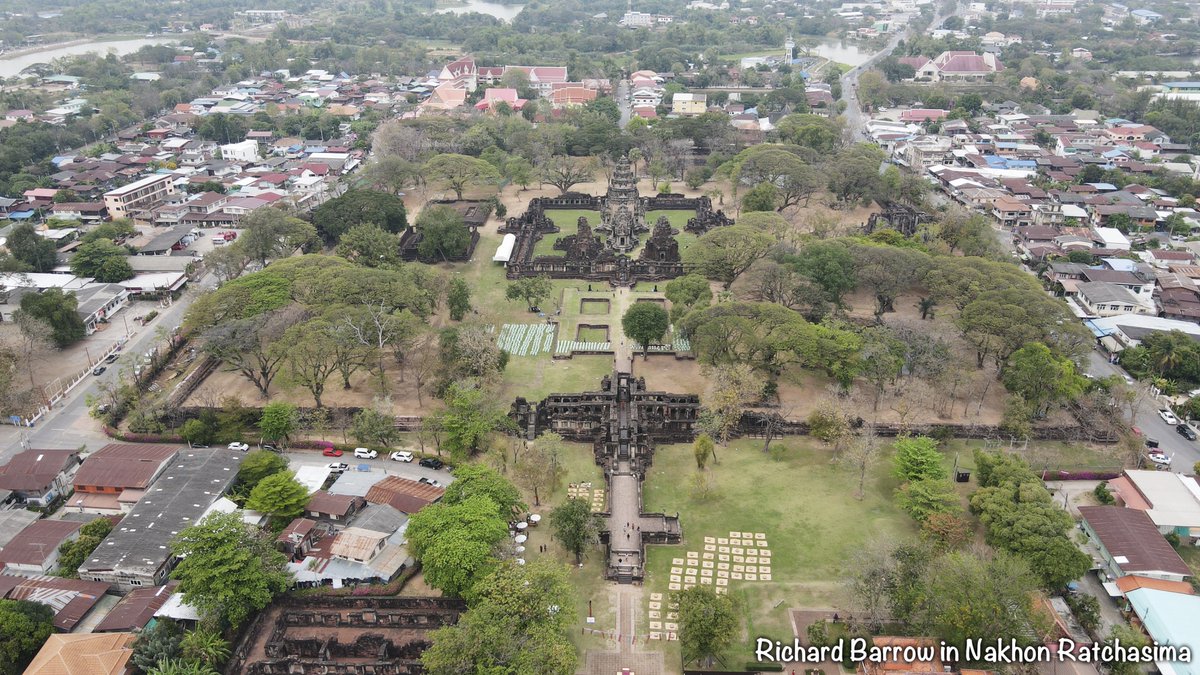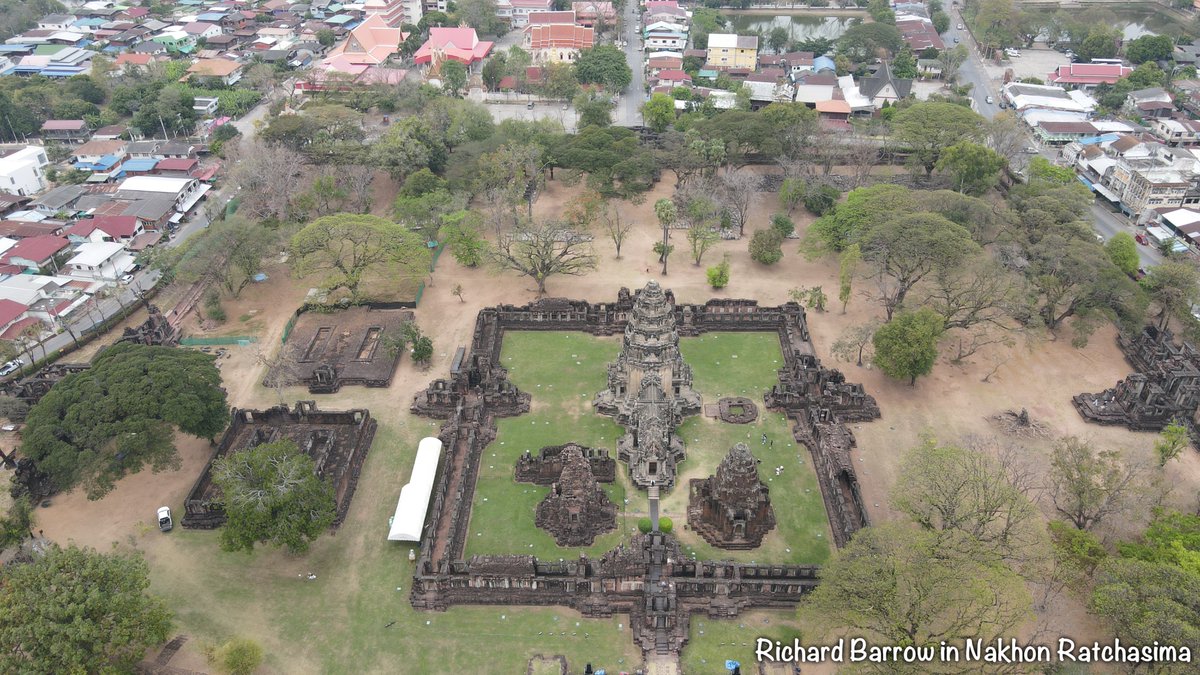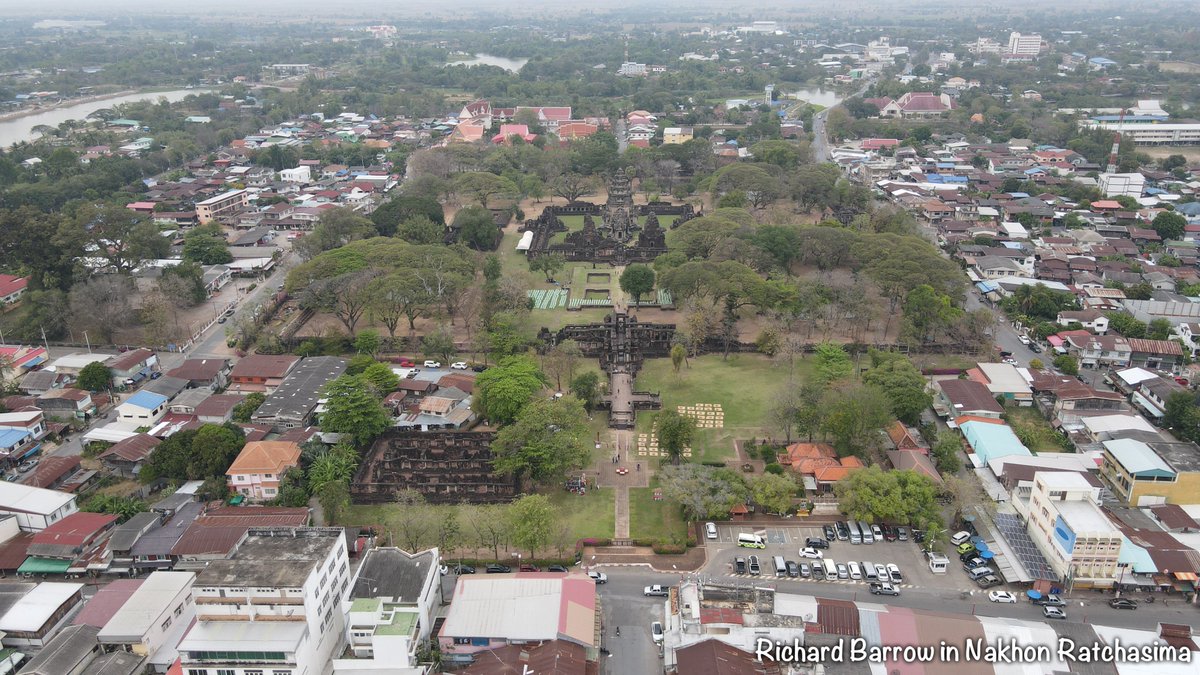 (13) Our hotel gave us a free ride to the bus stop in Phimai. There we took a minibus back to Nakhon Ratchasima (Khorat) at 6:50 am. Check their Facebook for the latest times.
📍MAP: Phimai Bus Station
map.app.goo.gl/abb9Zcvvqqo9R8…
📌 Bus company Facebook: facebook.com/profile.php?id…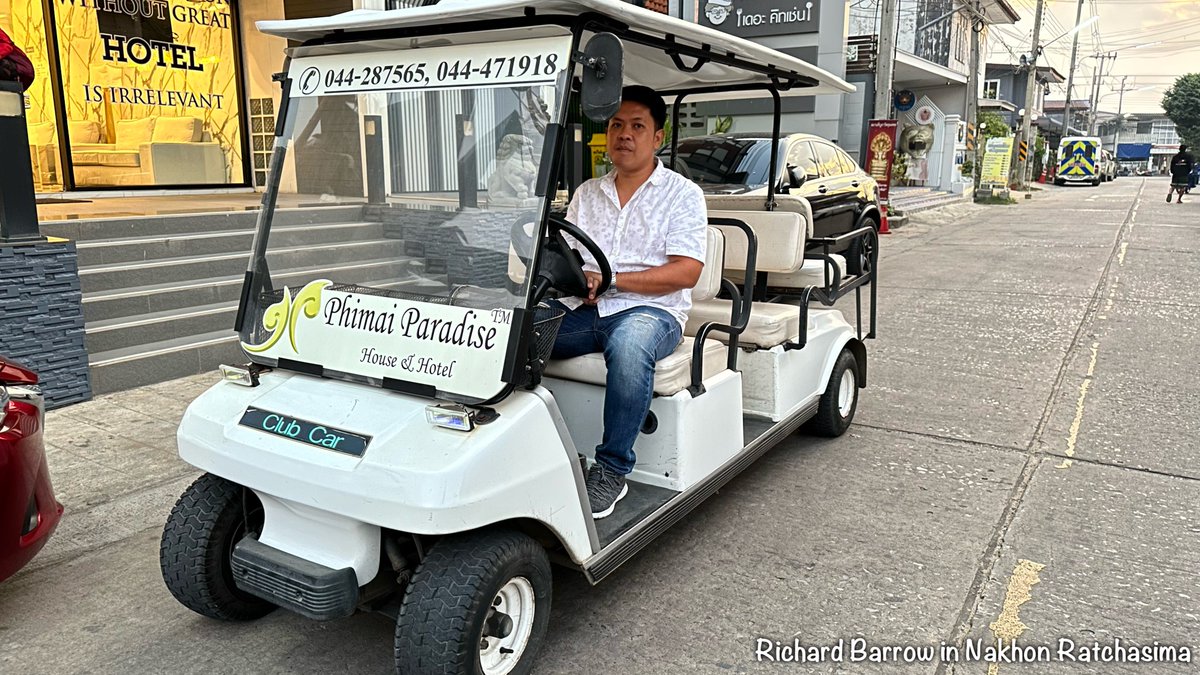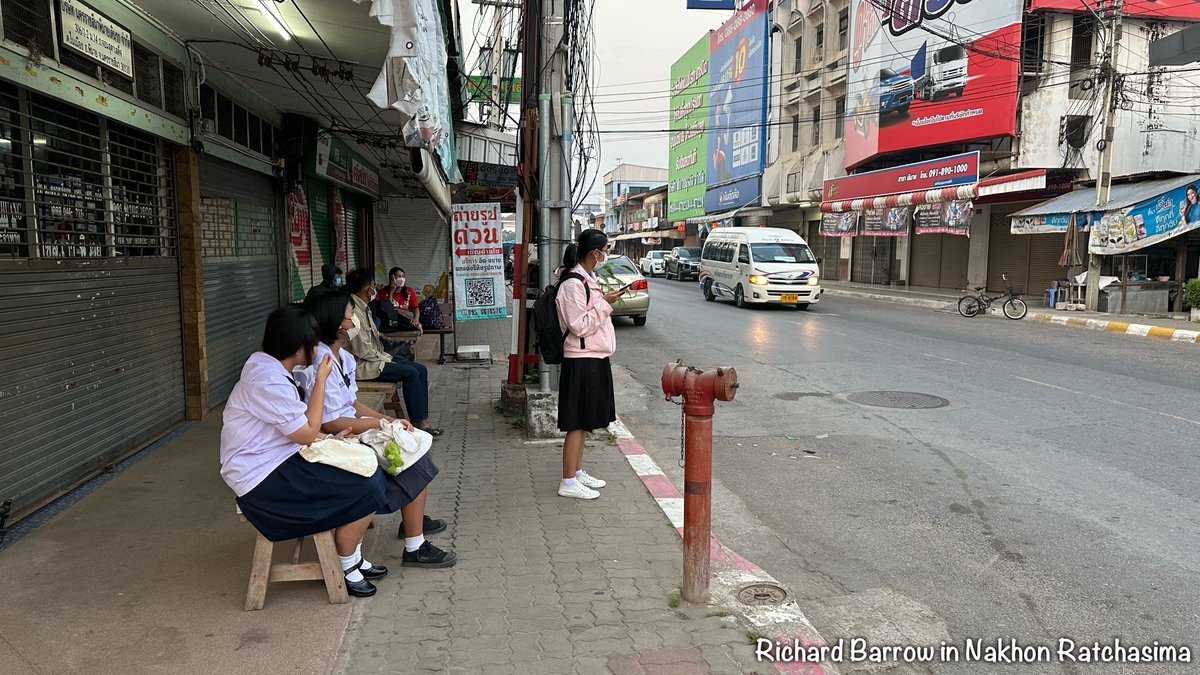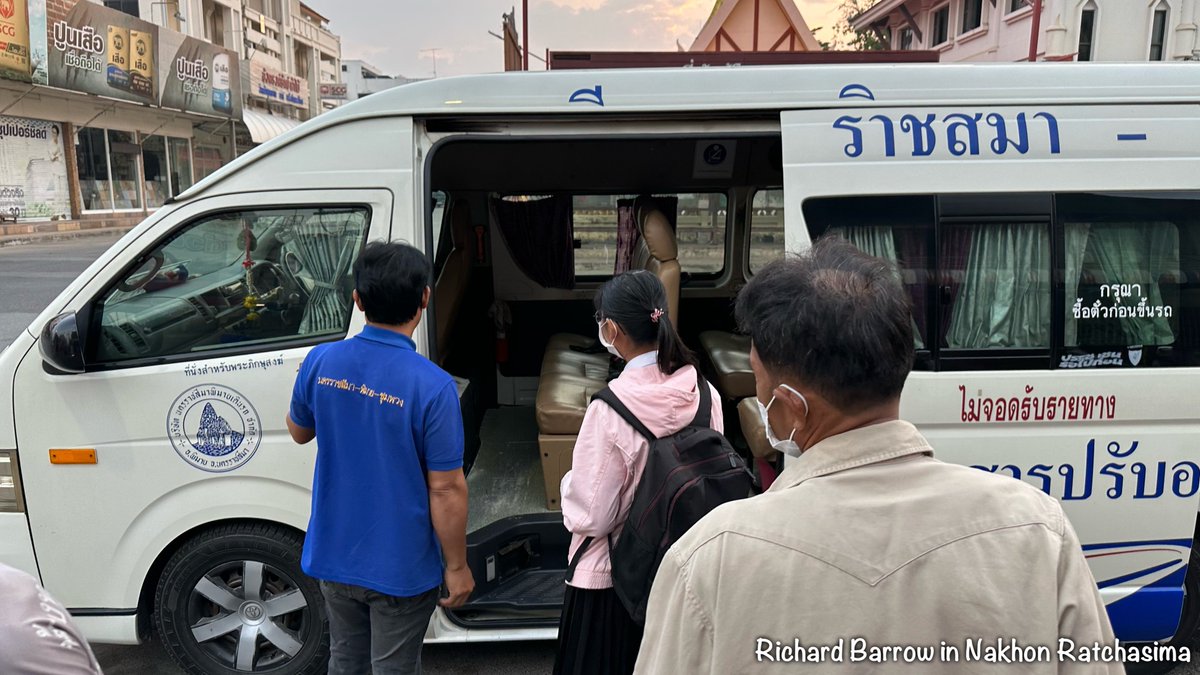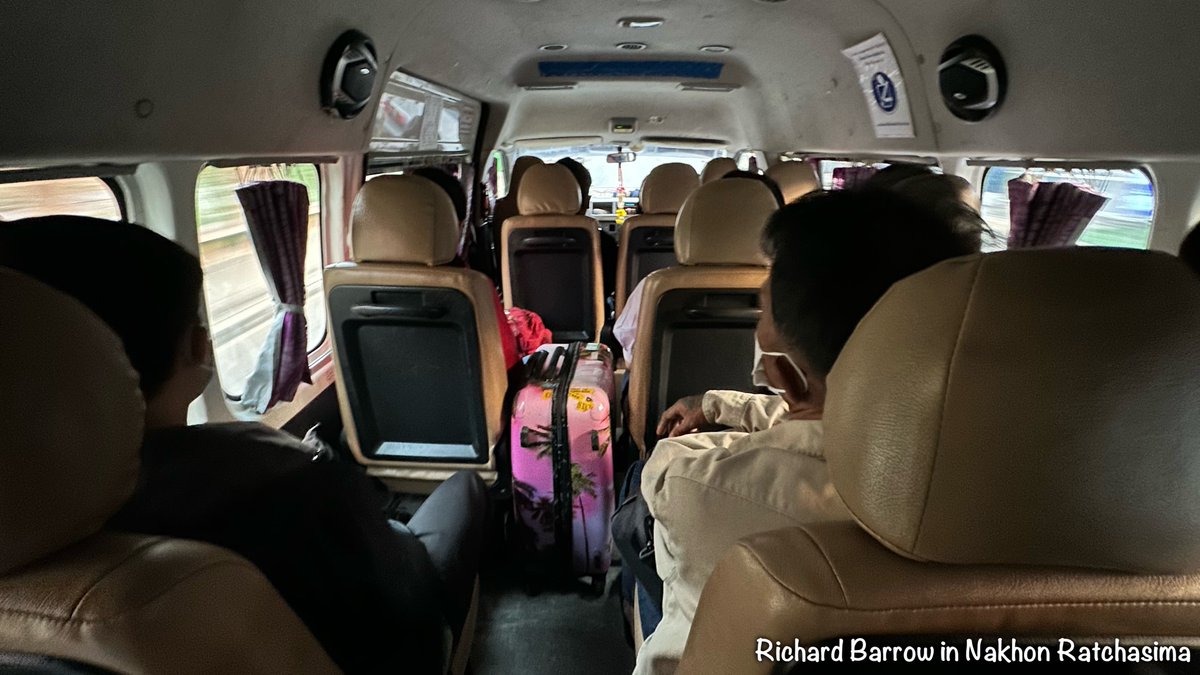 (14) Breakfast this morning at Prime Dimsum near Nakhon Ratchasima Railway Station. I had my usual Kai Kra Ta with a roll and coffee. Seems to be a very popular restaurant. I also had Yum Kai Dao which is a spicy salad with egg.
📍MAP: map.app.goo.gl/7xByMMxhk1wuUG…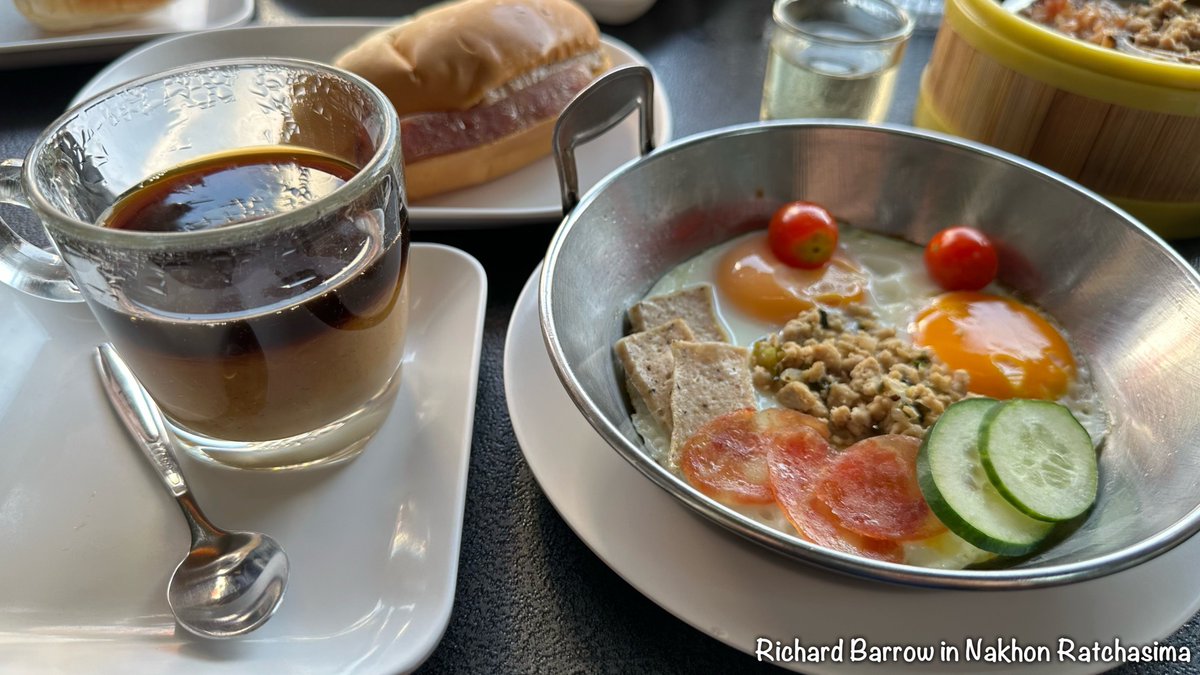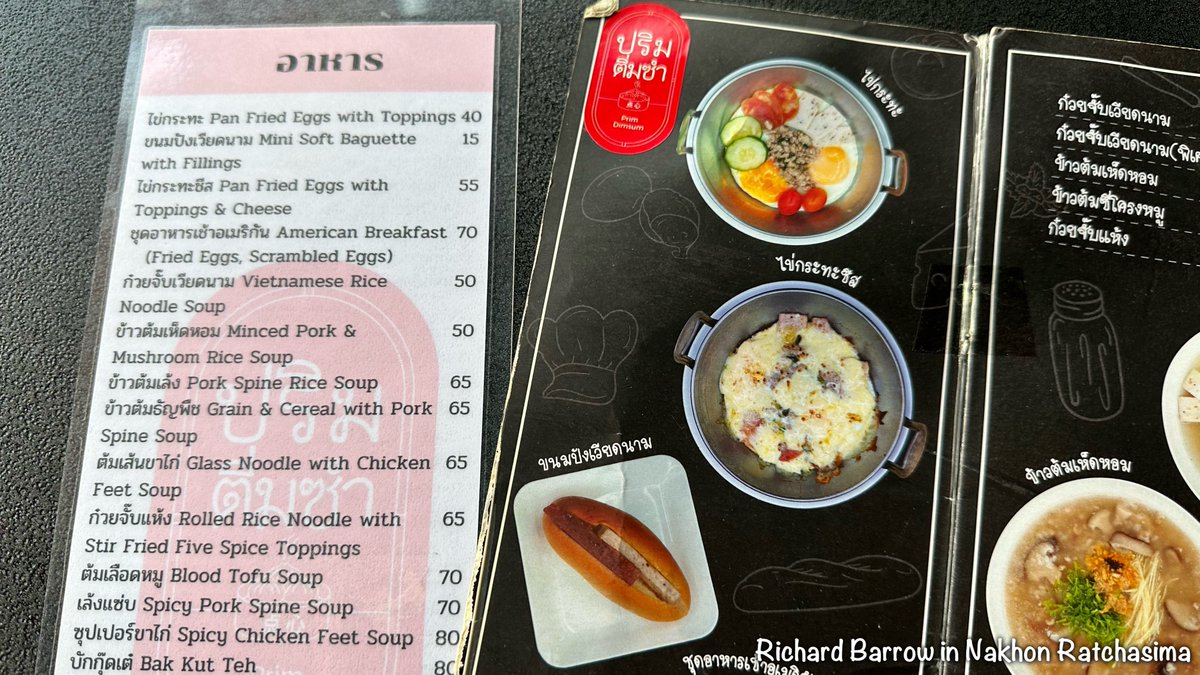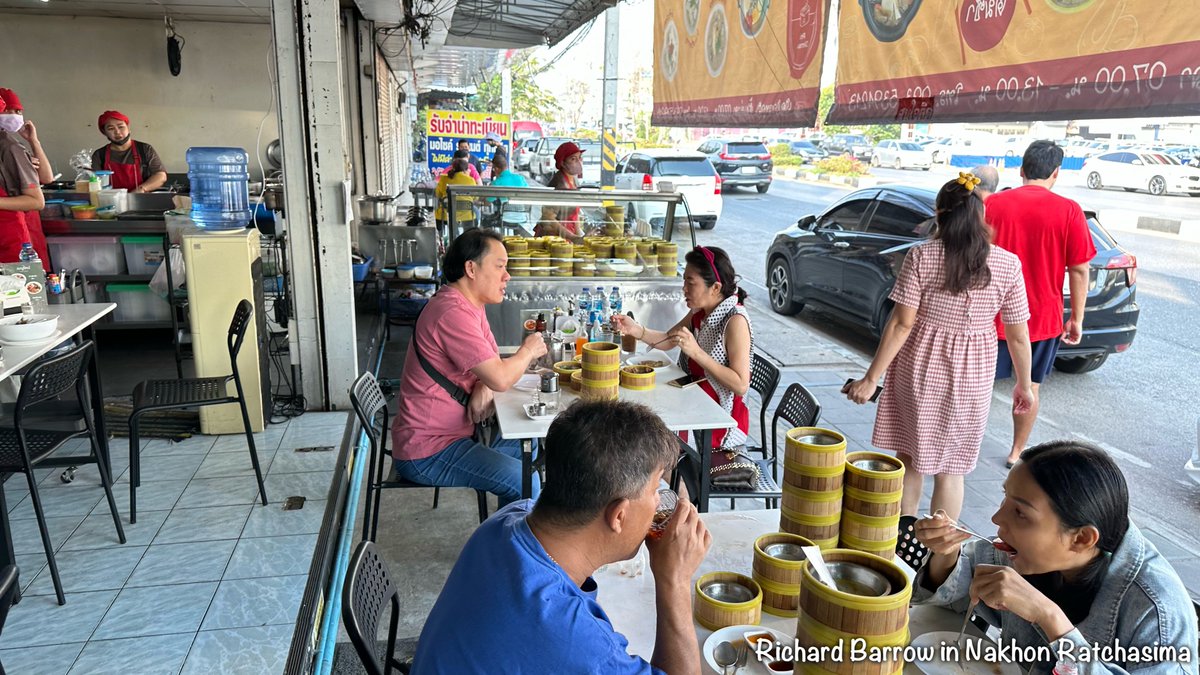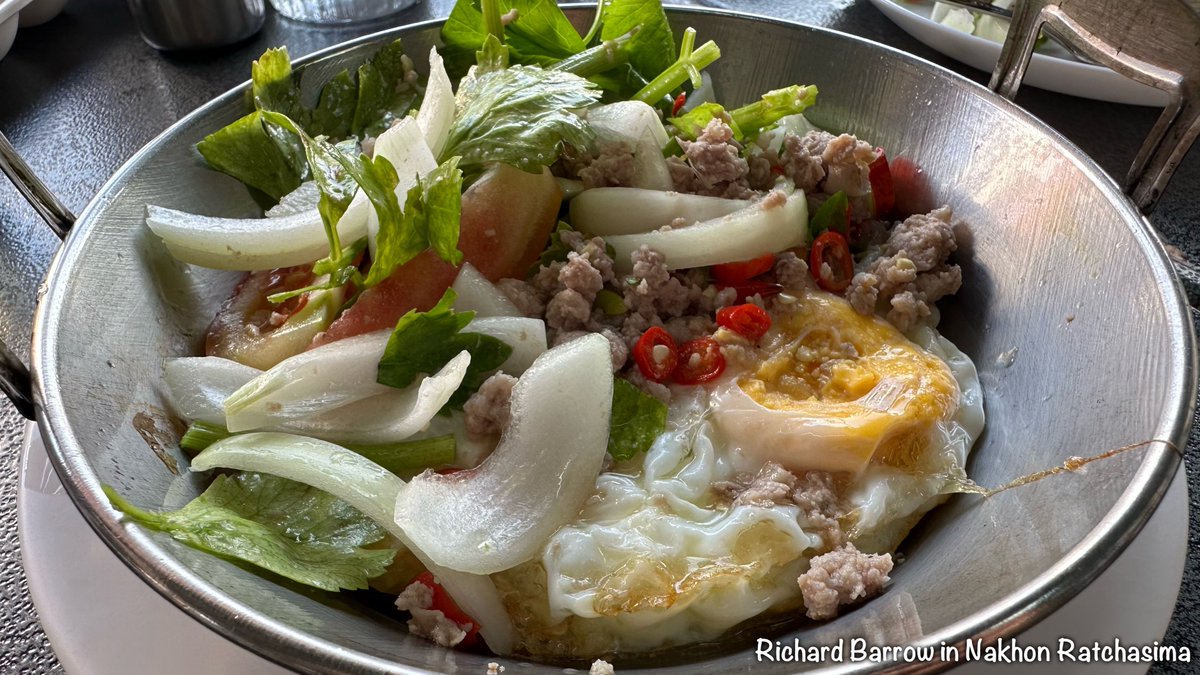 (15) In Nakhon Ratchasima Railway Station we took Special Express No.21 to Ubon Ratchathani (thaitrainguide.com/timetables/no-…). This is the same train we caught yesterday from Bangkok. This is a diesel car with reclining seats and air conditioning. Meals are included. The journey is 4 hours.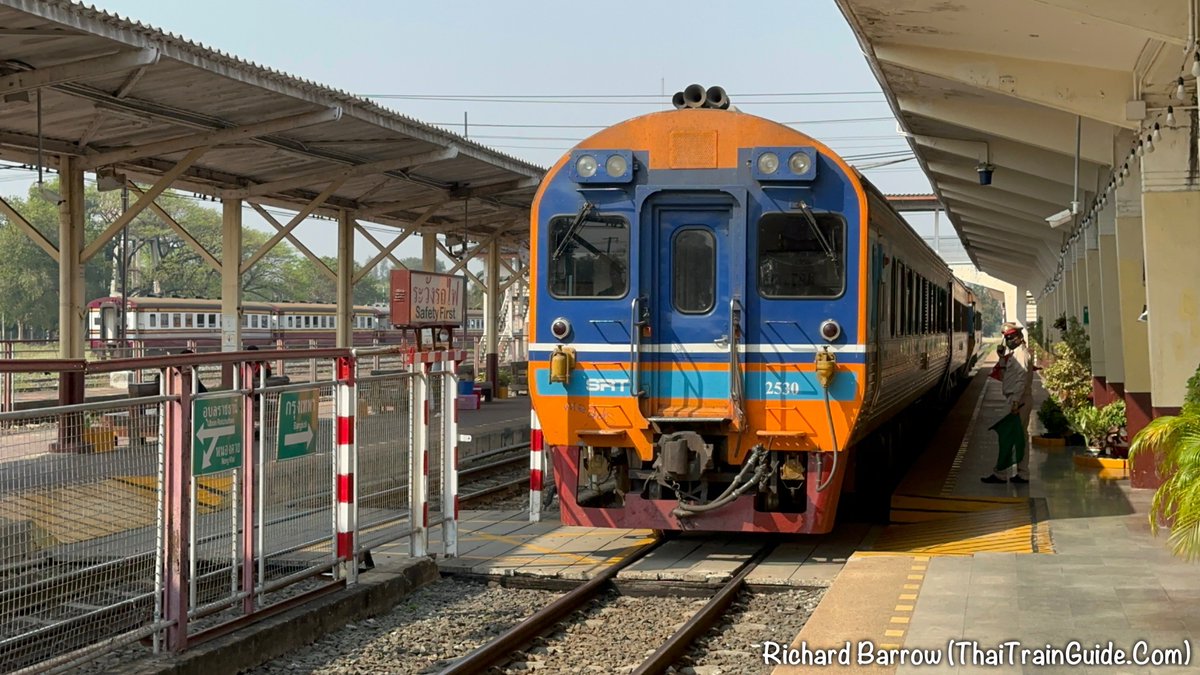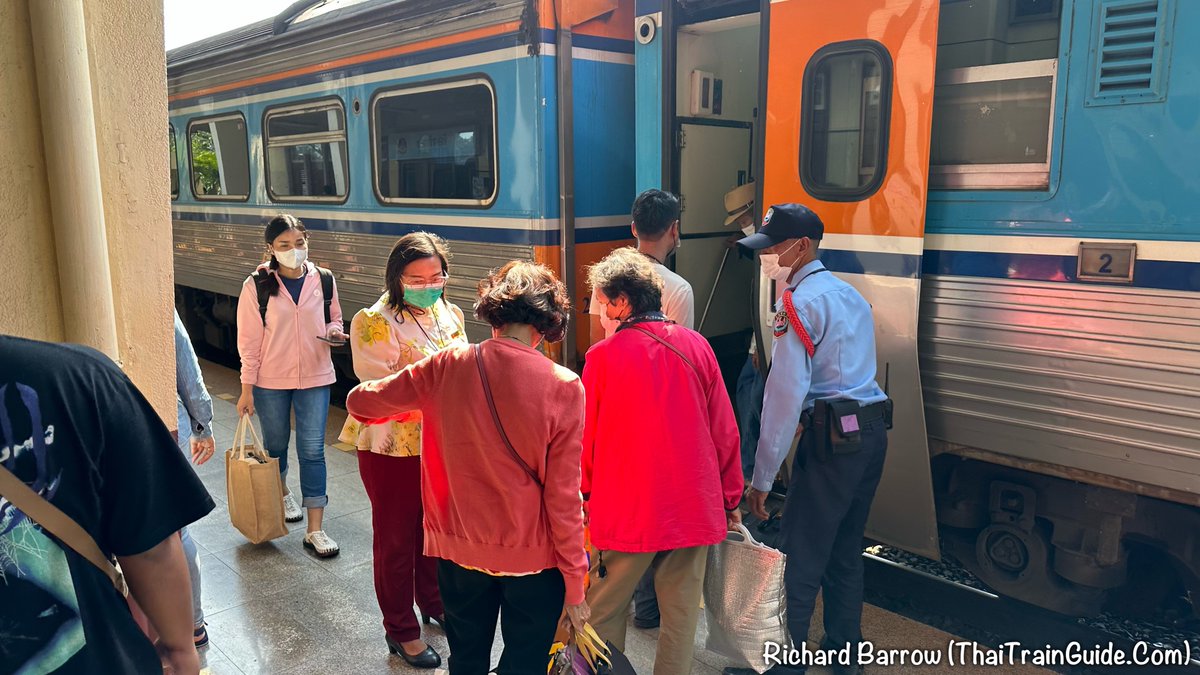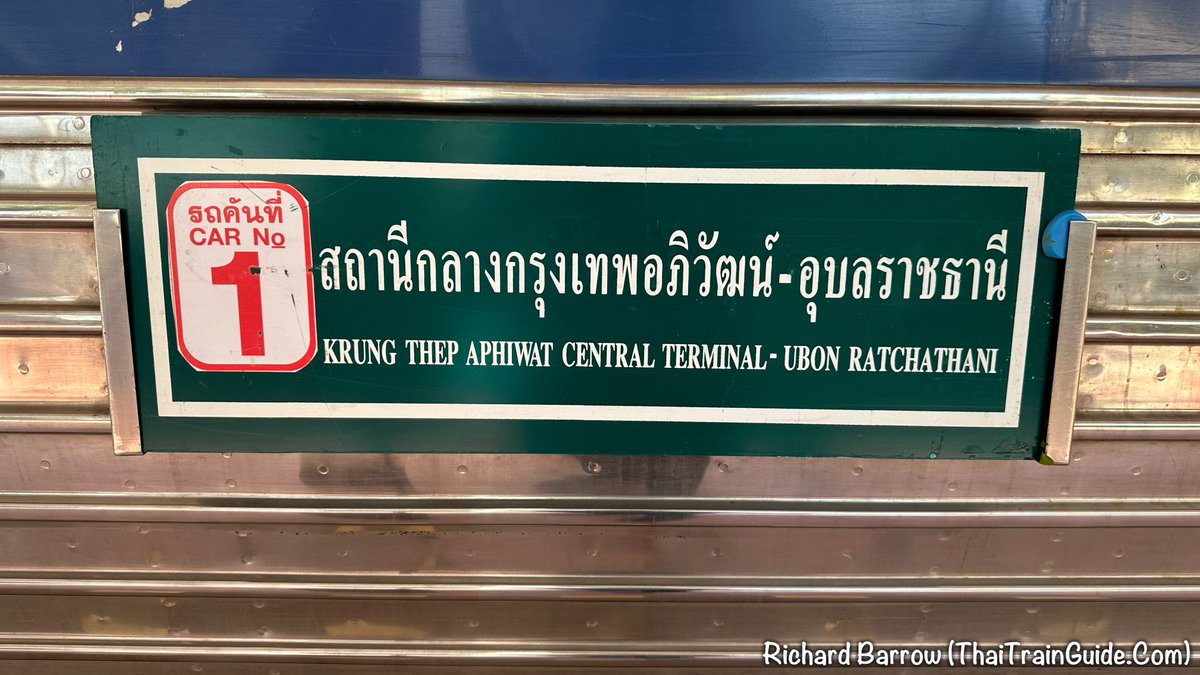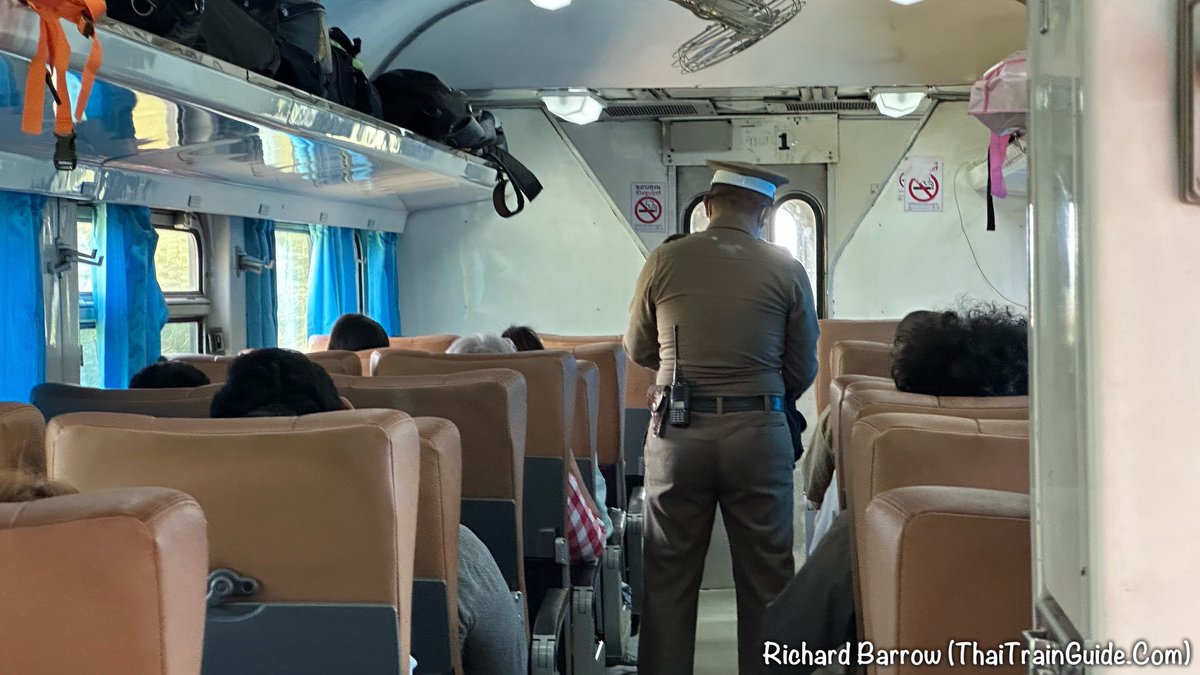 (16) Special Express No.21 arrived safely at Ubon Ratchathani. (We were 10 minutes late due to hitting a cow.) Riding the train in air-conditioned coaches is comfortable. The seats recline and there is enough legroom. Food is served to the seats. Western style toilet.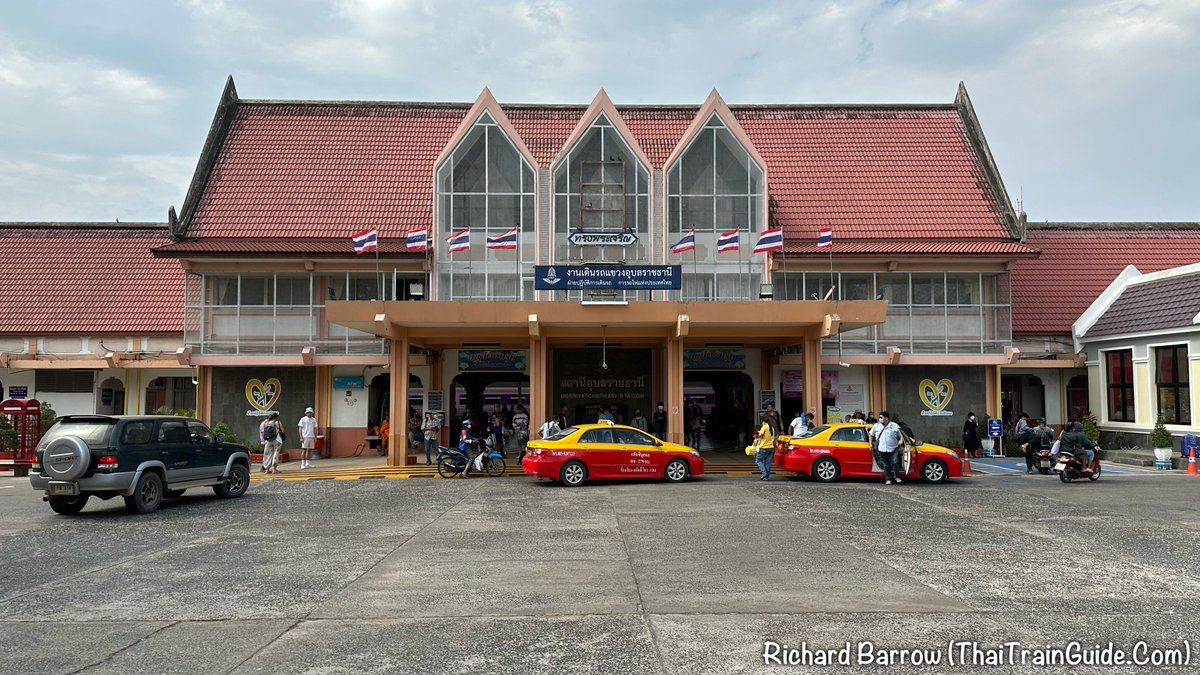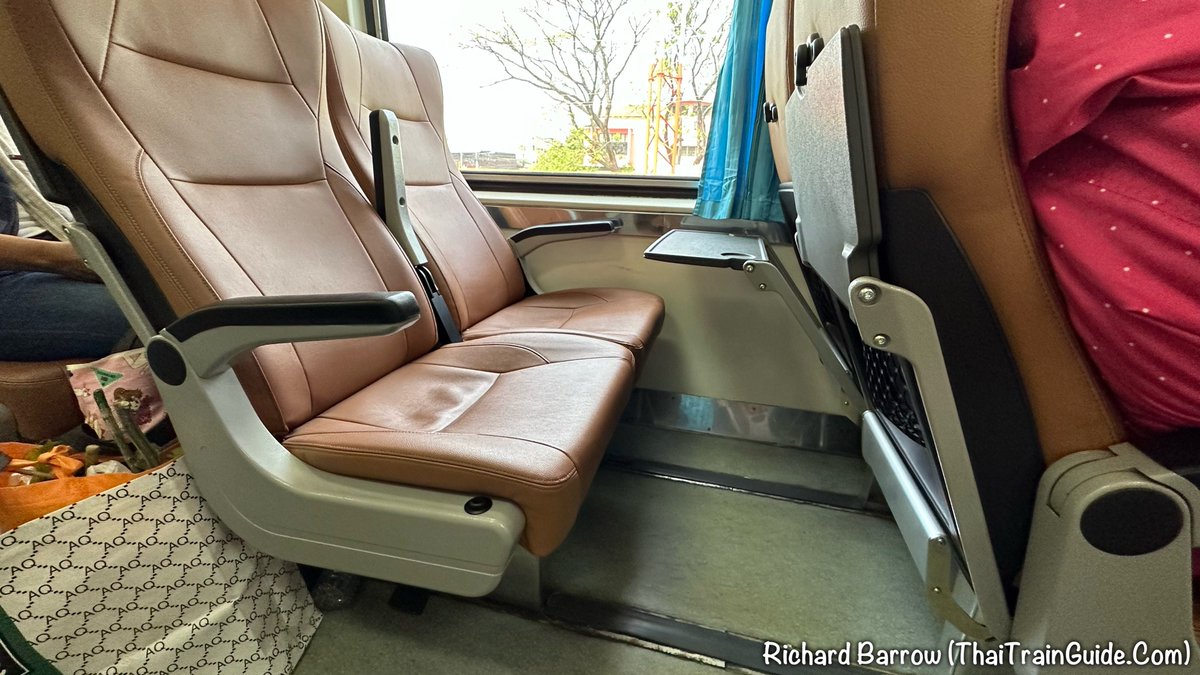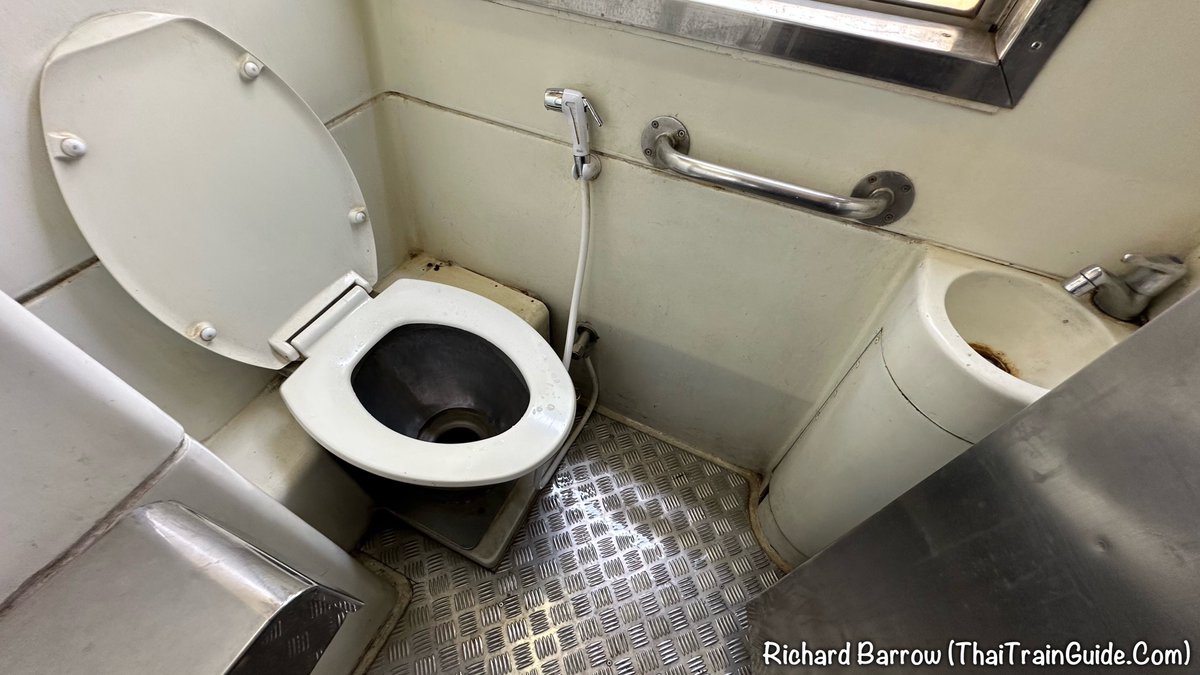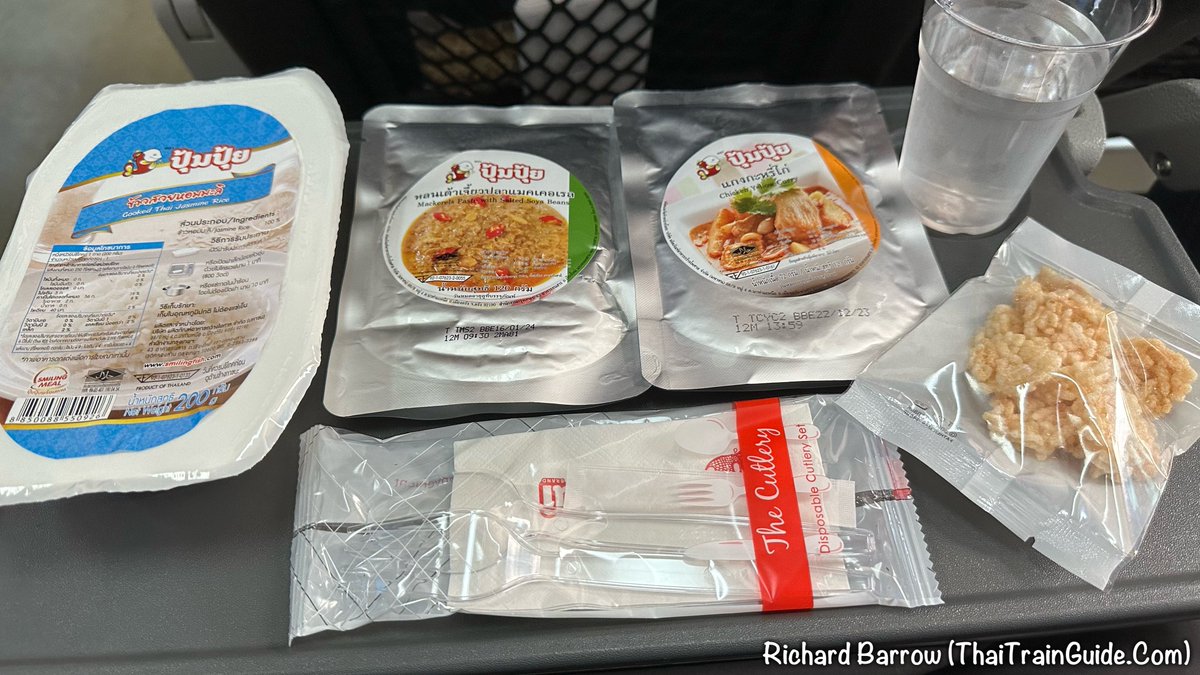 (17) In Ubon Ratchathani we were picked up by a prearranged driver and van. The driver is Tun (Facebook: facebook.com/profile.php?id…). The cost is 1800 baht per day. We have to pay for the hotel room tonight and gas at the end of the trip.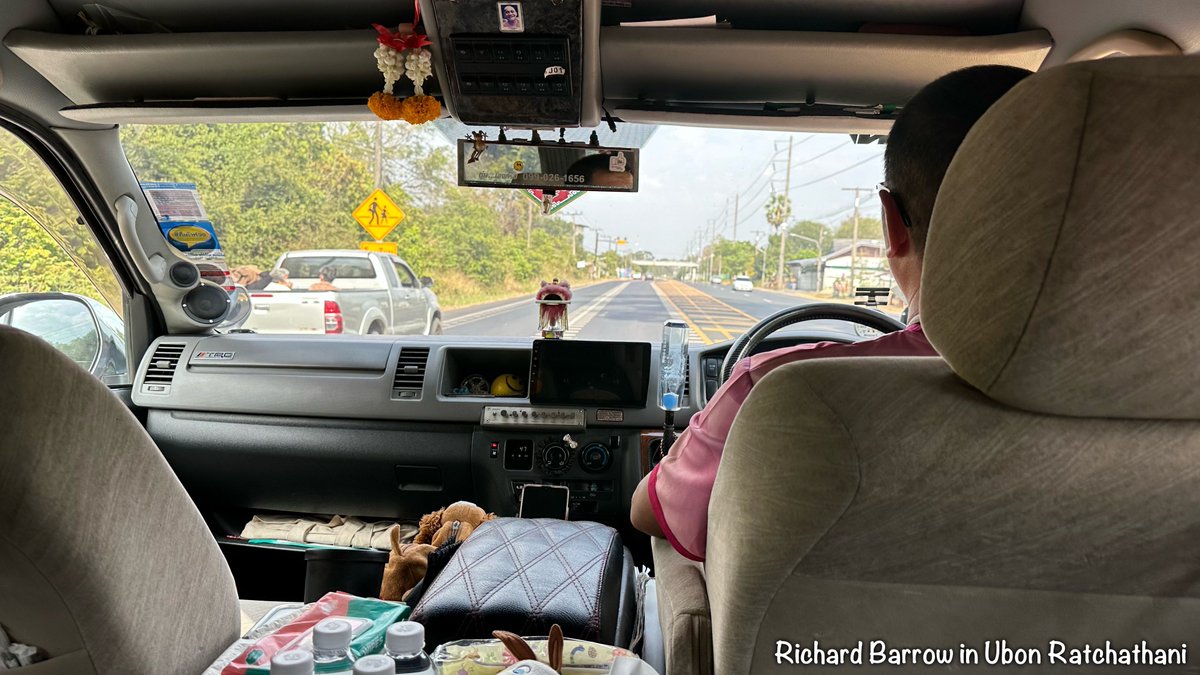 (18) Our first stop in Ubon Ratchathani Province is to enter Phibun along the Mun River. Many people come here for the famous Salapao pie shop, Khanom Jeeb and curries. You can also see them being made.
📍MAP: map.app.goo.gl/qQuL8vM57oaGmt…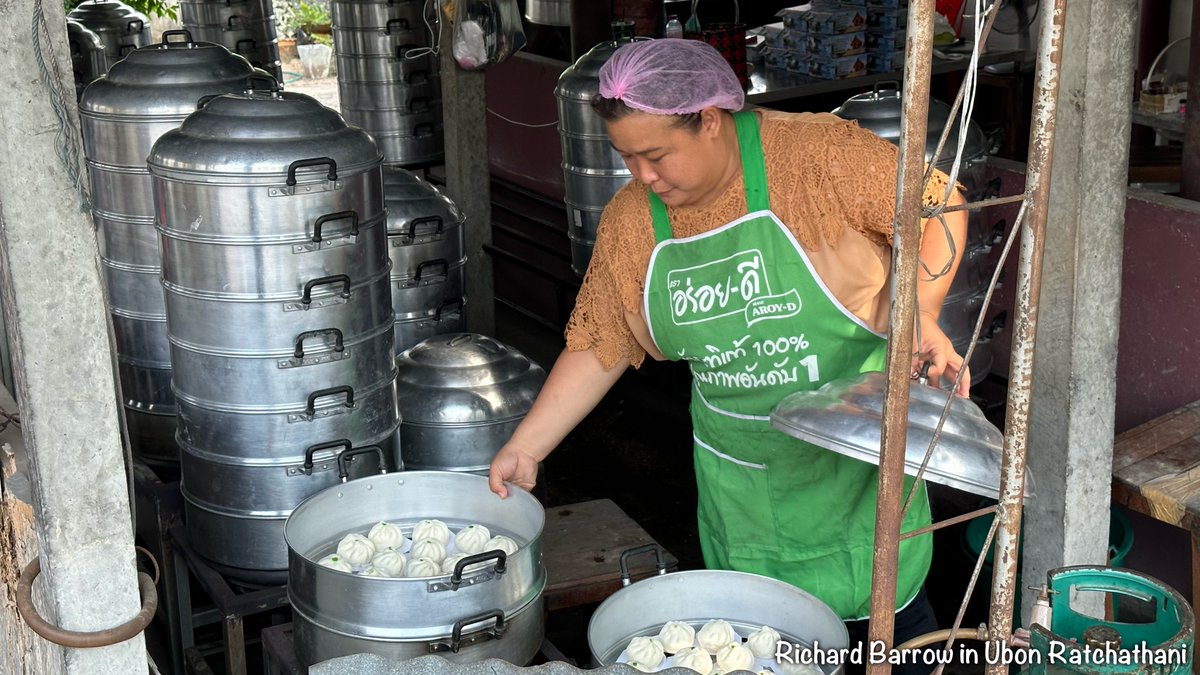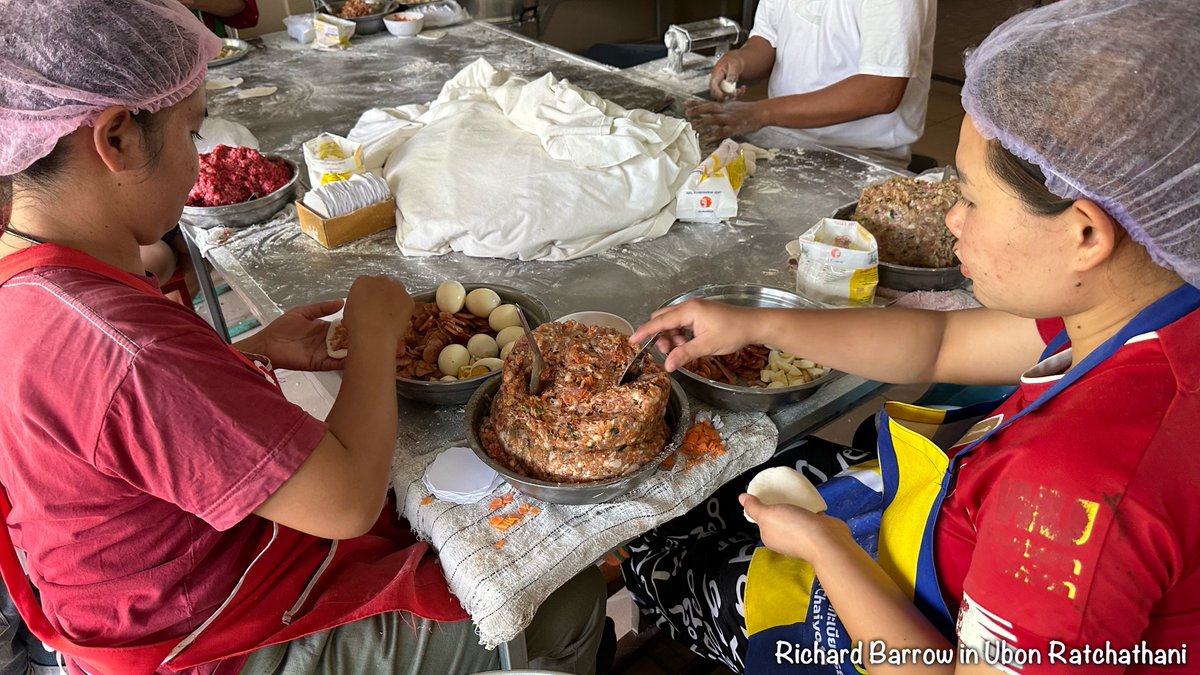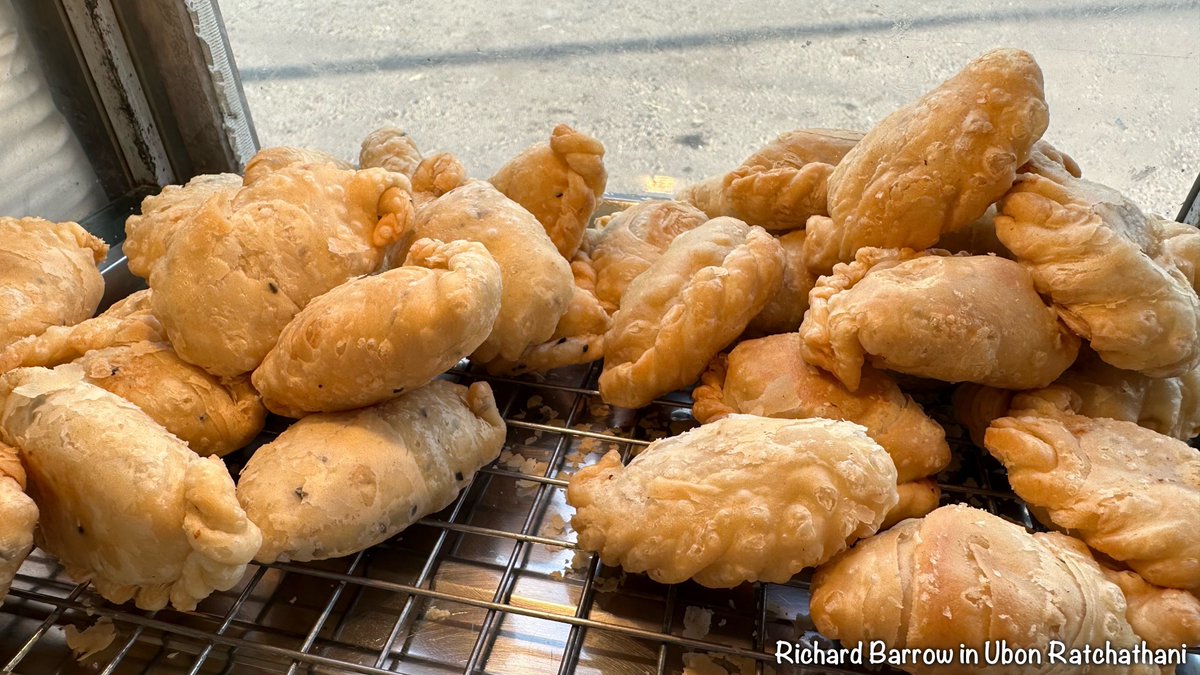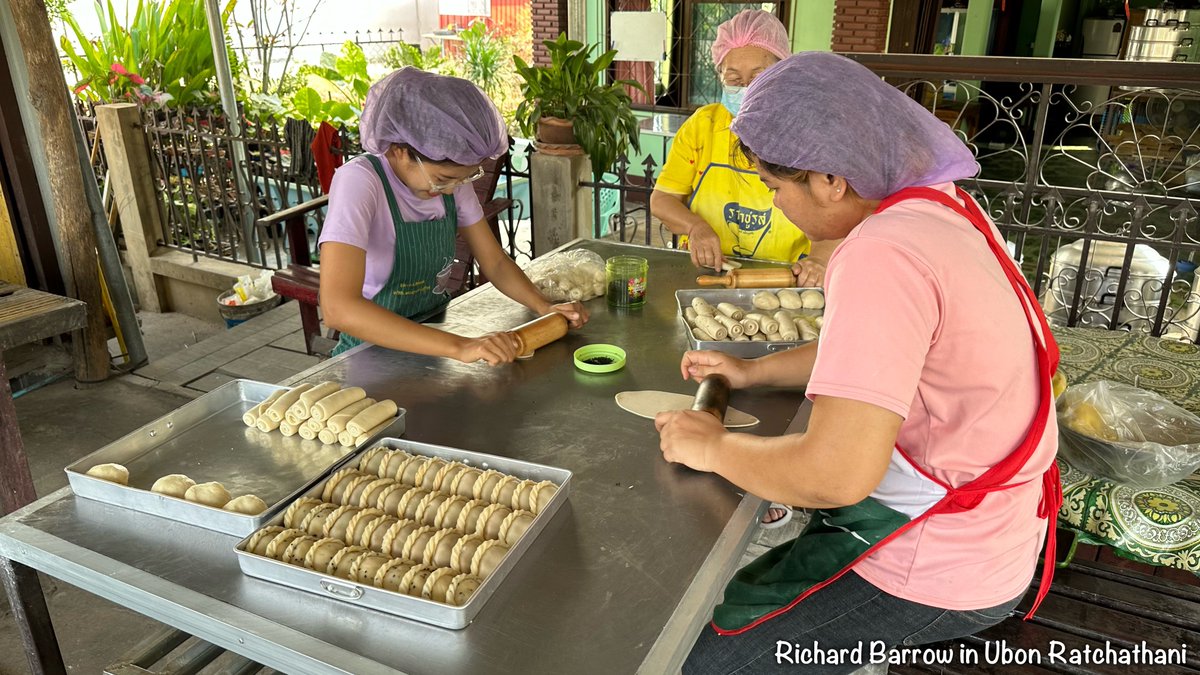 (19) On Highway 2222, after Phibun, you will definitely see shops selling gongs, bells and drums. Most of the families in this area have been making it for generations. It is said that they earn 7,000 a year for the temples around Thailand.
📍MAP: map.app.goo.gl/AVH3juzp5JxFTJ…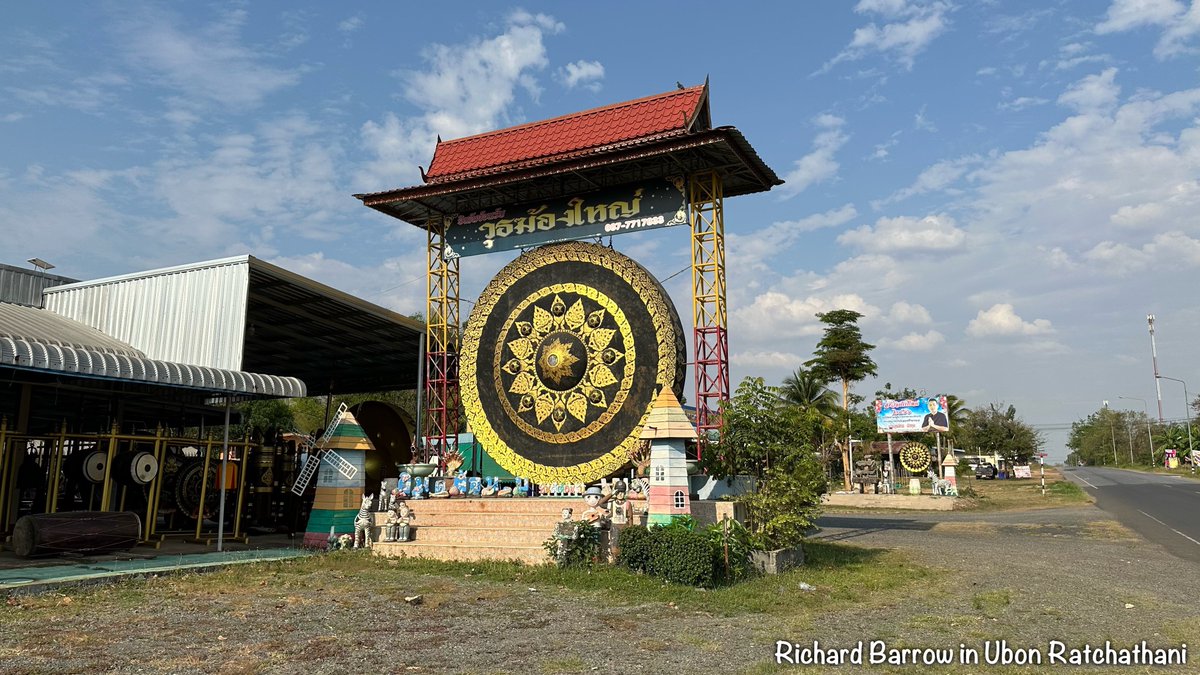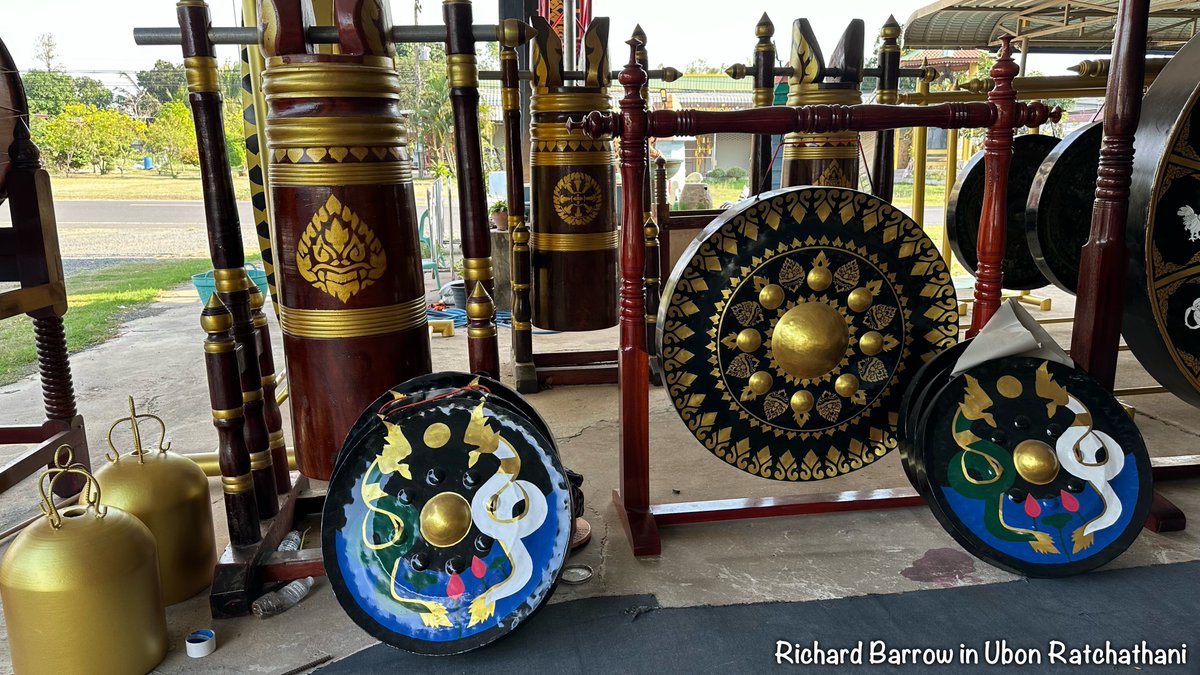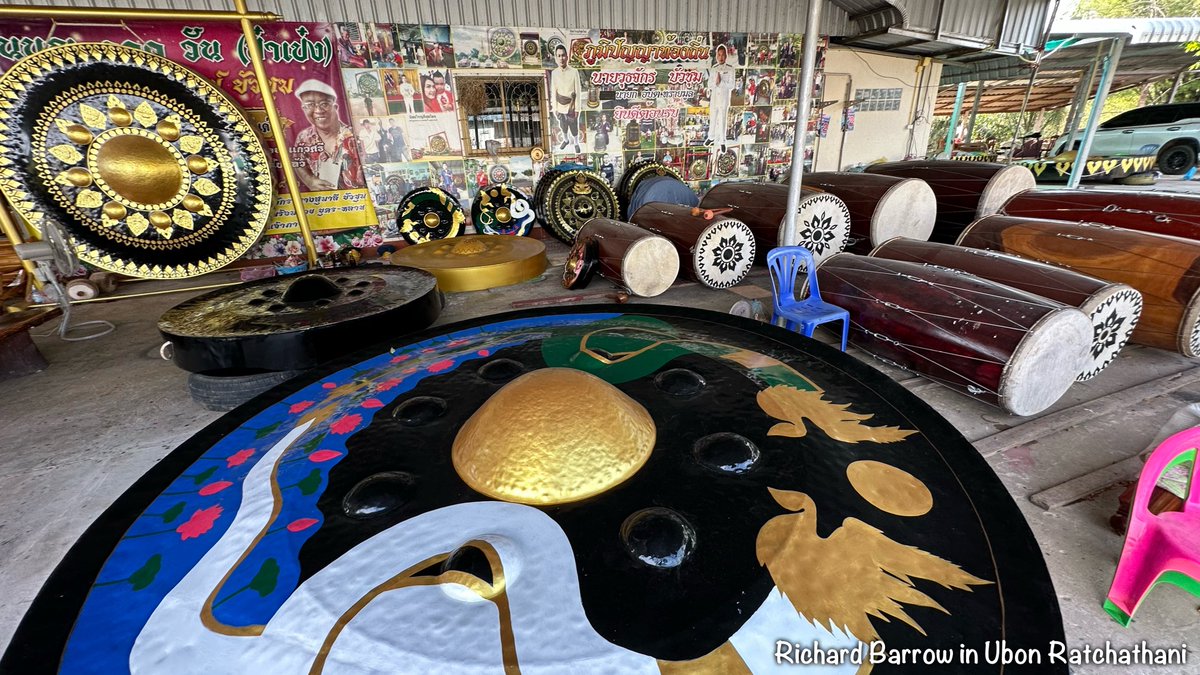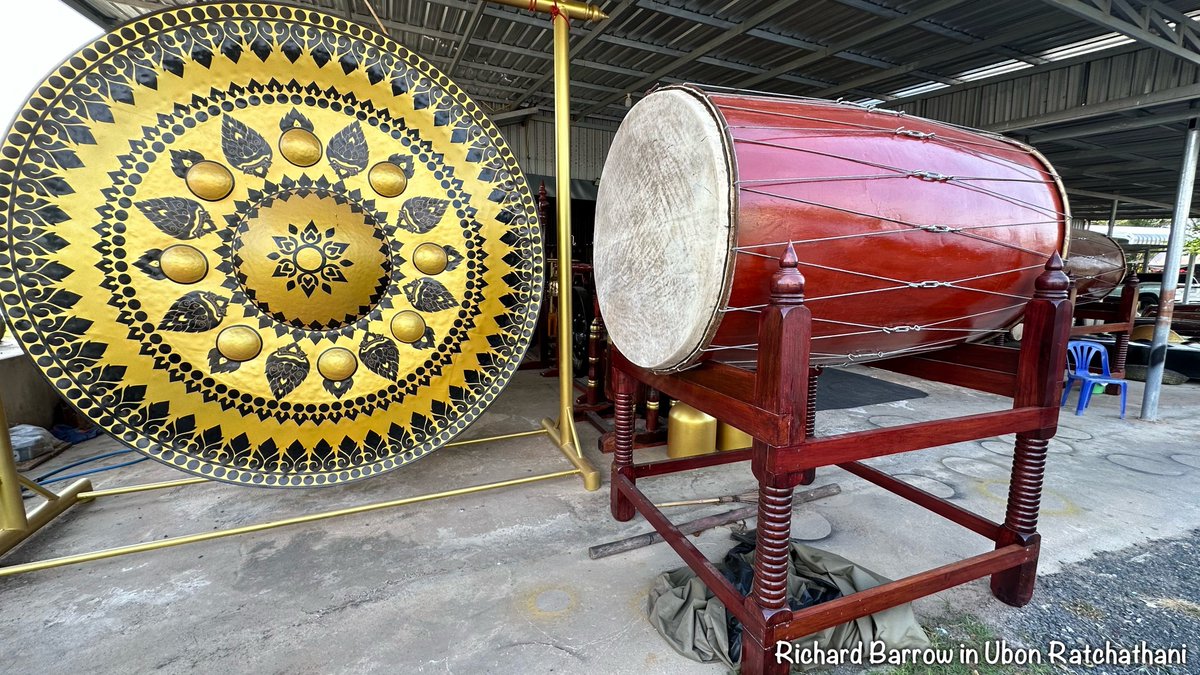 (20) A popular leisure spot in Ubon Ratchathani is Pattaya Noi at the northern end of the Sirindhorn Reservoir. There are restaurants on each pier as well as various water sports you can do. It's like a day at the beach without a beach.
📍MAP: map.app.goo.gl/ngMHGHGHgGnuX1…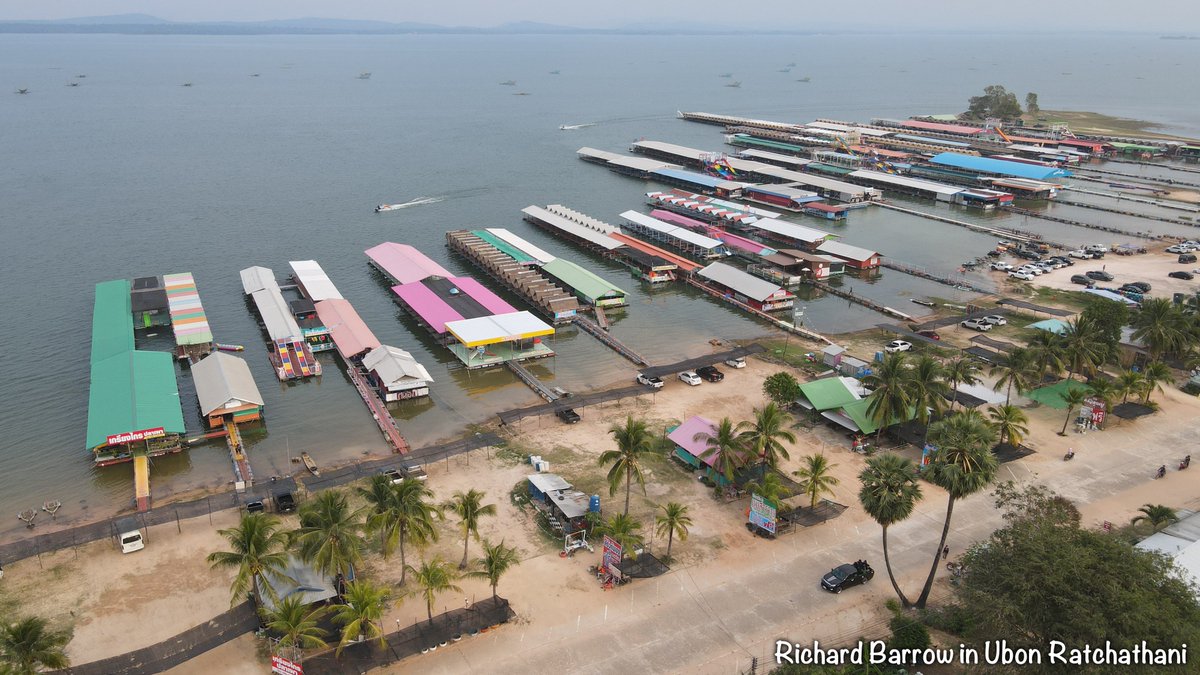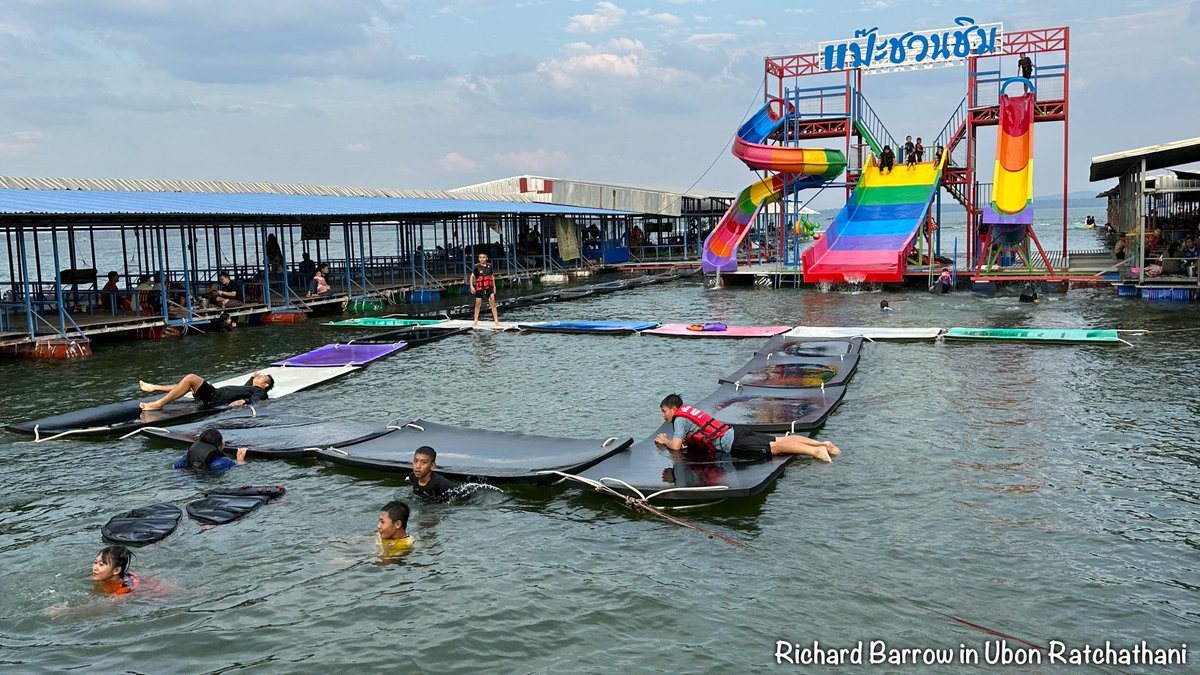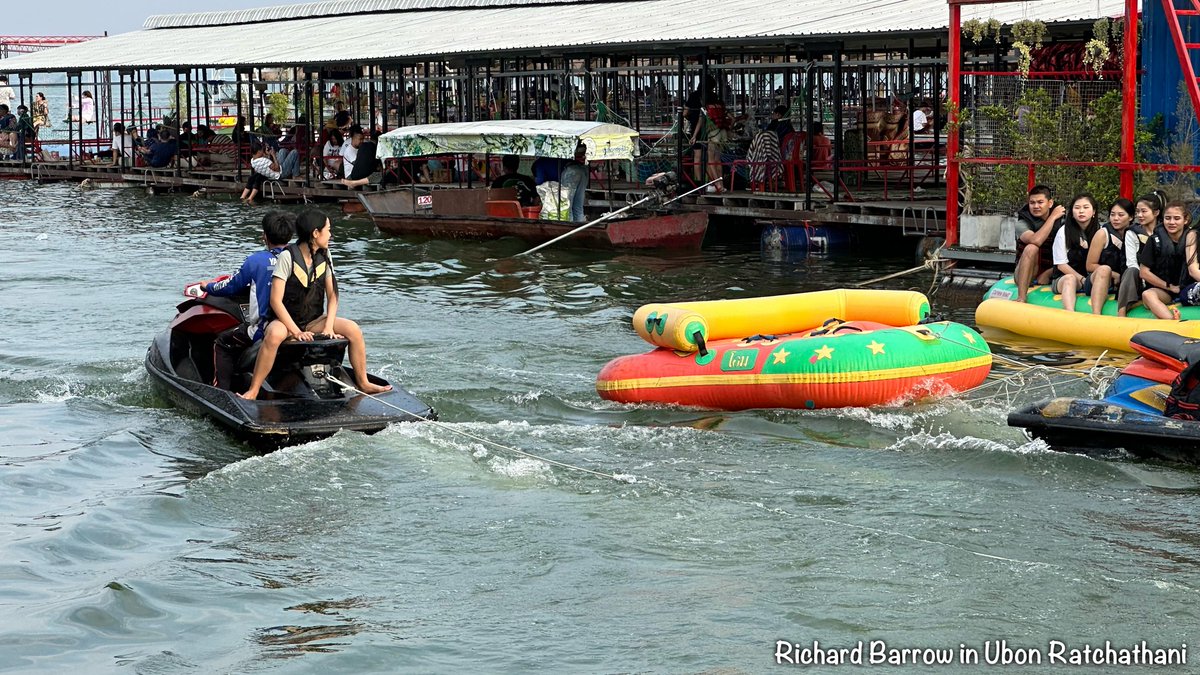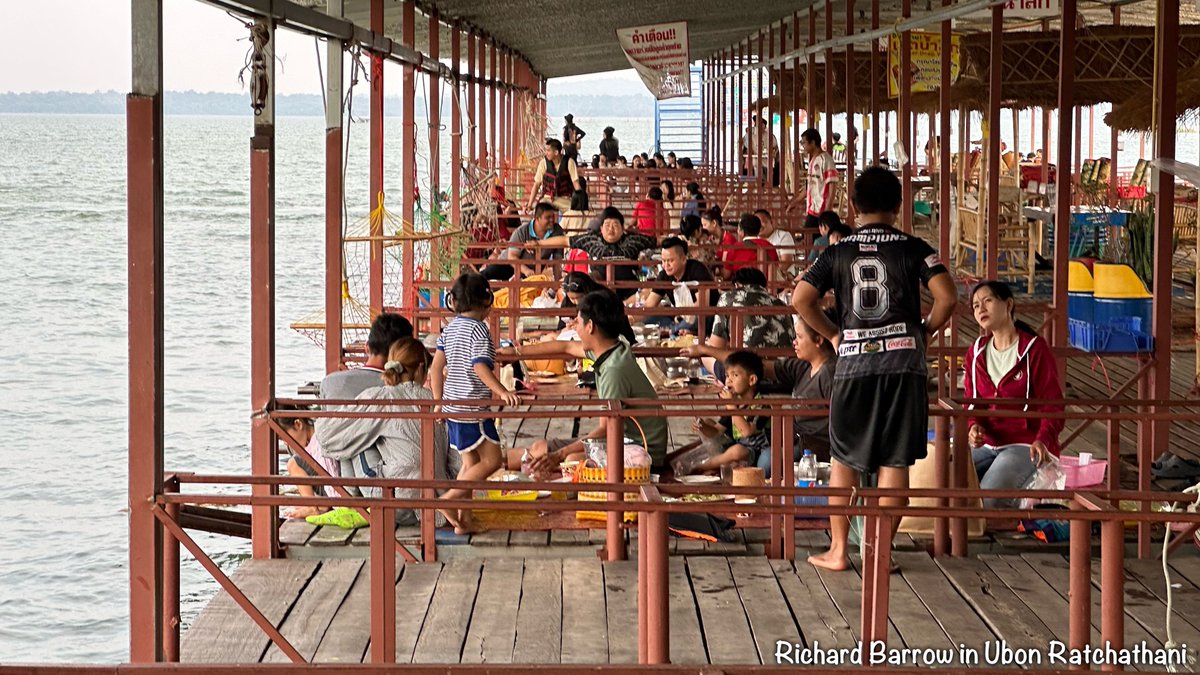 (21) One of my favorite shrines is Wat Sirindhorn Wararam in Sirindhorn District, Ubon Ratchathani Province. It's great at sunset but should be even better later when the art starts to glow. Hope tonight is fine.
📍MAP: map.app.goo.gl/fMmc1tB7HJJfJb…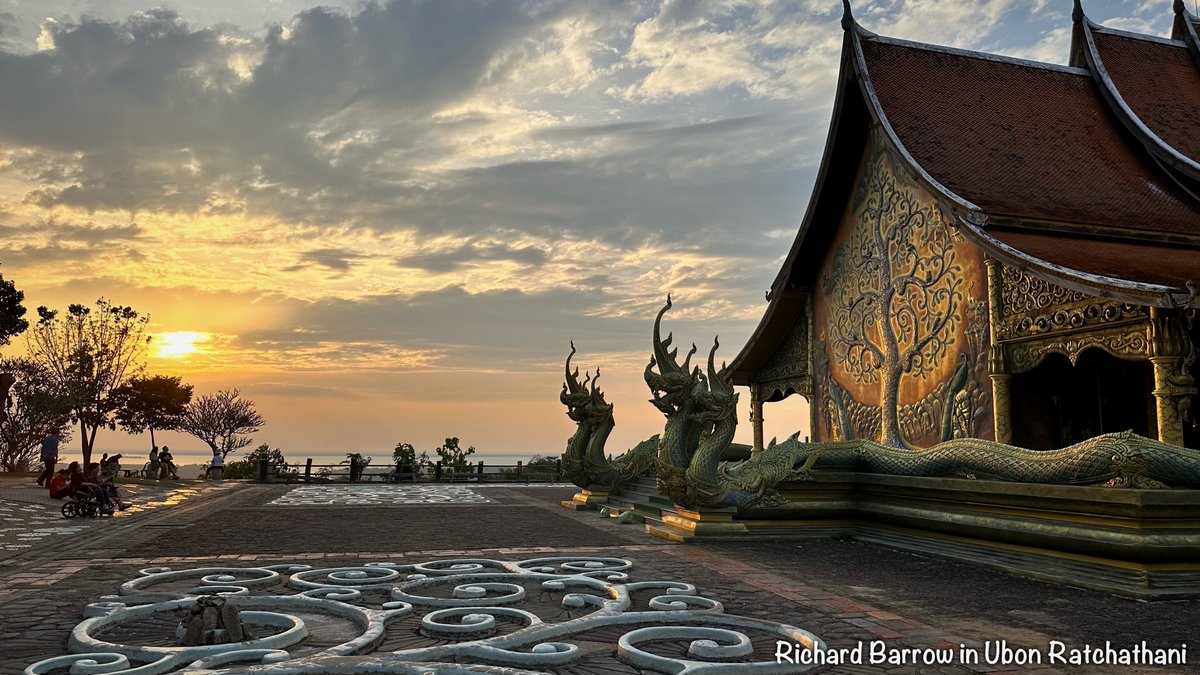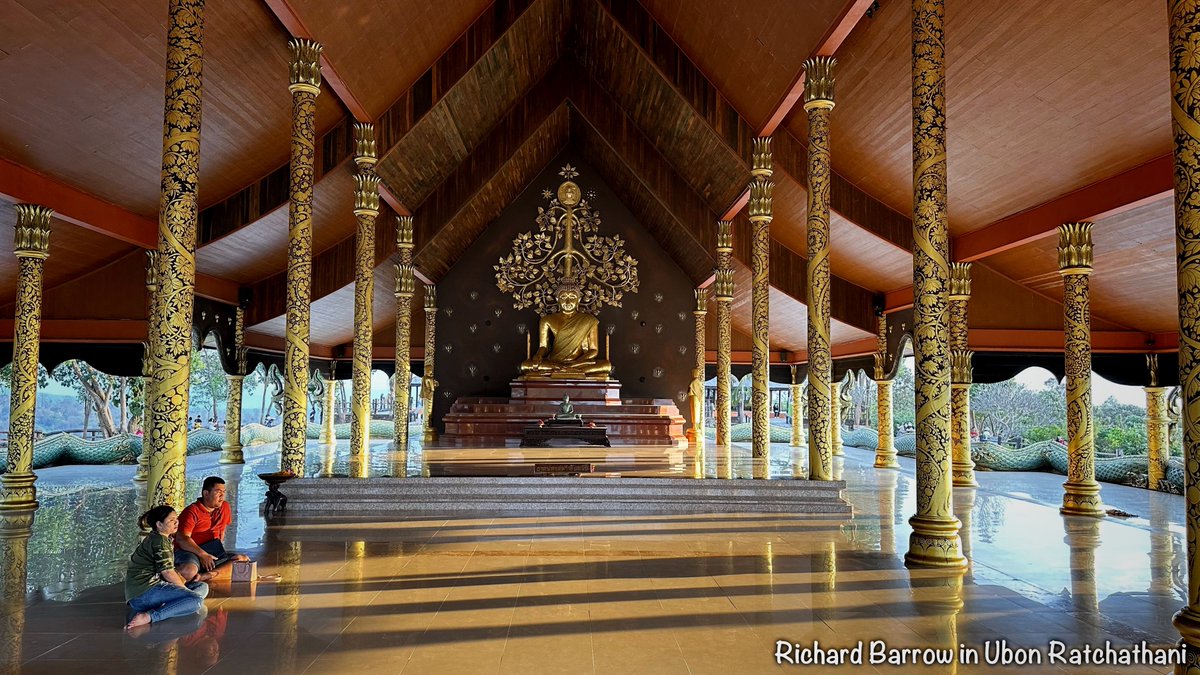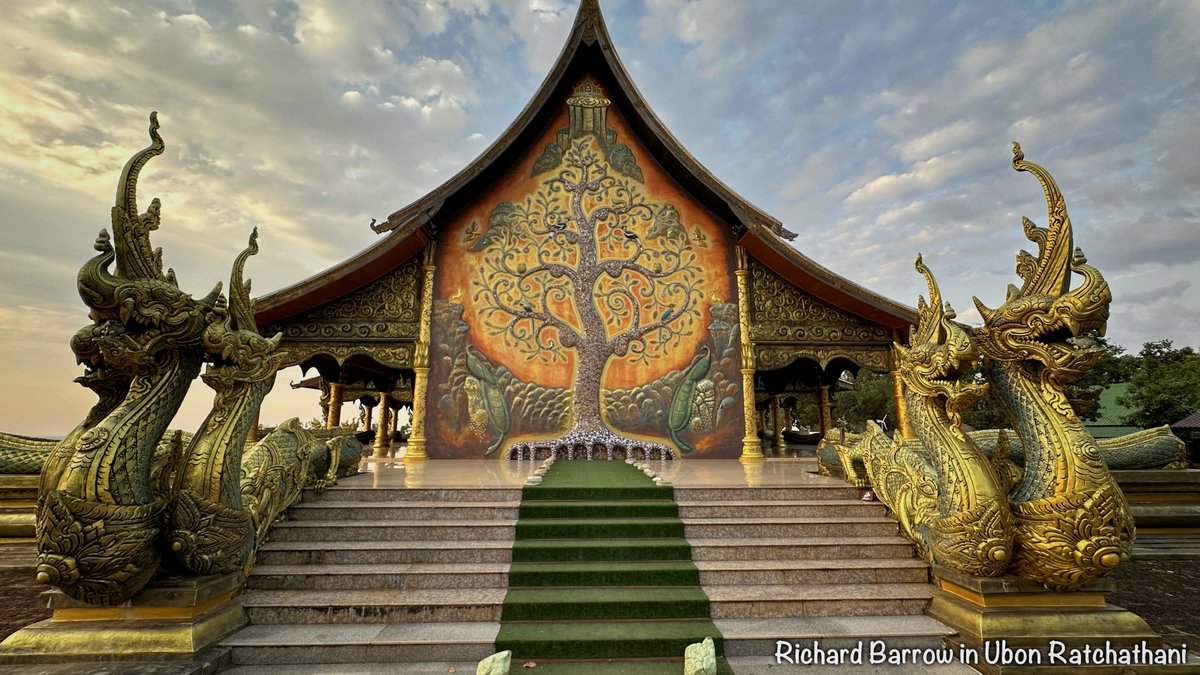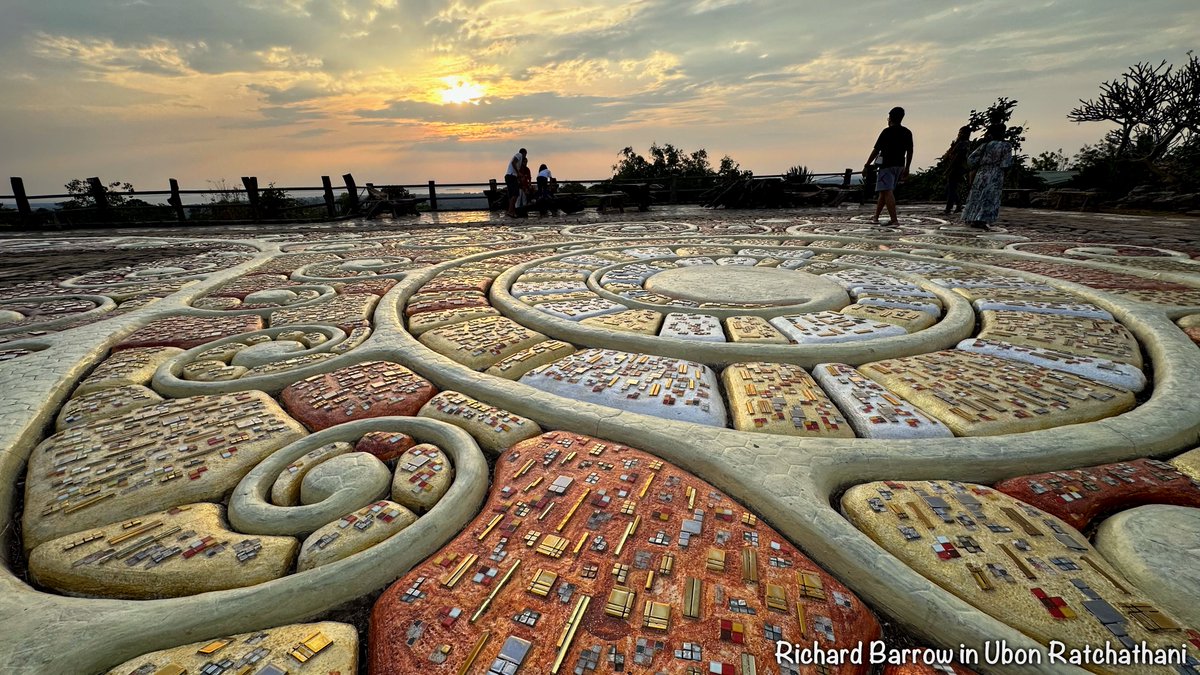 (22) Wat Sirindhorn Wararam in the Sirindhorn District of Ubon Ratchathani Province it is absolutely beautiful right after sunset during the "blue hour" as the designs on the ground and on the sides of the temple buildings glow in the dark. Not to be missed.
📍MAP: map.app.goo.gl/fMmc1tB7HJJfJb…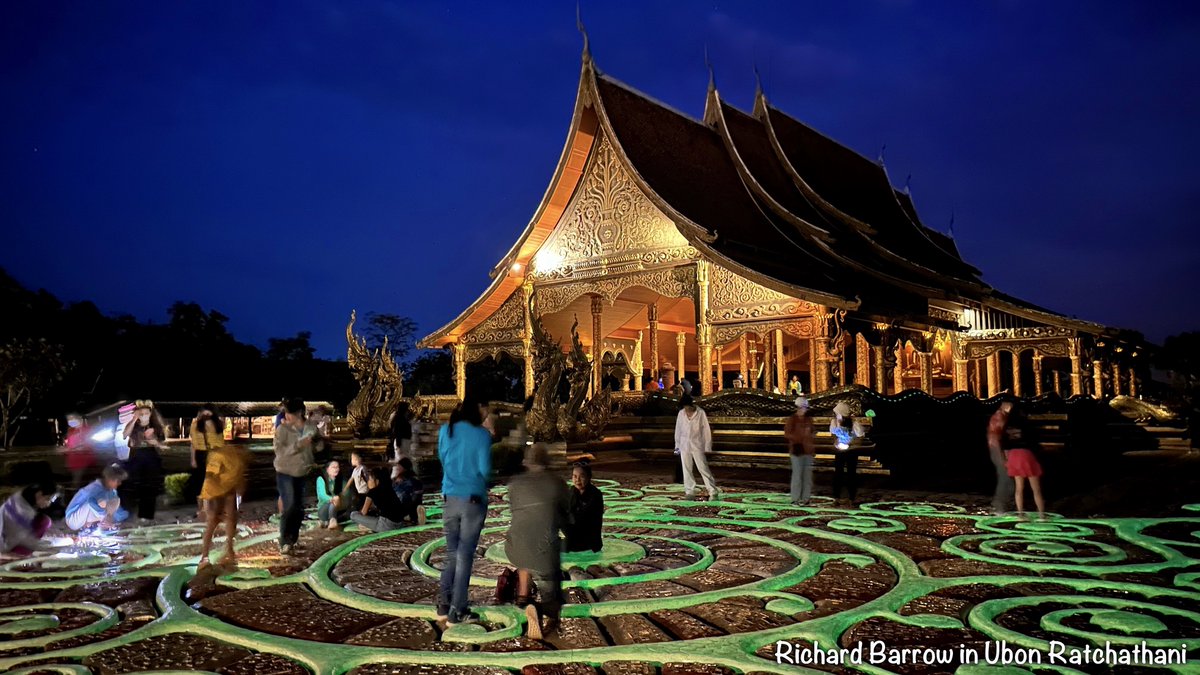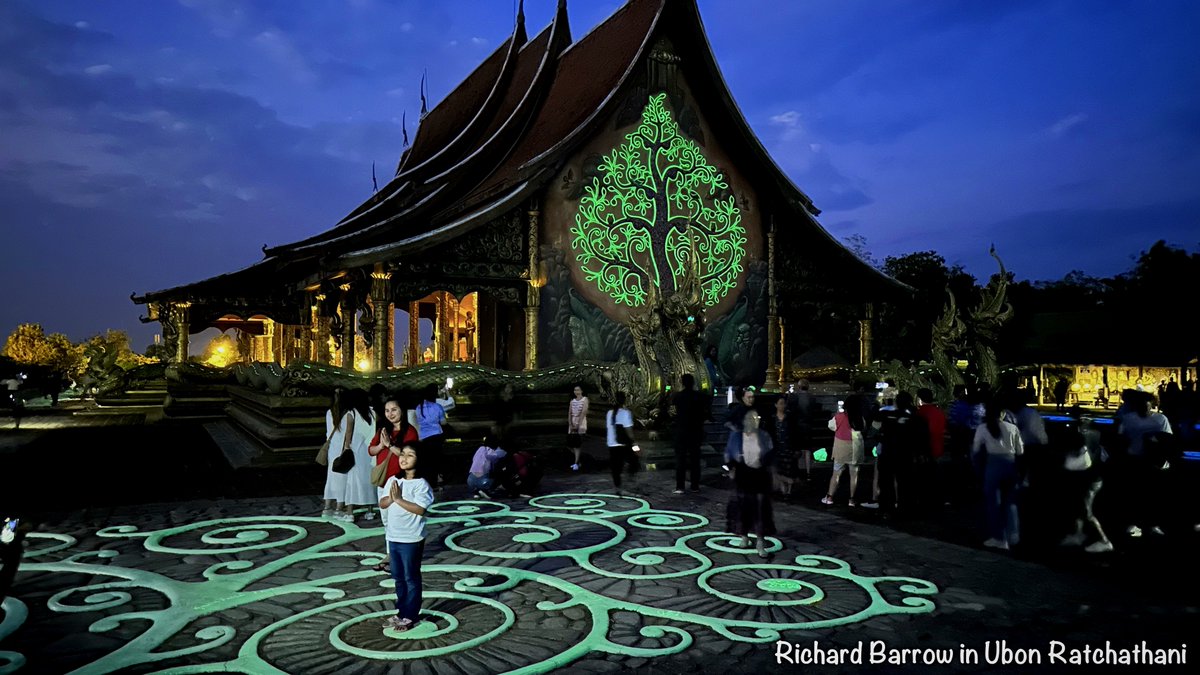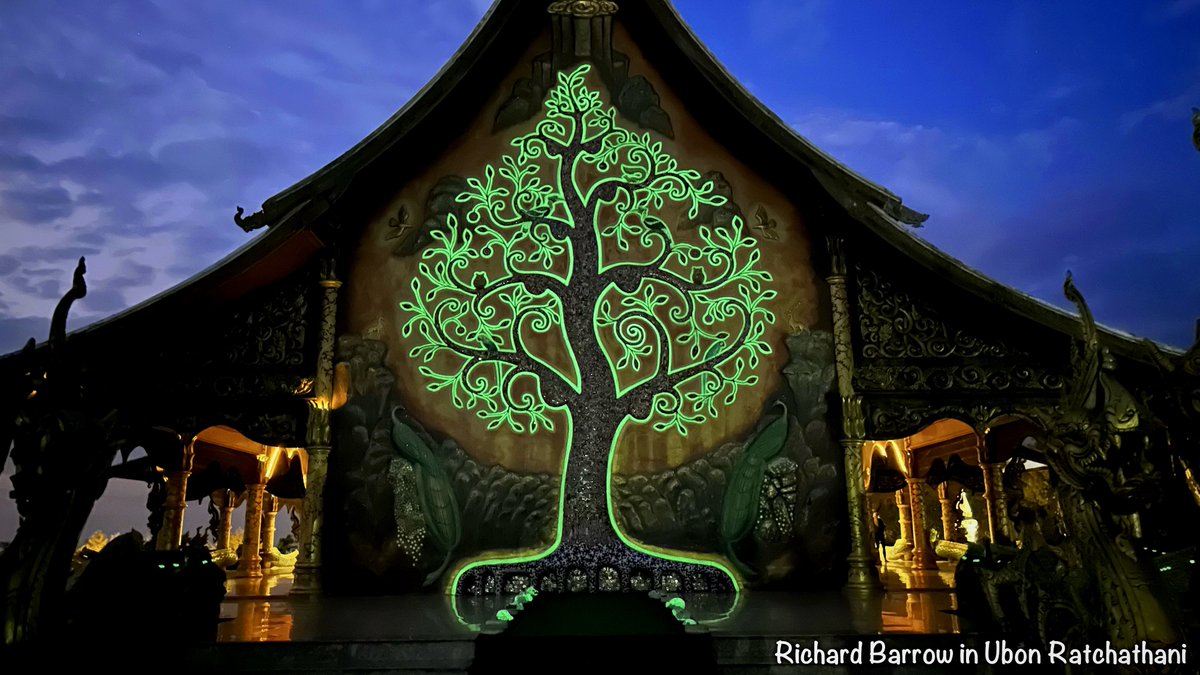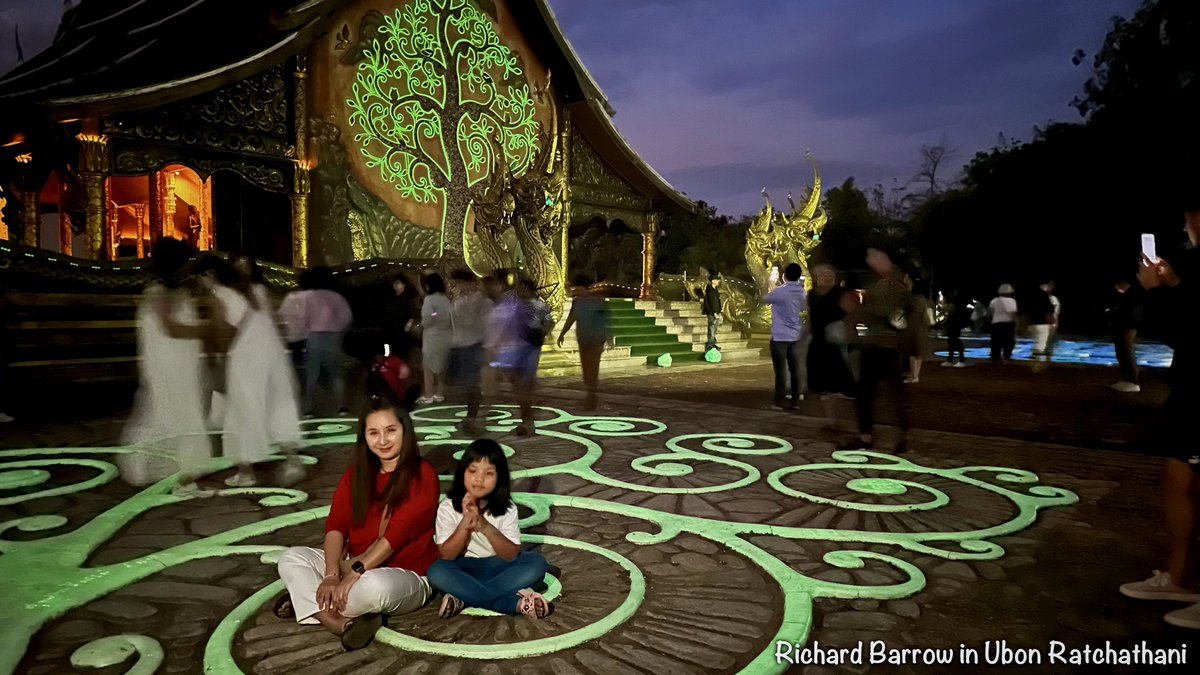 (23) Tonight's dinner will be at our hotel Tohsang Heritage Khongjiam overlooking the Mekong River. On the other side is Laos. I will share some photos of the area in the morning.
📍MAP: map.app.goo.gl/yQYuW4f2uzqWtm…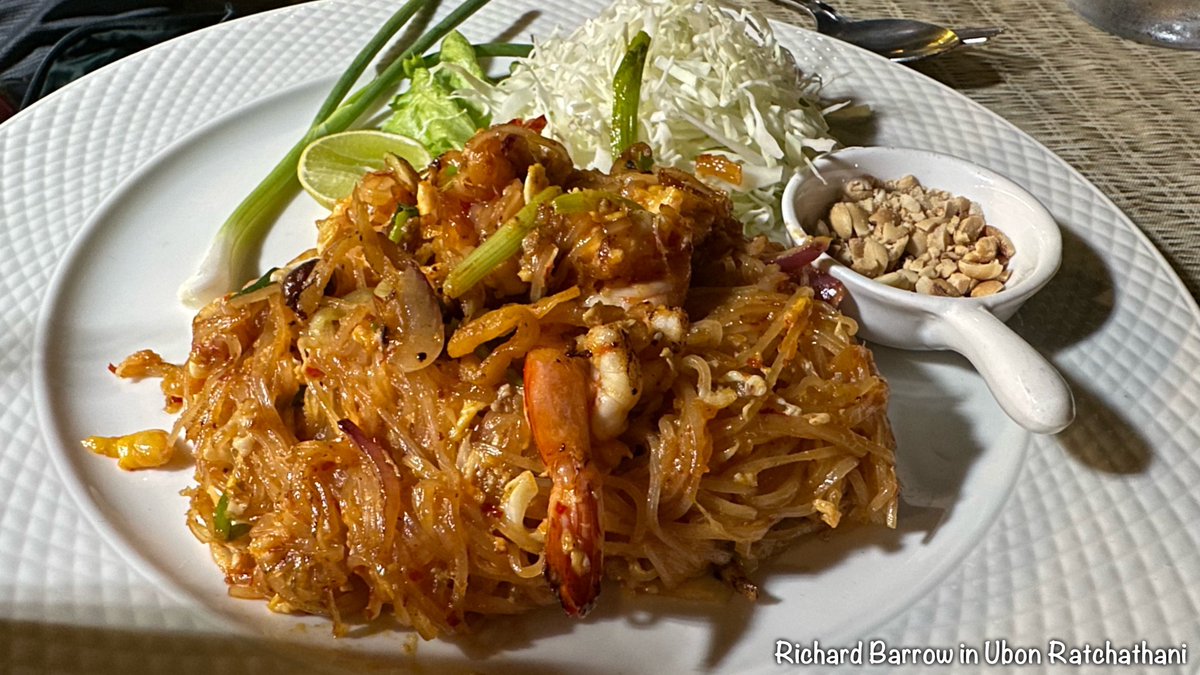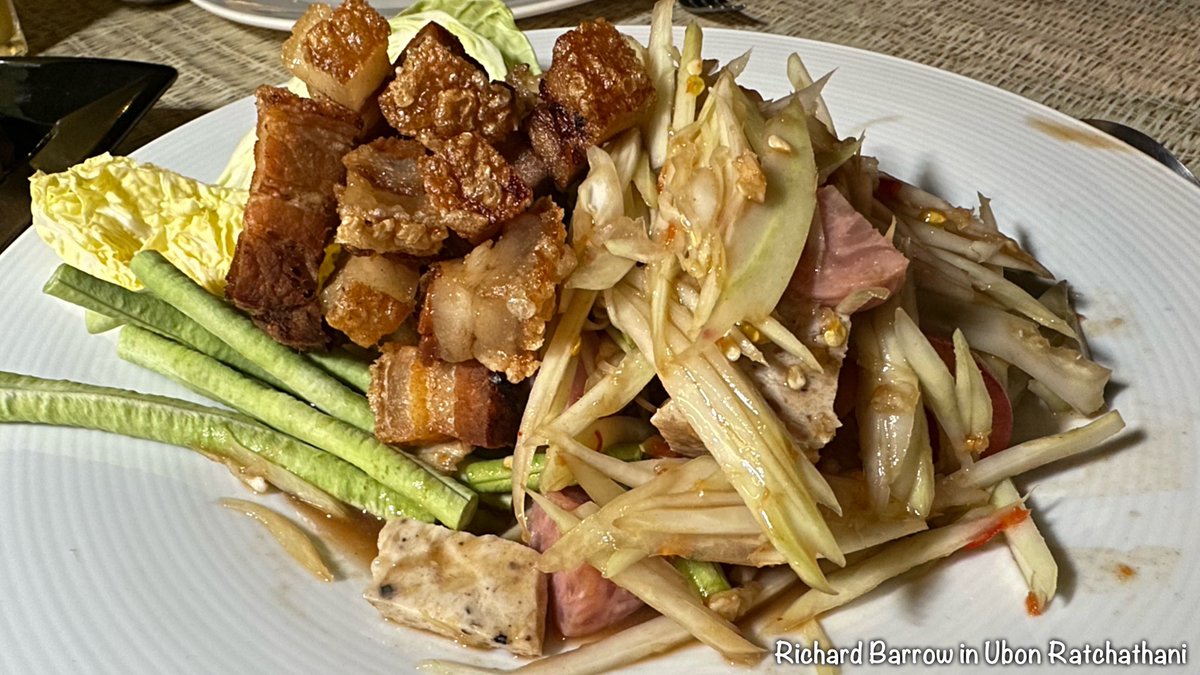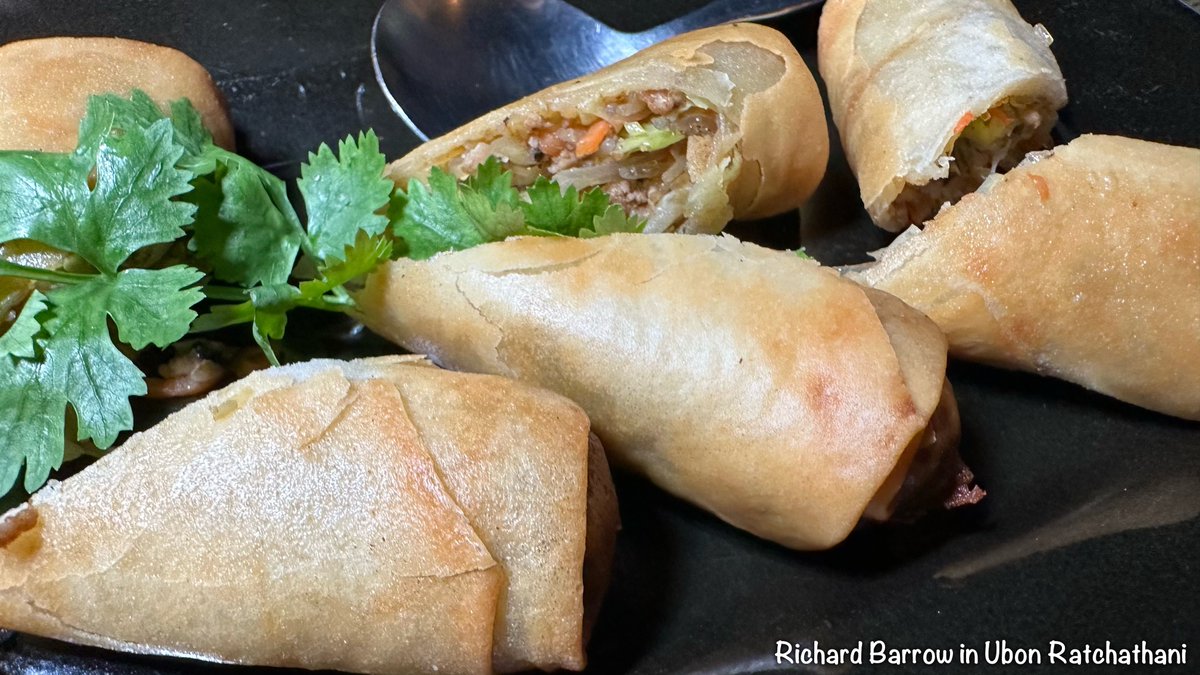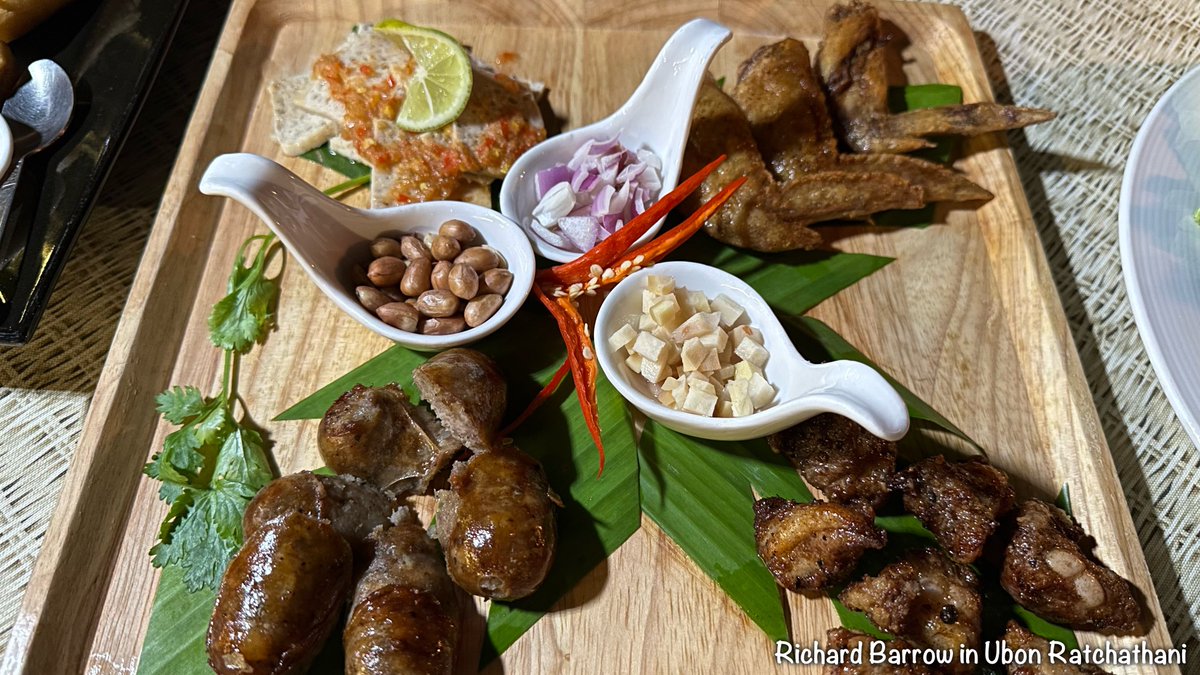 THE THIRD DAY
(24) Good morning from Khong Chiam District Ubon Ratchathani province. This morning's view of Wat Tham Covered looking out over the Mekong River. On the left is Laos.
📍MAP: map.app.goo.gl/yWbgFW1VRJWxCT…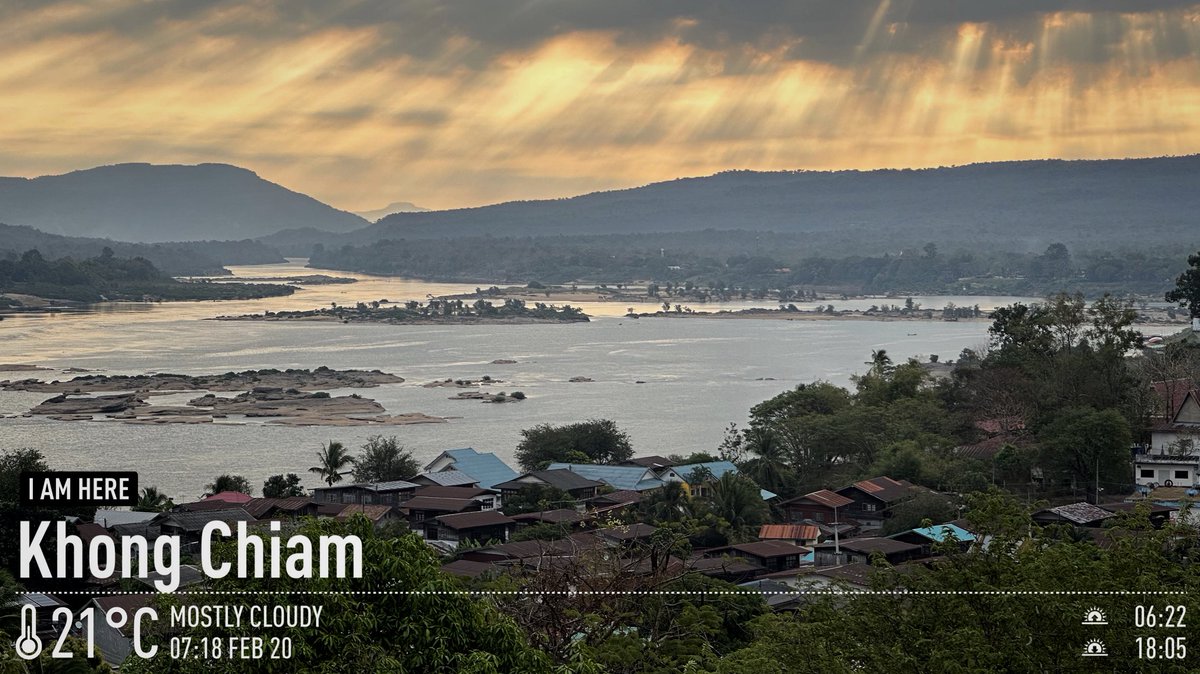 (25) Those Viewpoint of the Two Colors River in Khong Chiam is where the water from the Mun River flows into the Mekong producing a two-tone effect. The best time to see it is during the rainy season and the best view of the day is just from my drone.
📍MAP: map.app.goo.gl/WtUQDg7wbRTCVS…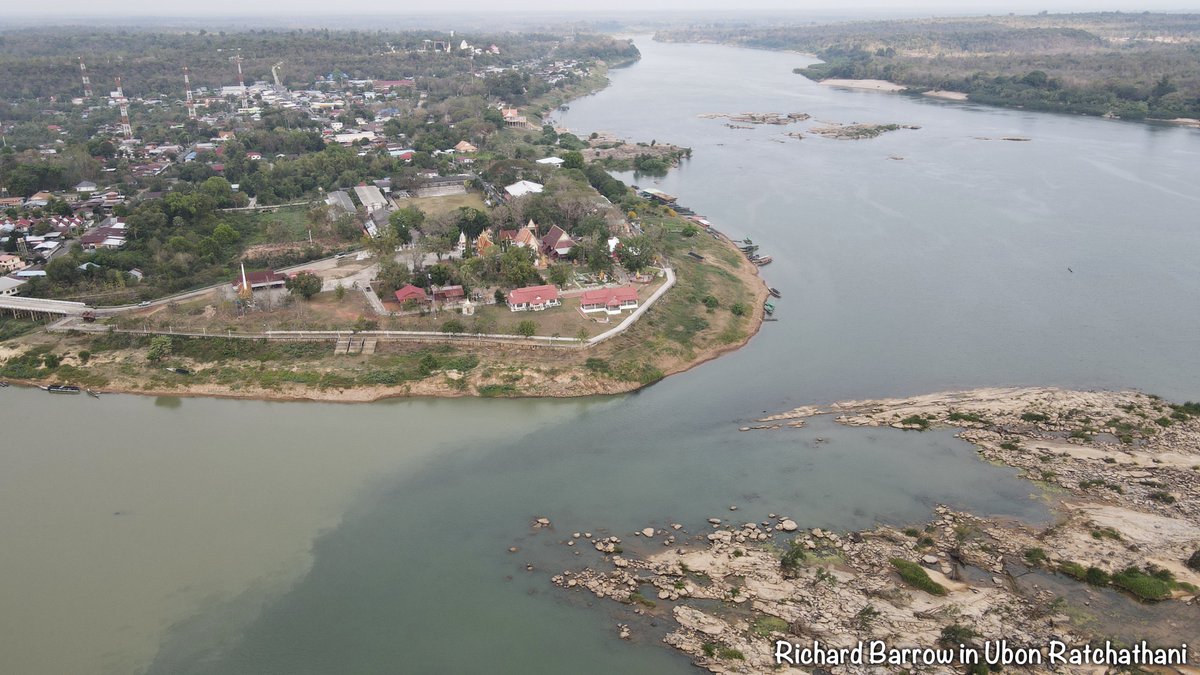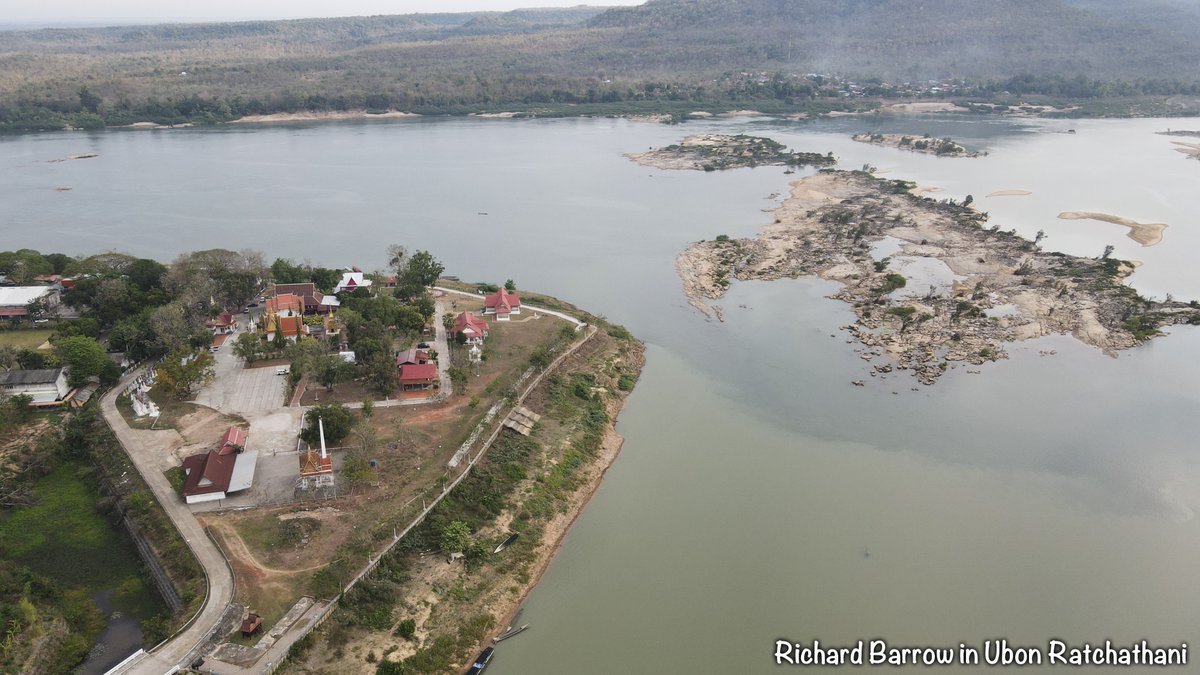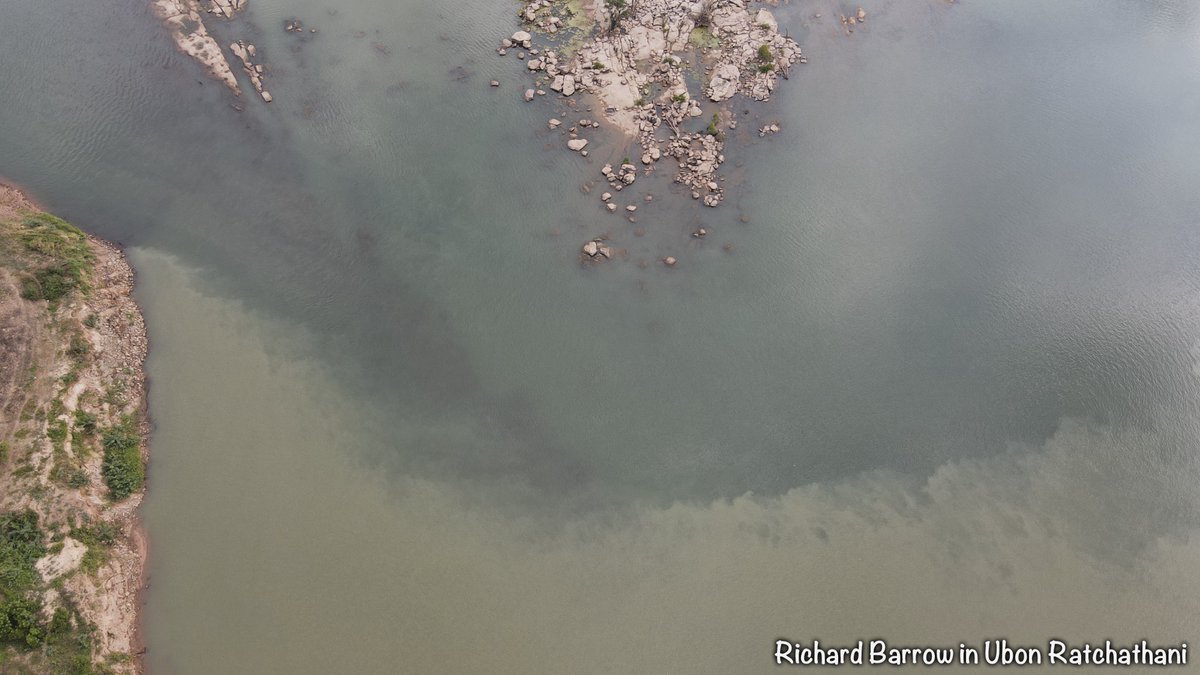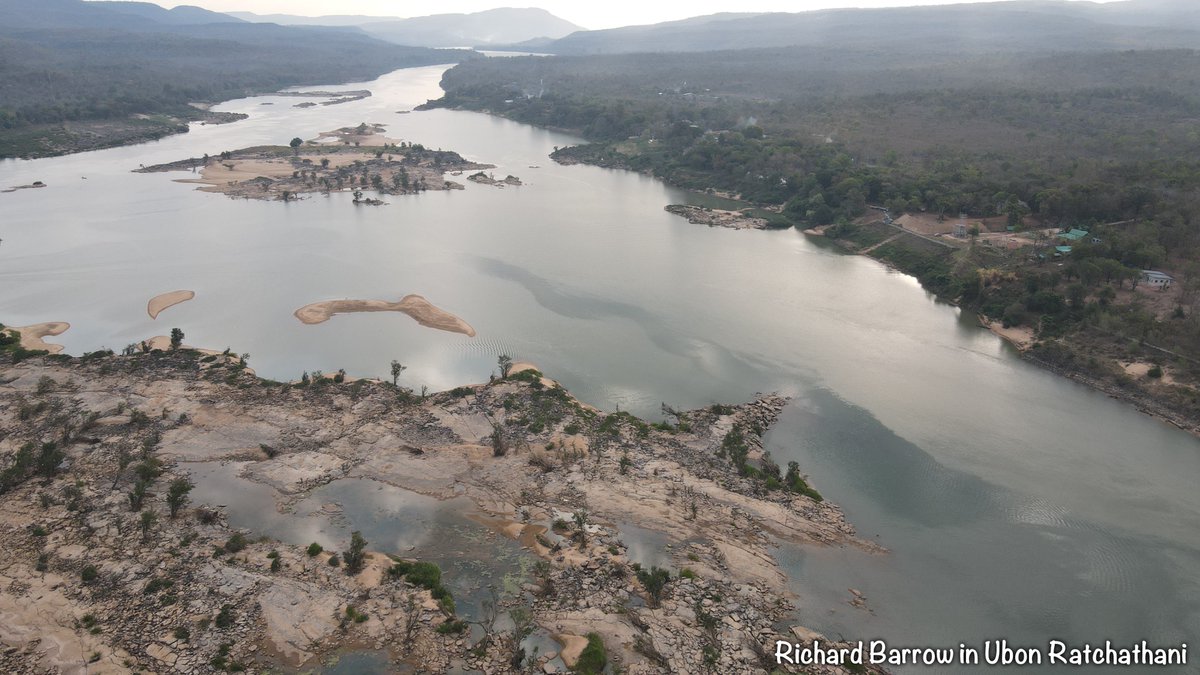 (26) Above Wat Tham Heo Sin Chai there is a jutting rock that makes the cave shelter. During the rainy season there is a waterfall here as well which makes it even more beautiful. Today monks use water pipes to recreate waterfalls!
📍MAP: map.app.goo.gl/ySd4avkqDW6ass…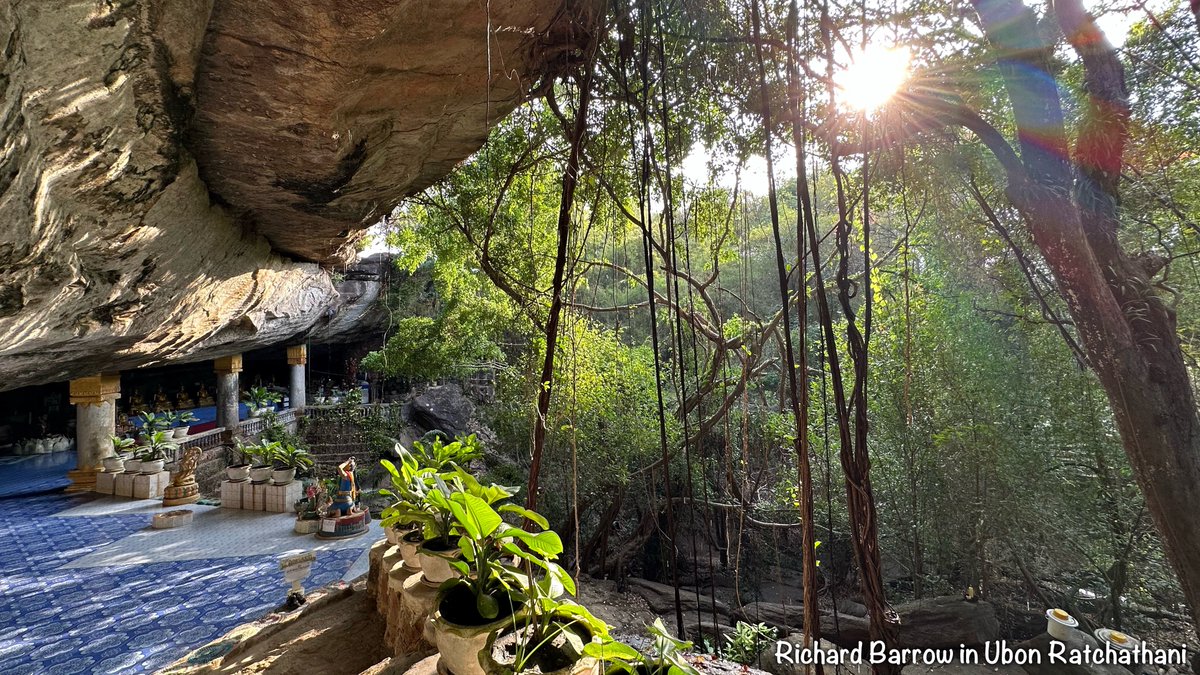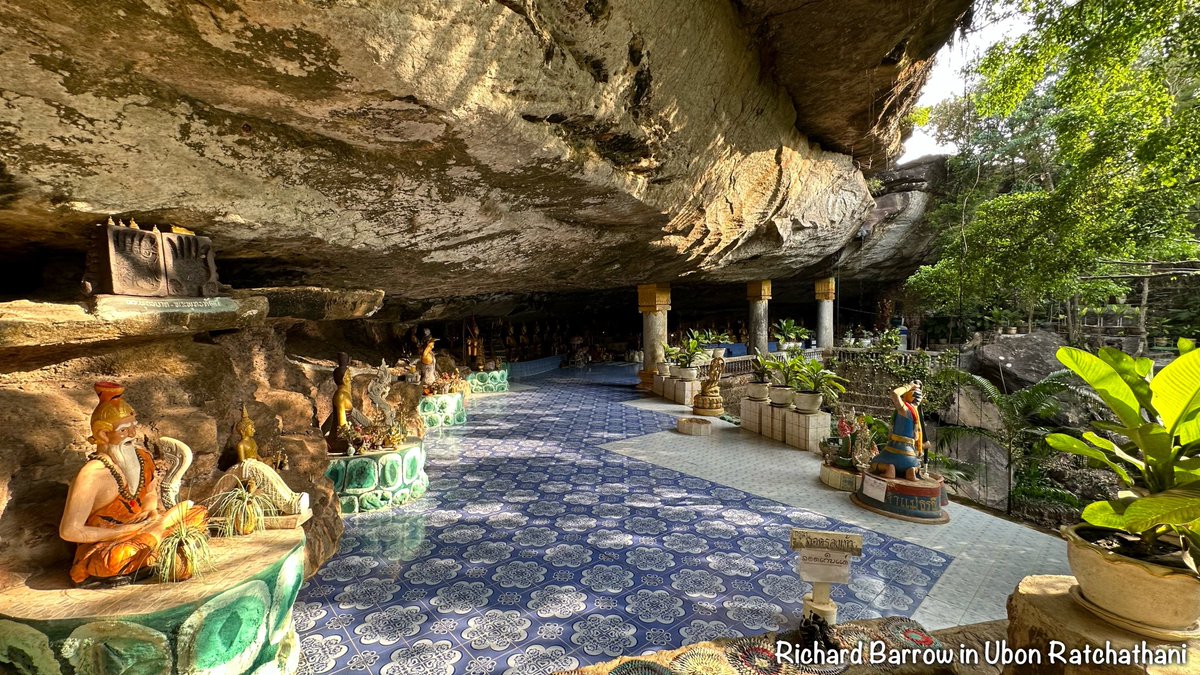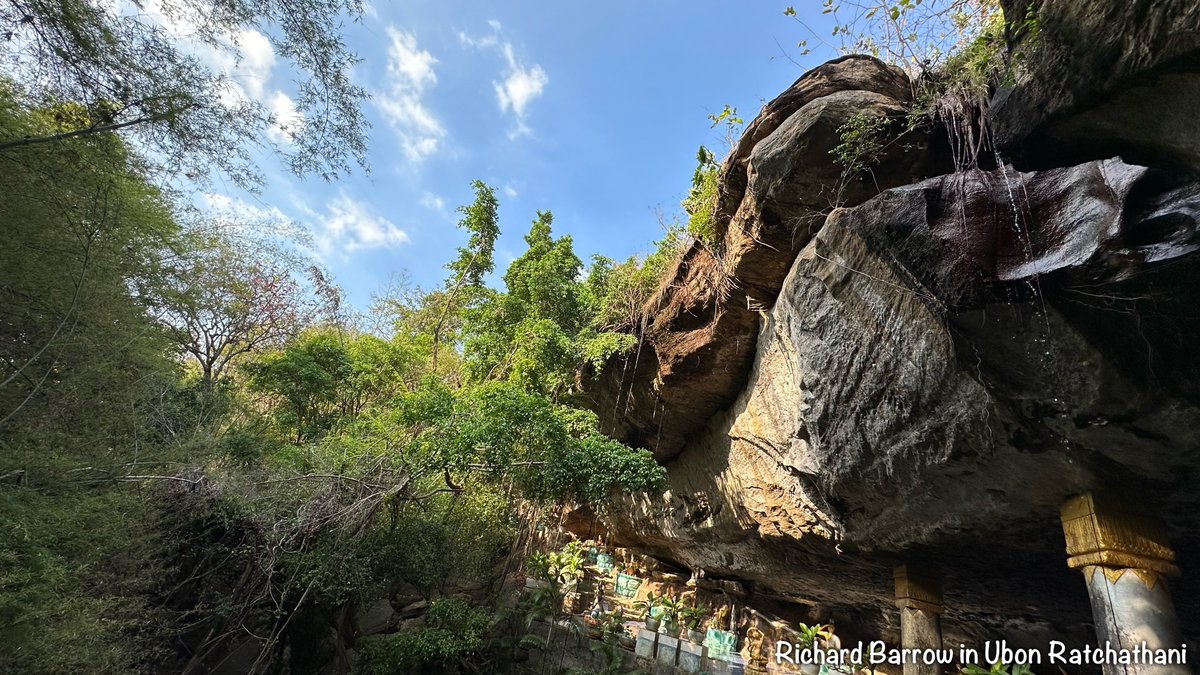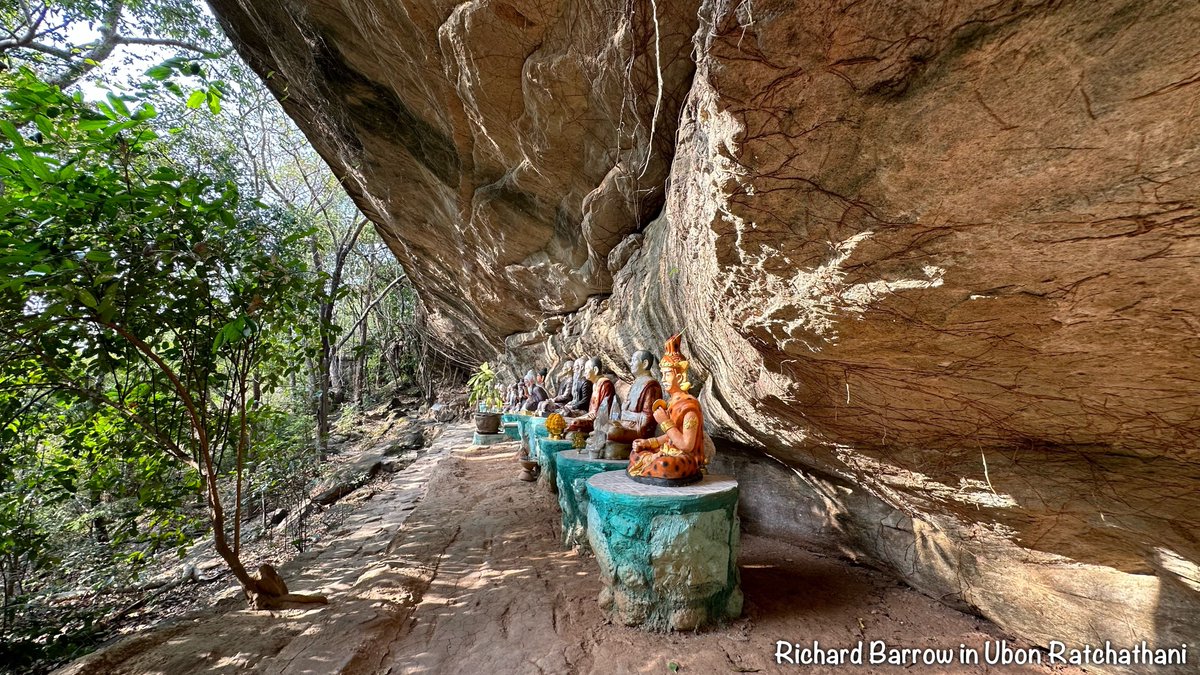 (27) Back to our hotel, it was breakfast with a view. In the photo with me is my friend Mike from @Thailandee_com whom I invite to join me on this journey. we live in Tohsang Heritage Khongjiam last night. Today is our last day. We'll catch the sleeping man back to Bangkok tonight.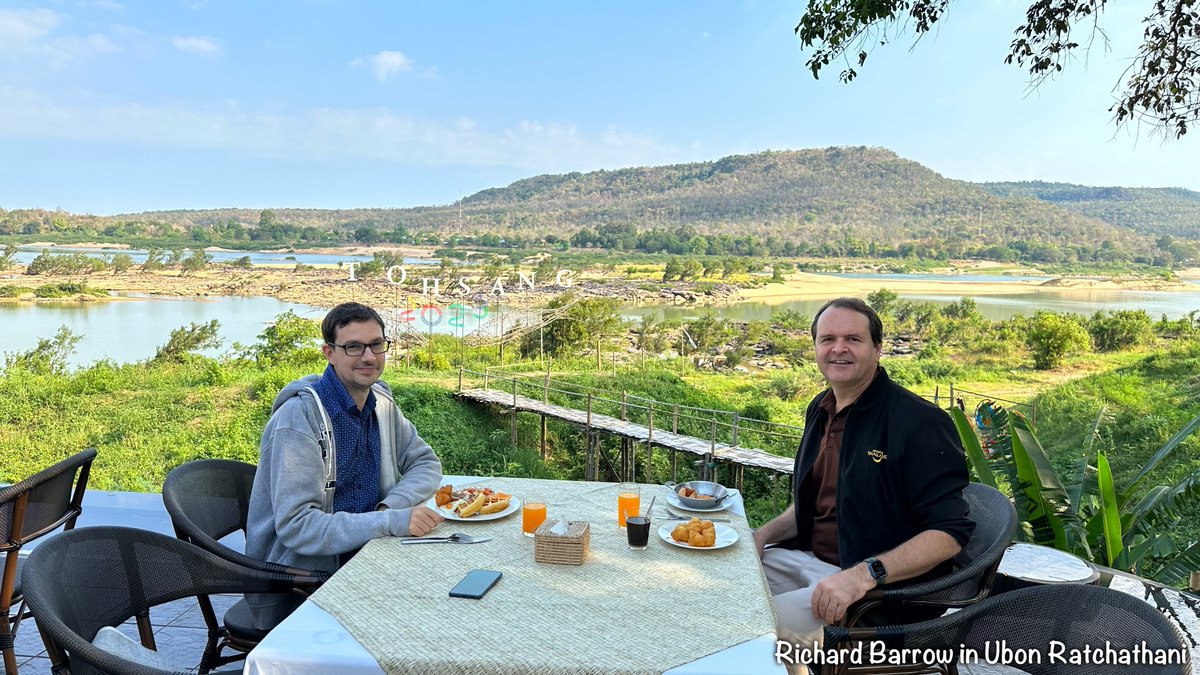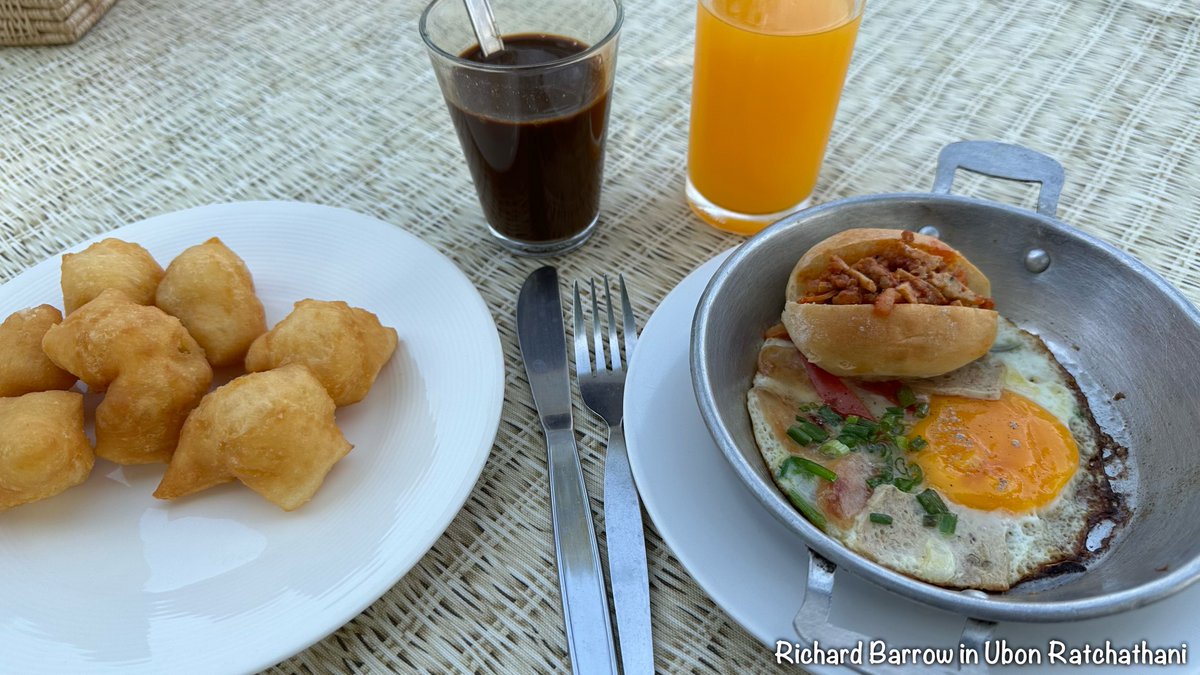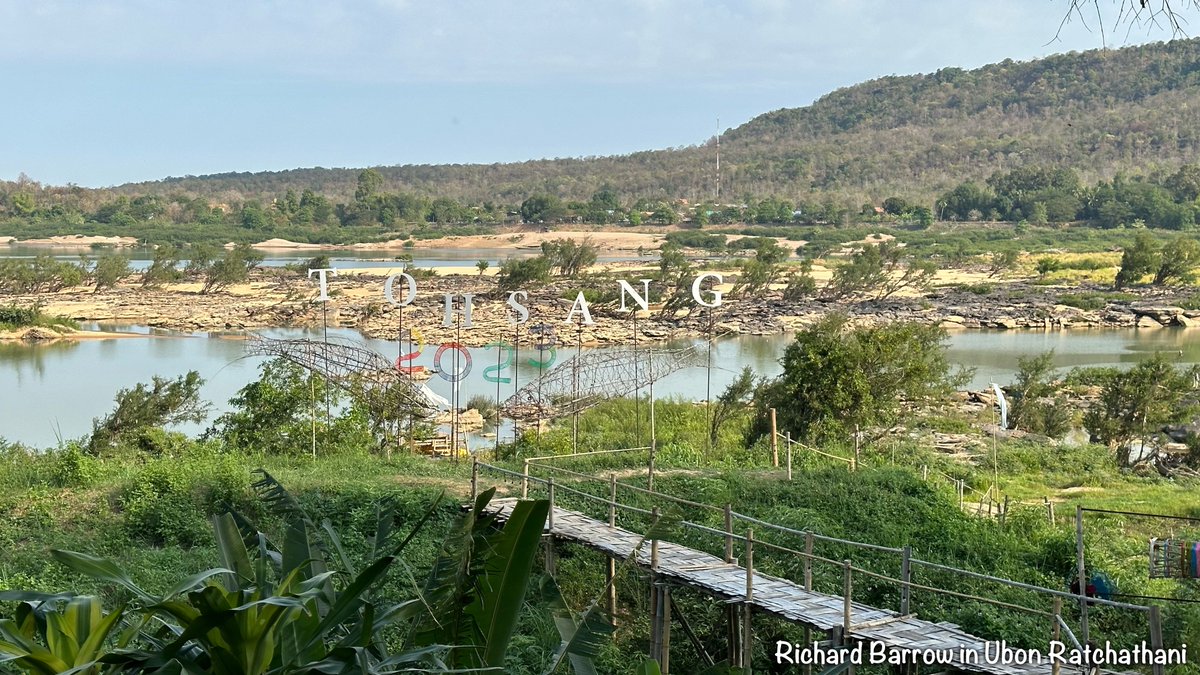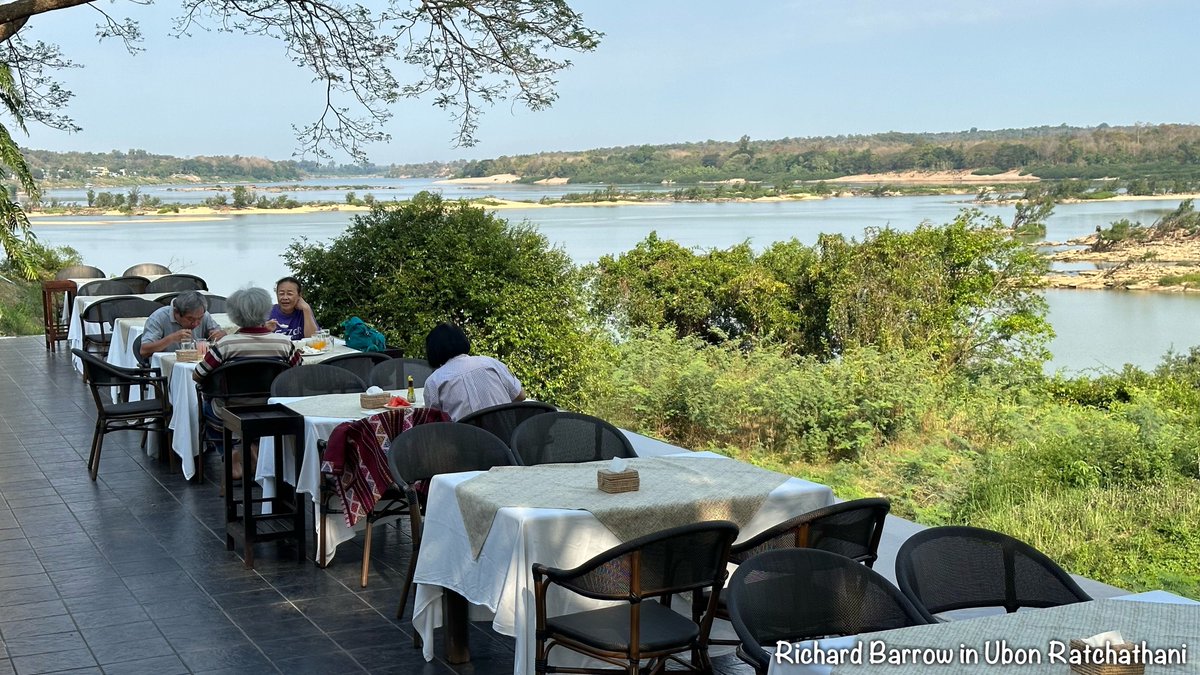 (28) Our first stop after checking out of the hotel was Pha Taem National Park in the Khong Chiam district. The first two highlights are the mushroom-shaped limestone rock formations caused by erosion and the clifftop views of the Mekong River.
📍MAP: map.app.goo.gl/qXqpVxWBsGZjRk…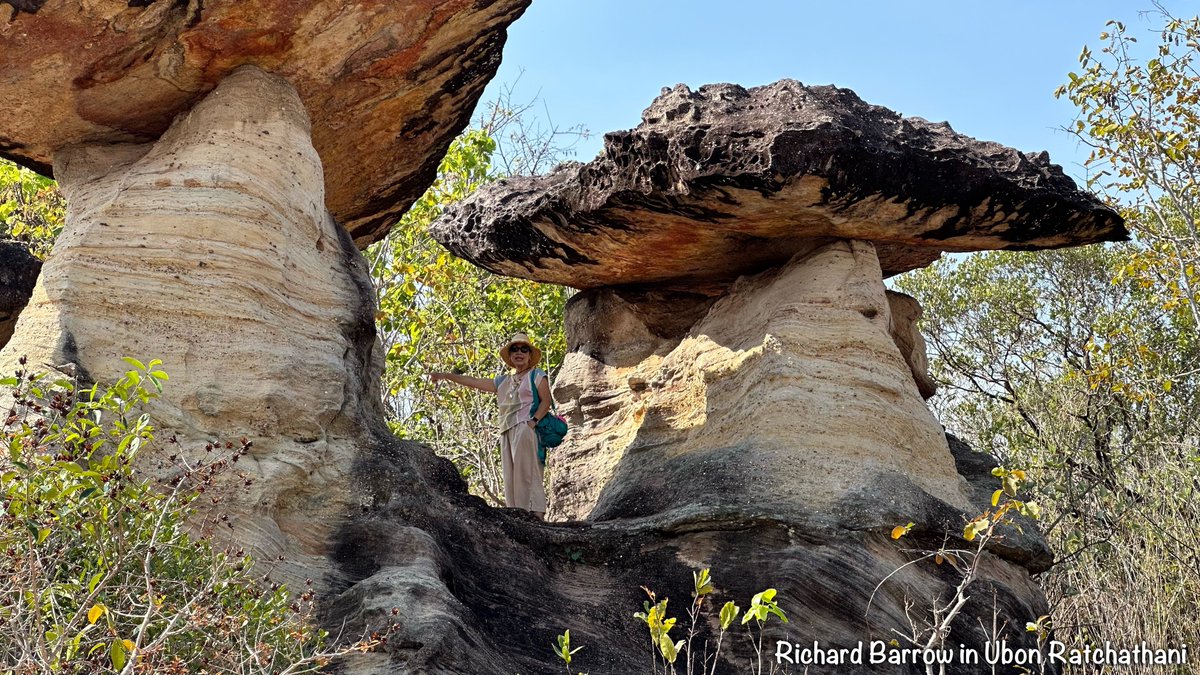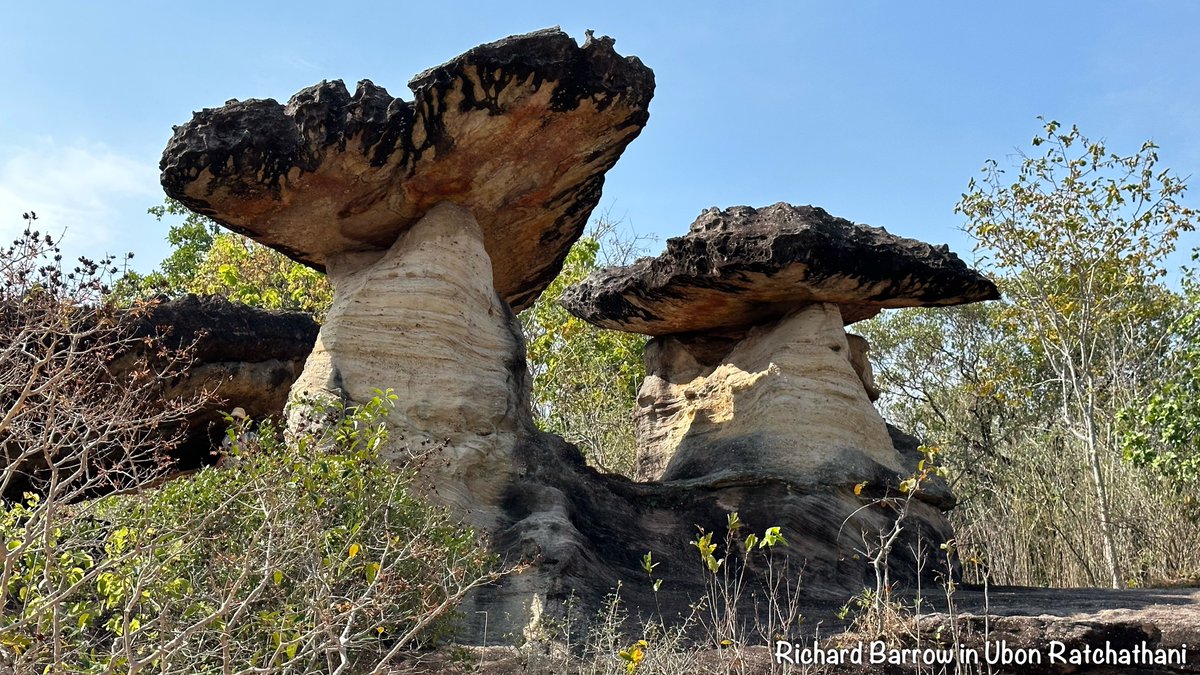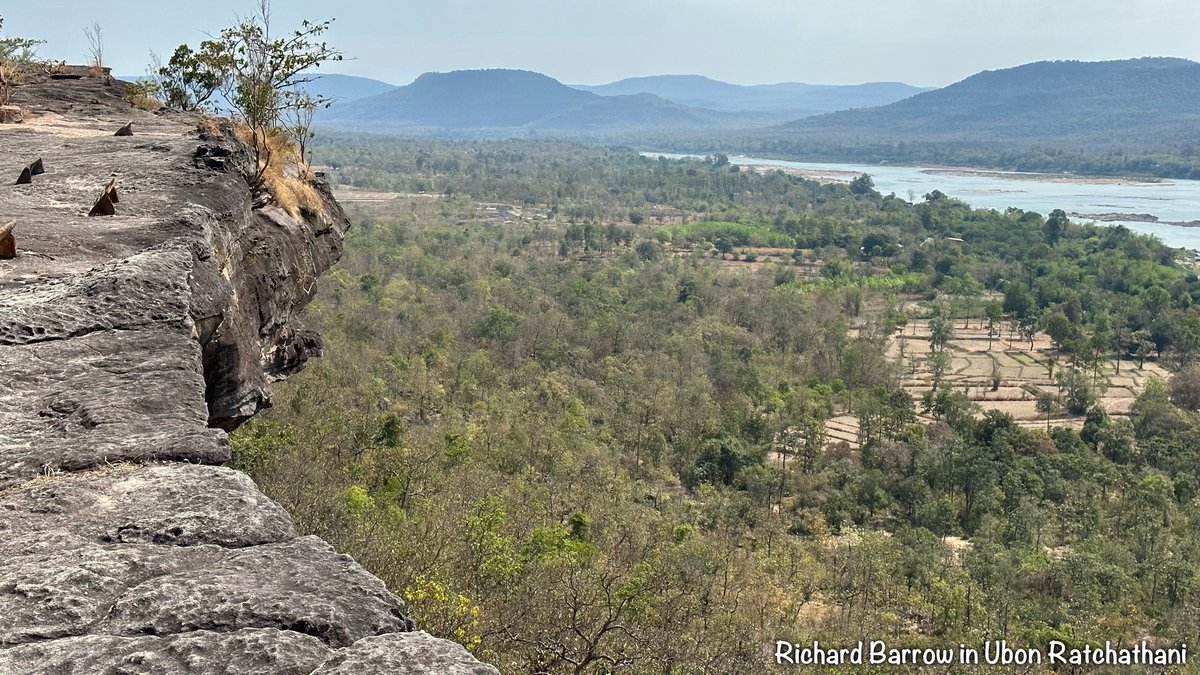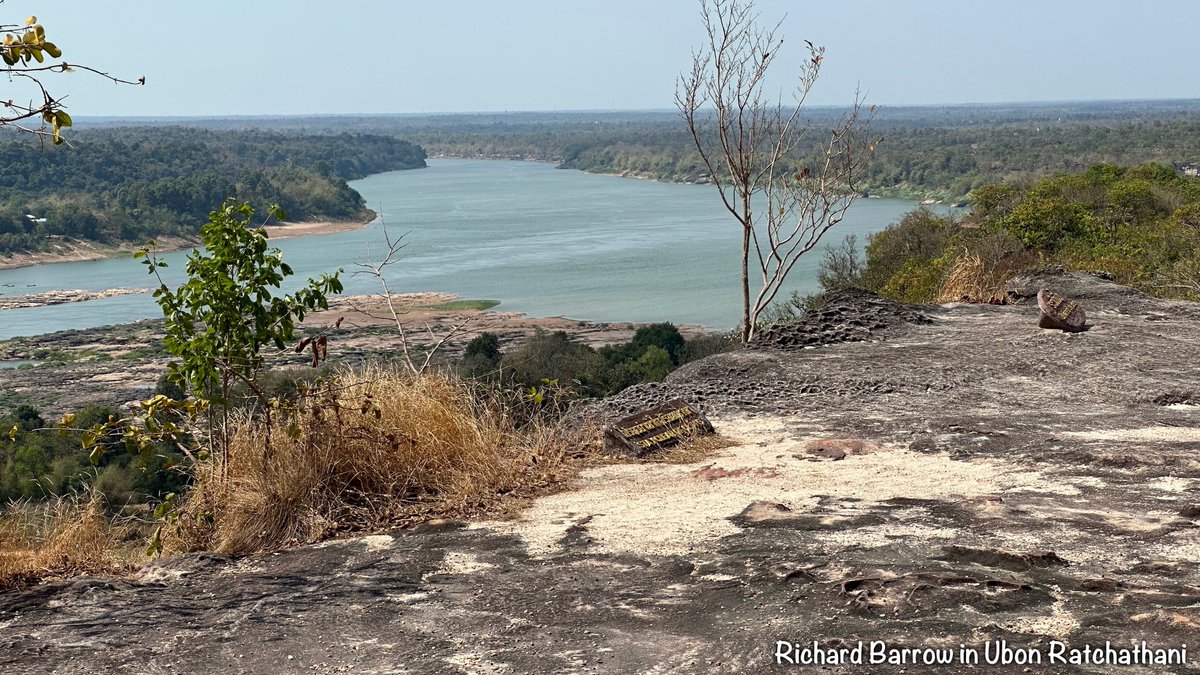 (29) Pha Taem National Park is most famous for cave painting in a variety of styles and techniques including outline figures, silhouette paintings, stick figures, hand stencils, and printing. The paintings on the cliff face are around 2,500 years old.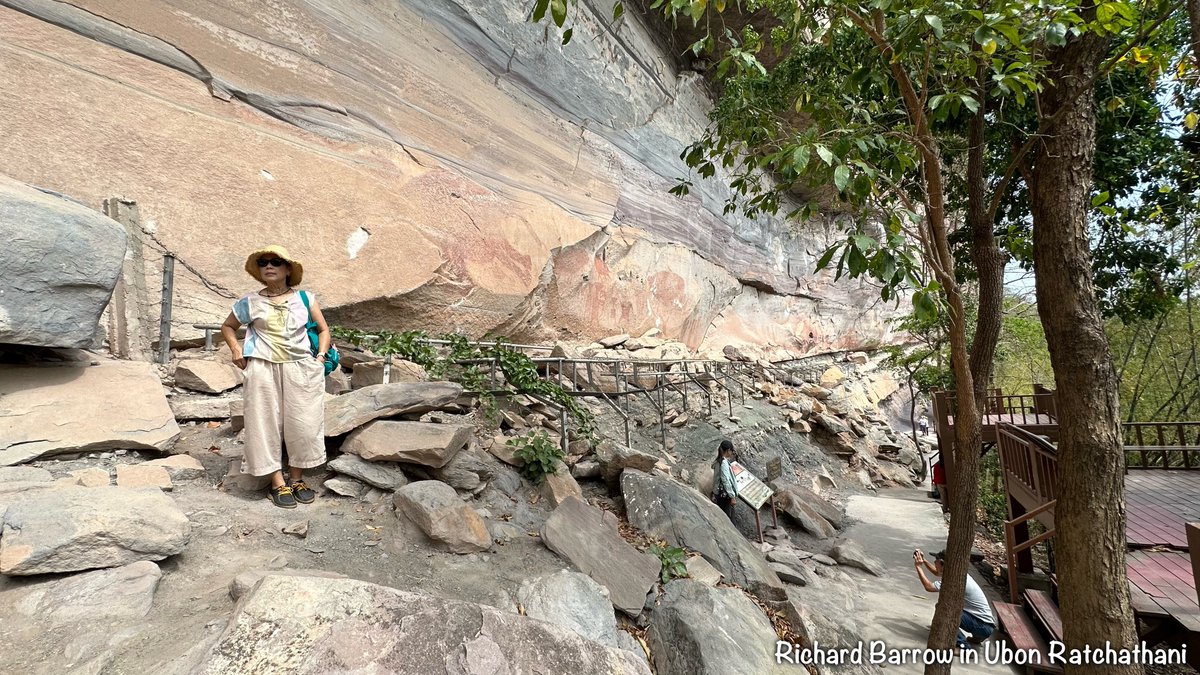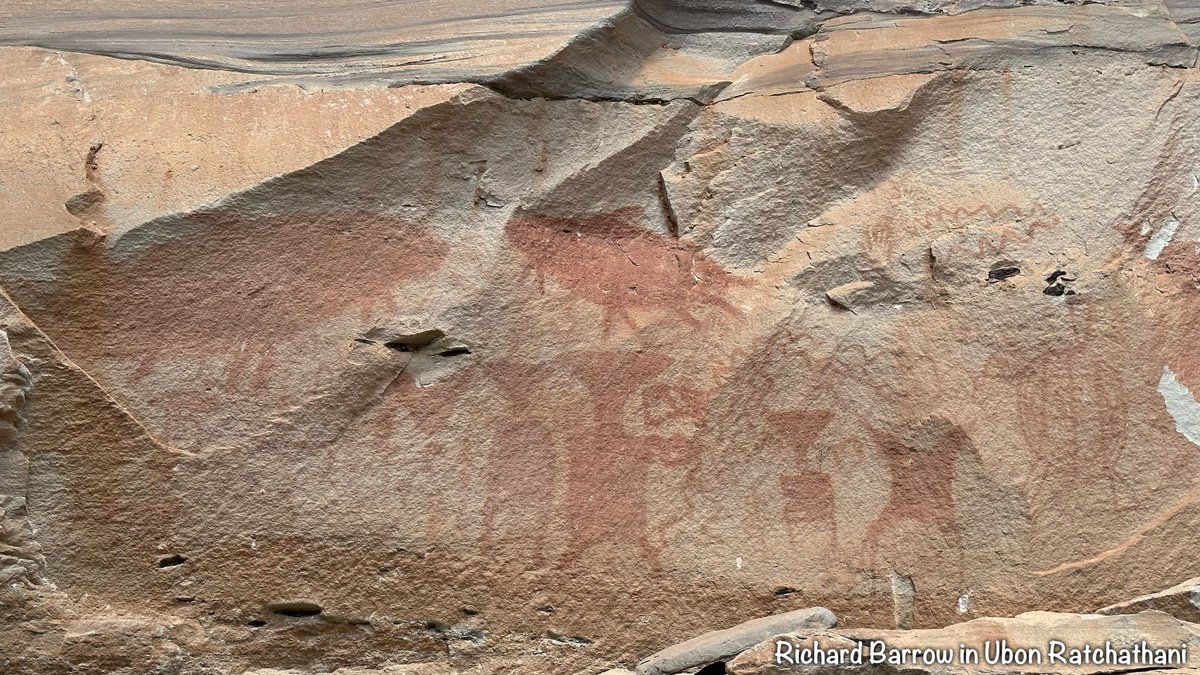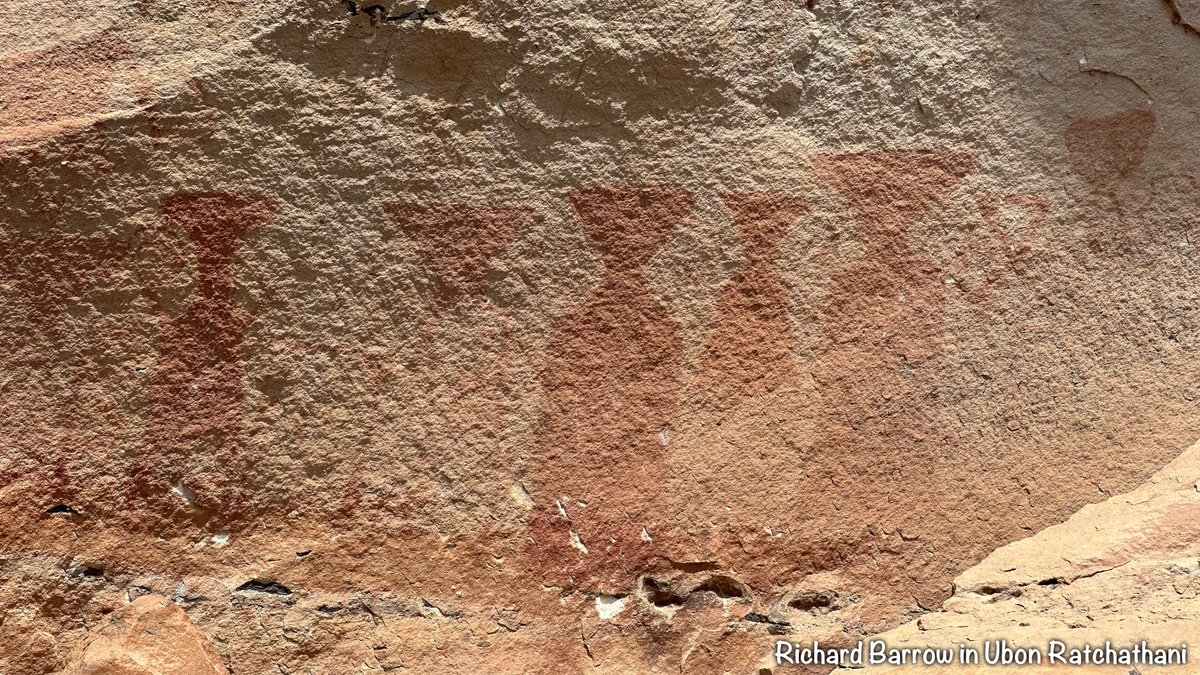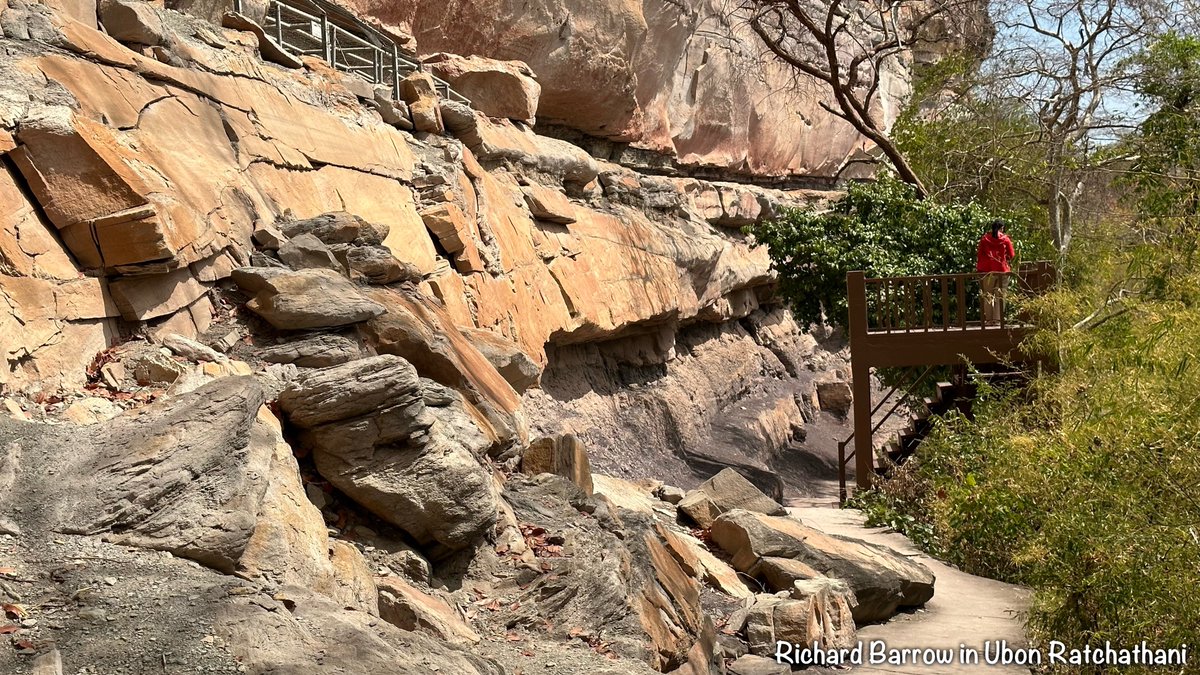 (30) Today's lunch at Pk Riverside Resort which has some views of the Mekong River. My favorite dish is the spicy wing bean salad. After that we had coffee and cheese cake at the coffee shop next door.
📍MAP: map.app.goo.gl/Zbu1AmzndYcv9M…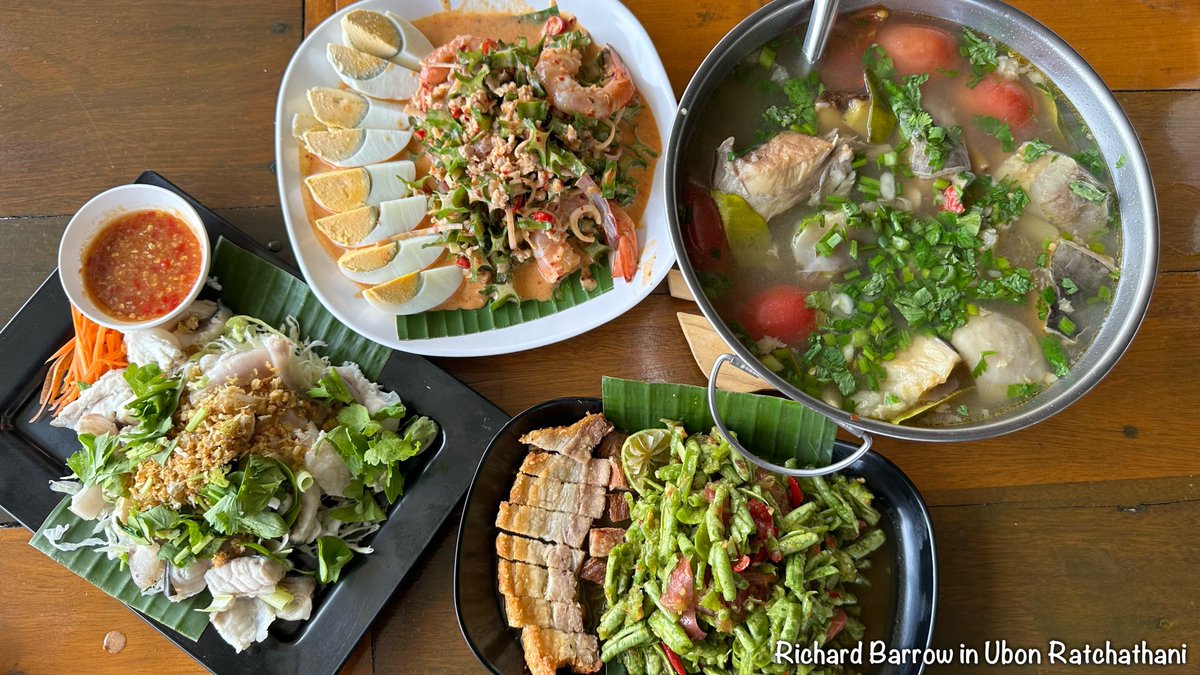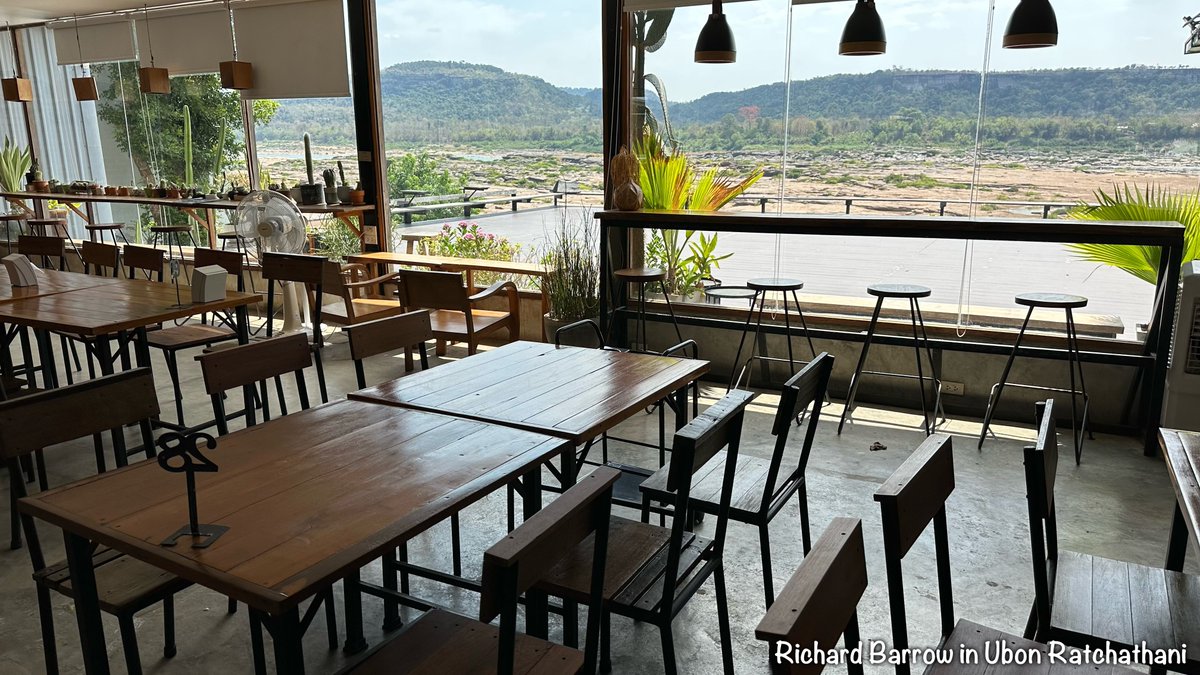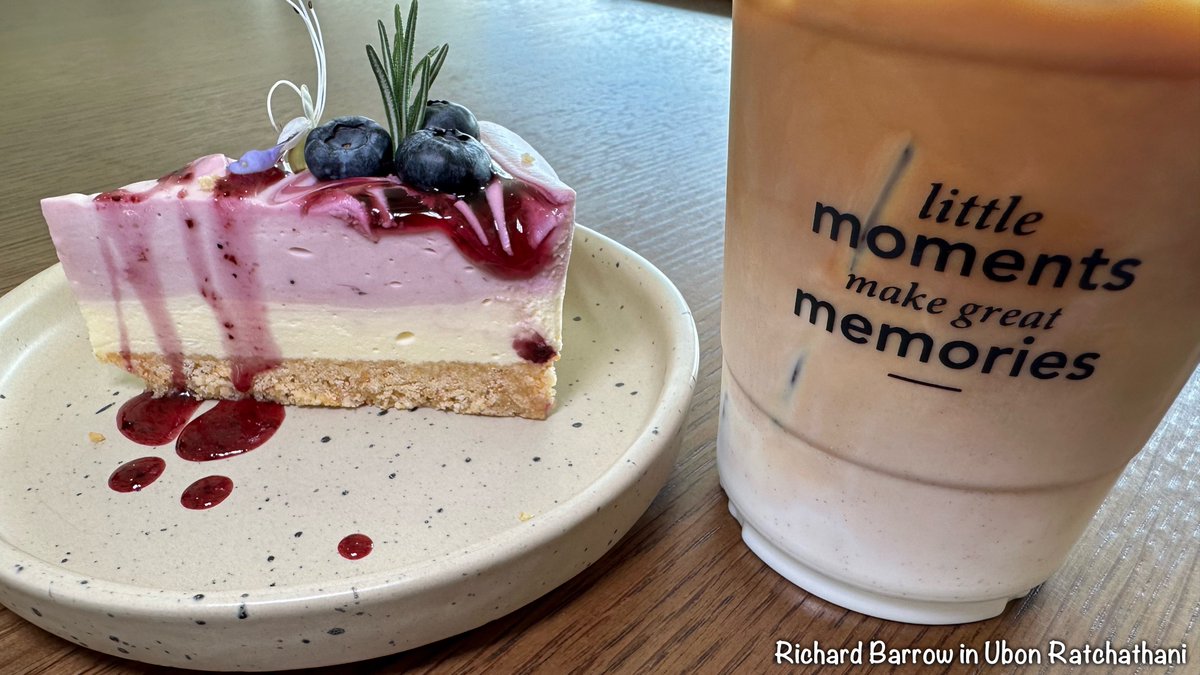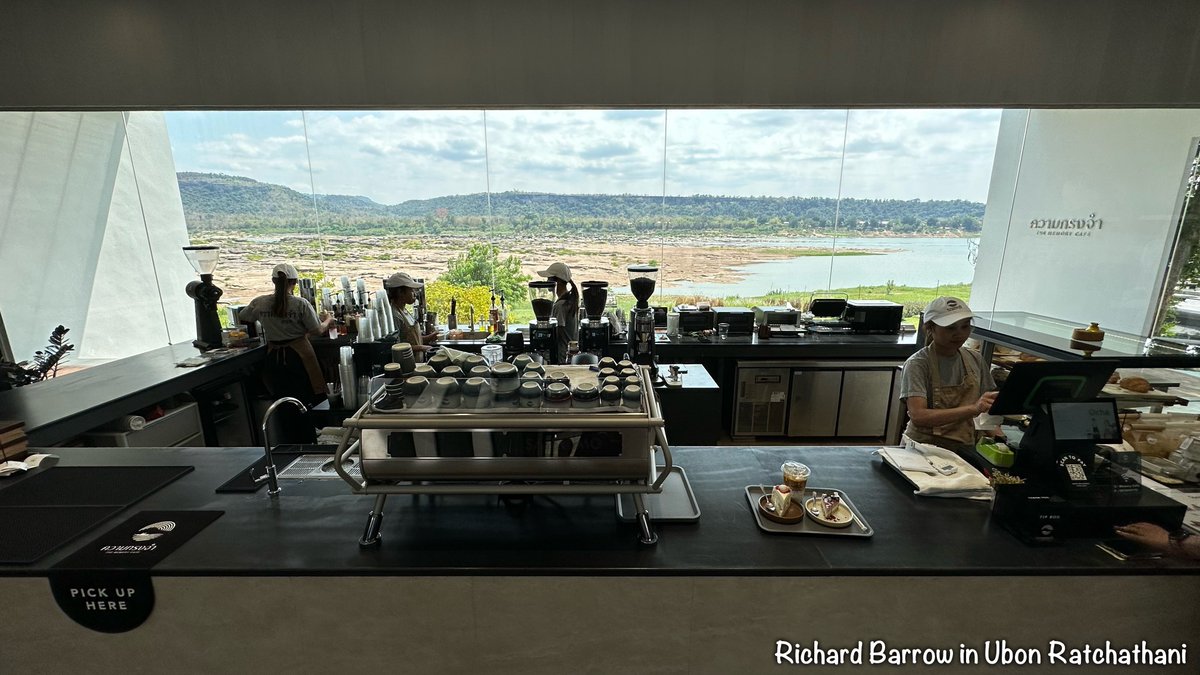 (31) Definitely the pinnacle of Ubon Ratchathani province Sam Phan Bok in the Pho Sai district. The name refers to the 3,000 holes in the surface of the sandstone that have been created by erosion to produce the interesting shape.
📍MAP: map.app.goo.gl/MTukhNKMm3EDRK…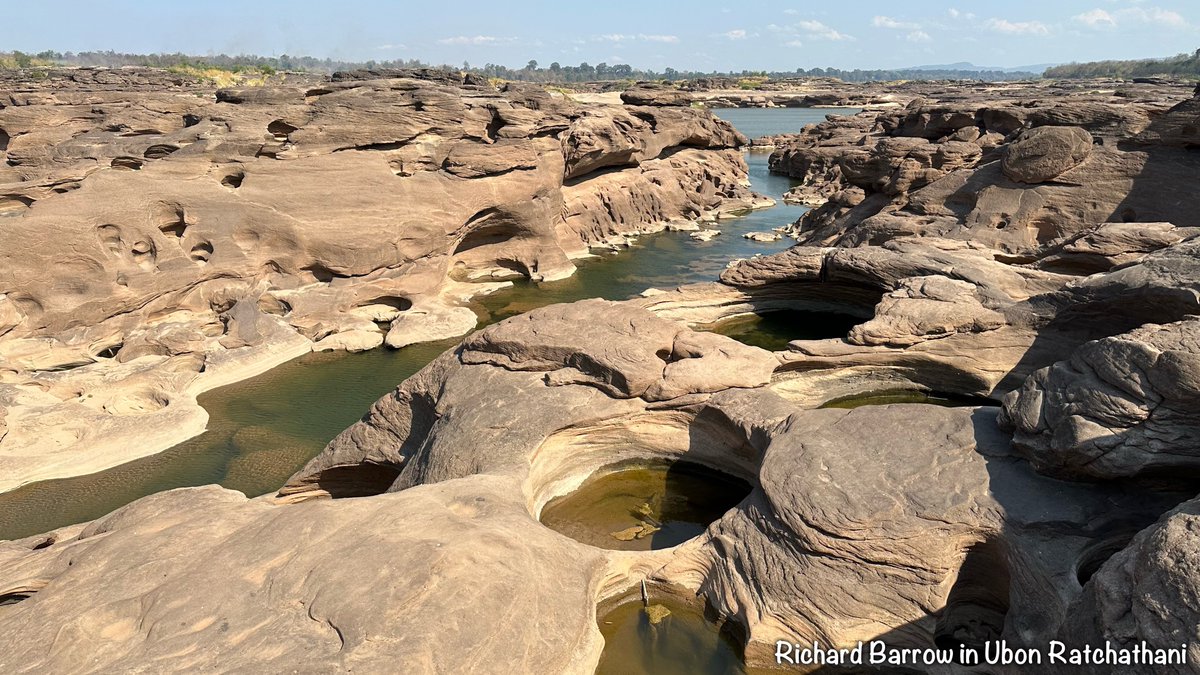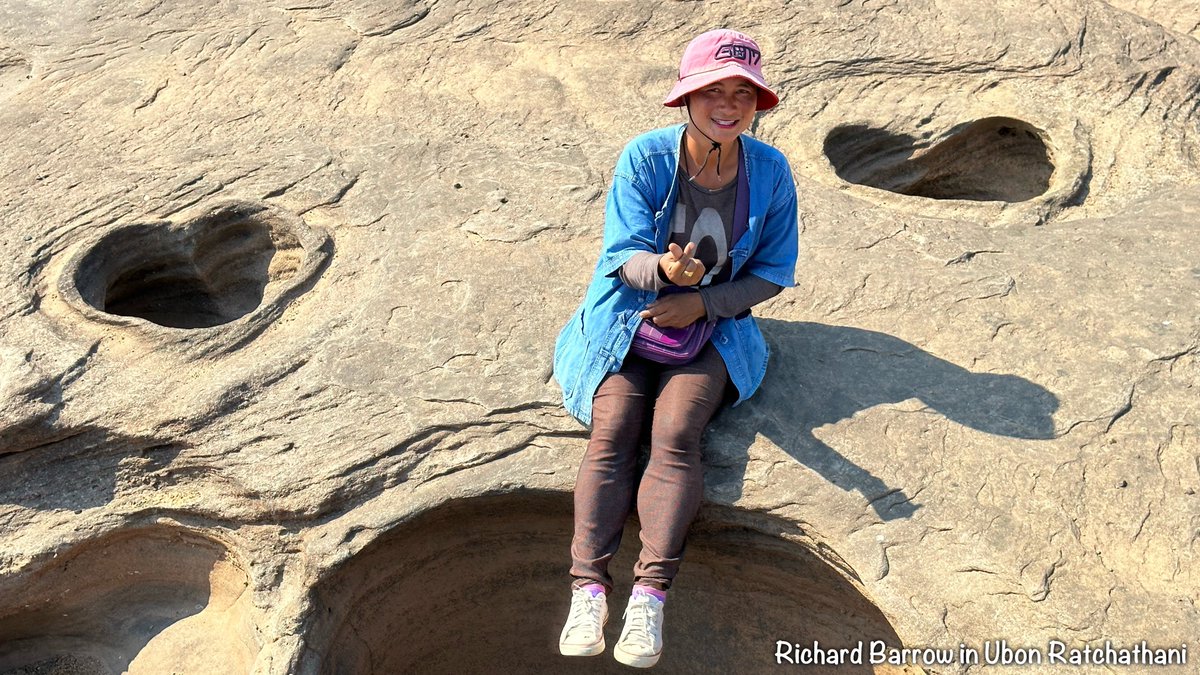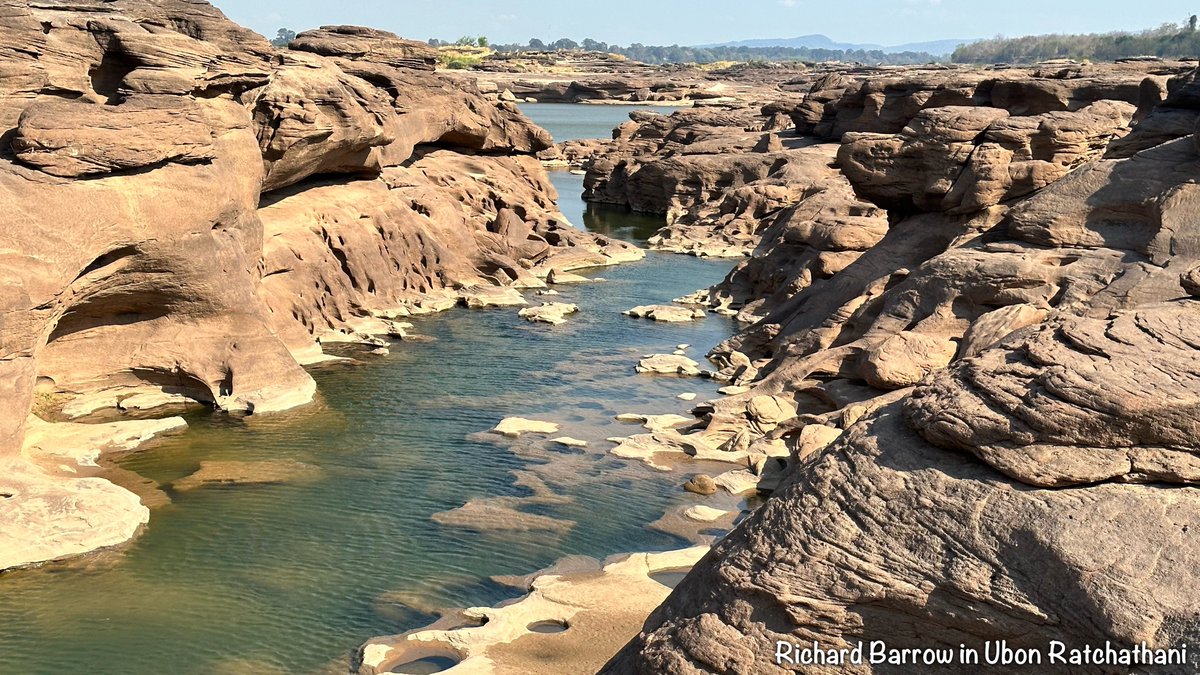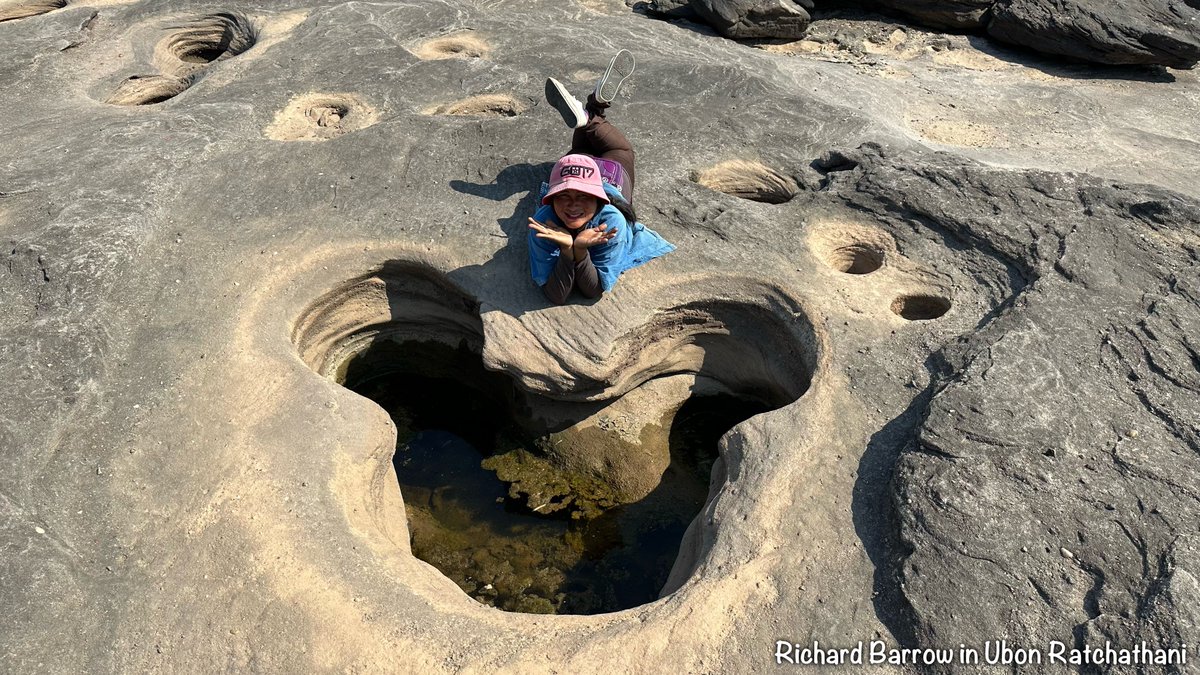 (32) Sam Phan Bok it is under water between july and october so best to visit at the end of the year. To hire a songtaew to go back and forth to the rock formations is 200 Baht. It is recommended to take a guide as he can show you the best places to take photos. He will even be your model! You can also take a 500 Baht or 1000 Baht boat if you want to see more.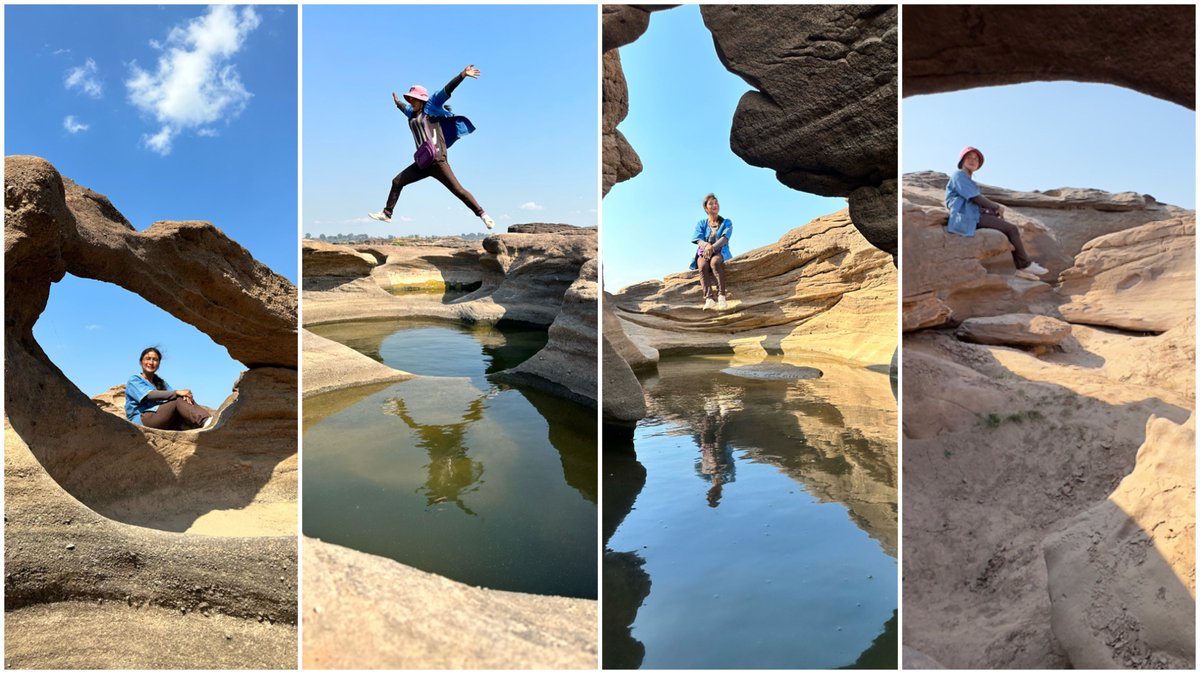 (33) One of my favorite monasteries in the city of Ubon Ratchathani is Wat Phra That Nong Bua. It has a 56 meter high pagoda and a pair of colorful giant Naga snakes.
📍MAP: map.app.goo.gl/jtyEw264KSqeya…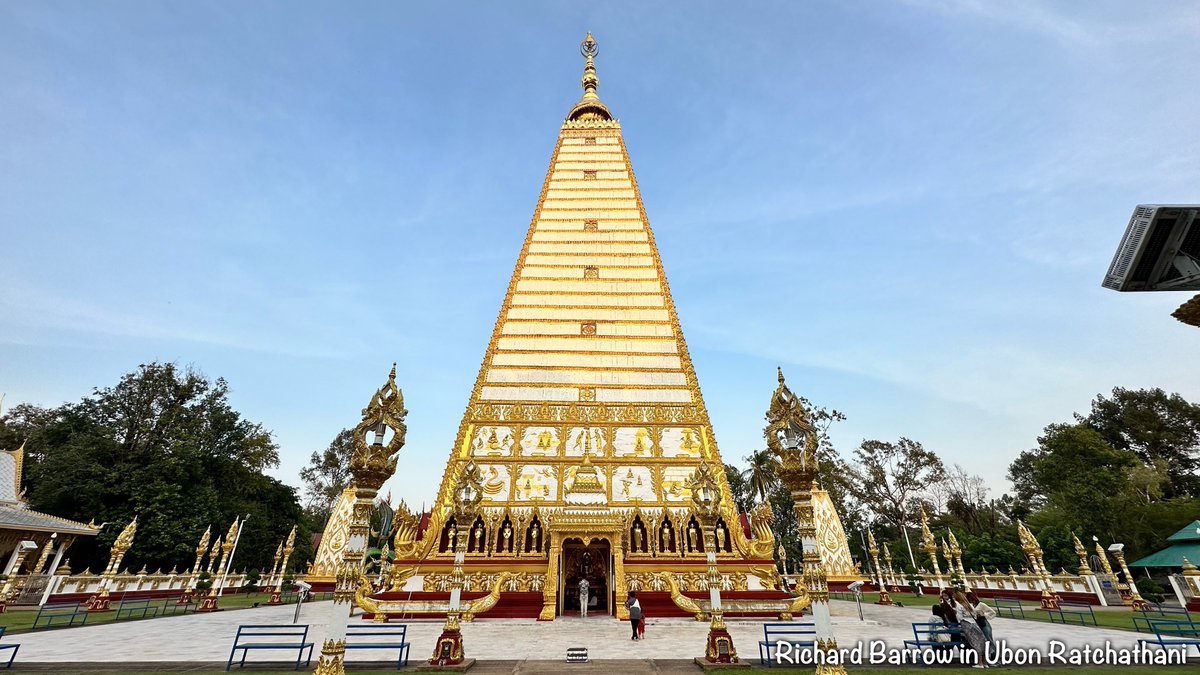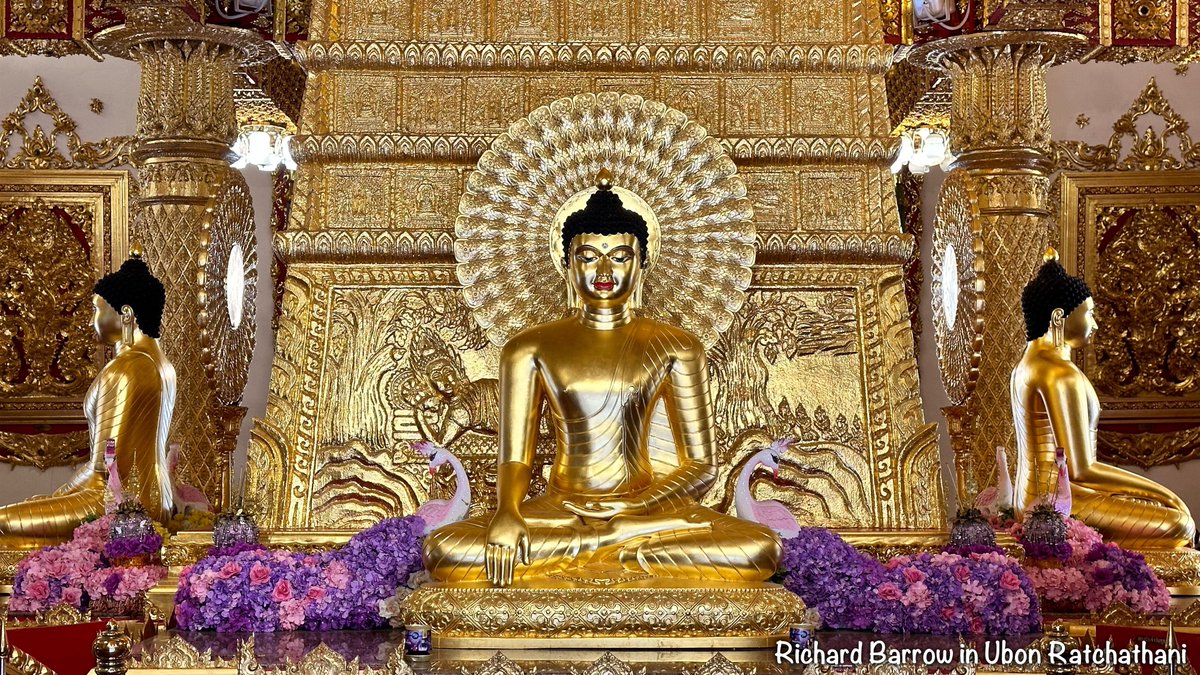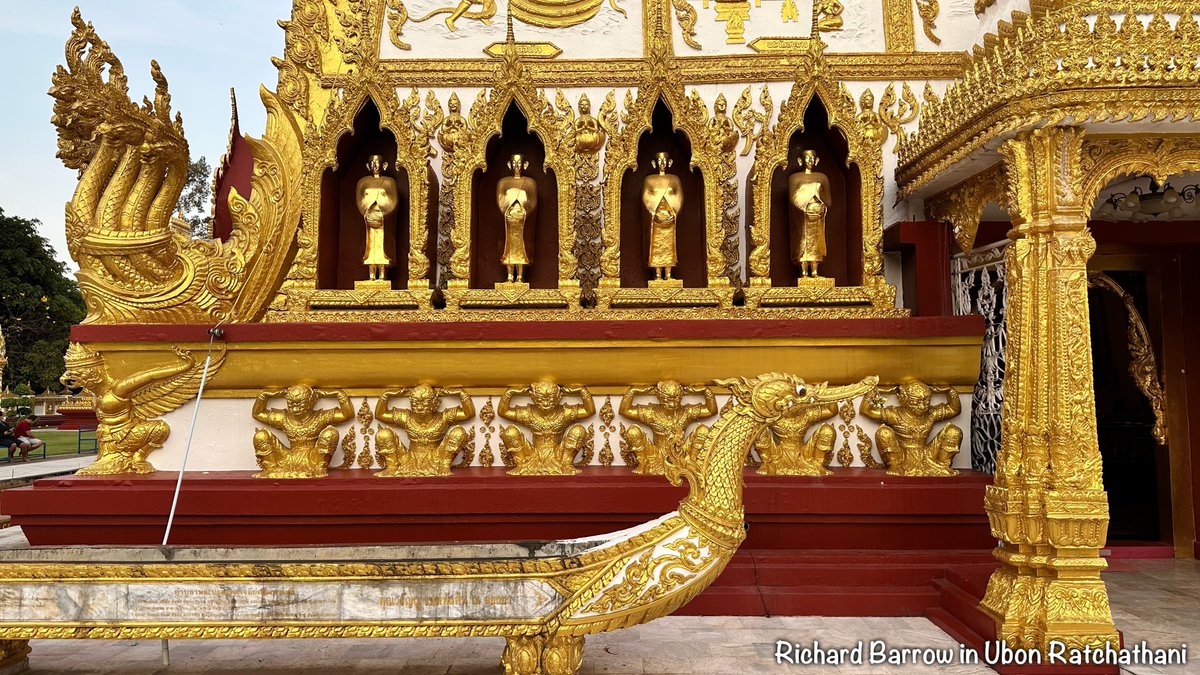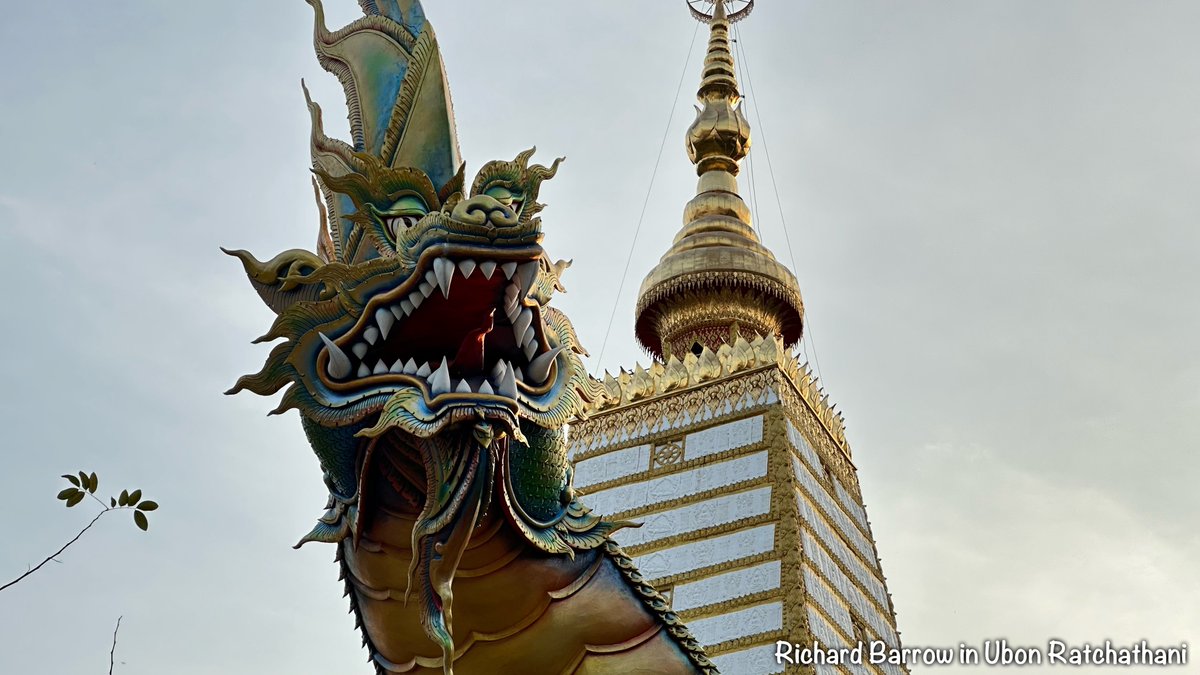 (34) There are several good dinner places in Ubon Ratchathani. What I tried is Thung Sri Muang Night Market which seems to have a good selection of street food.
📍MAP: map.app.goo.gl/VxpSpBdEr1Xyhp…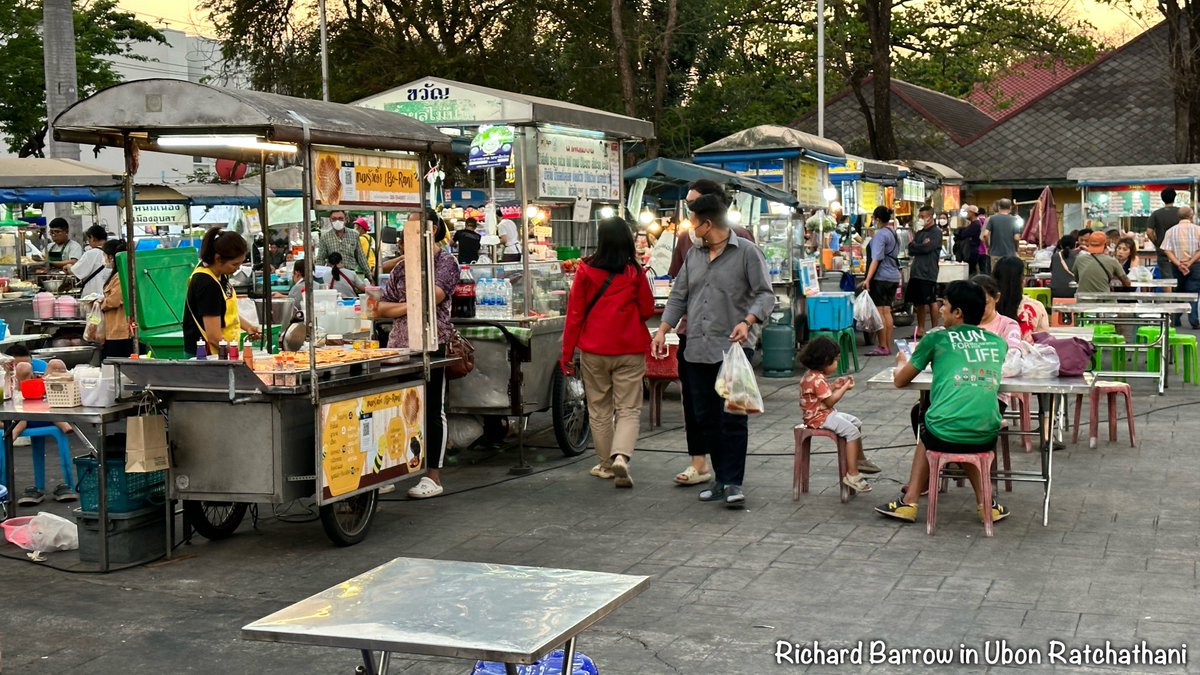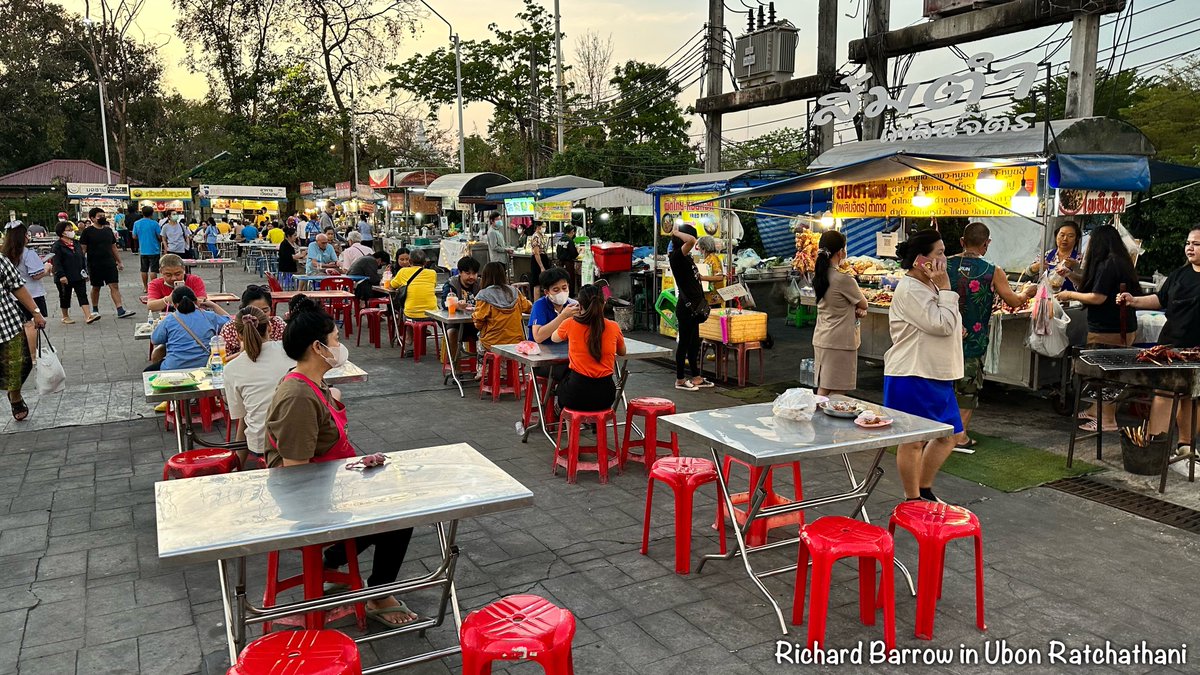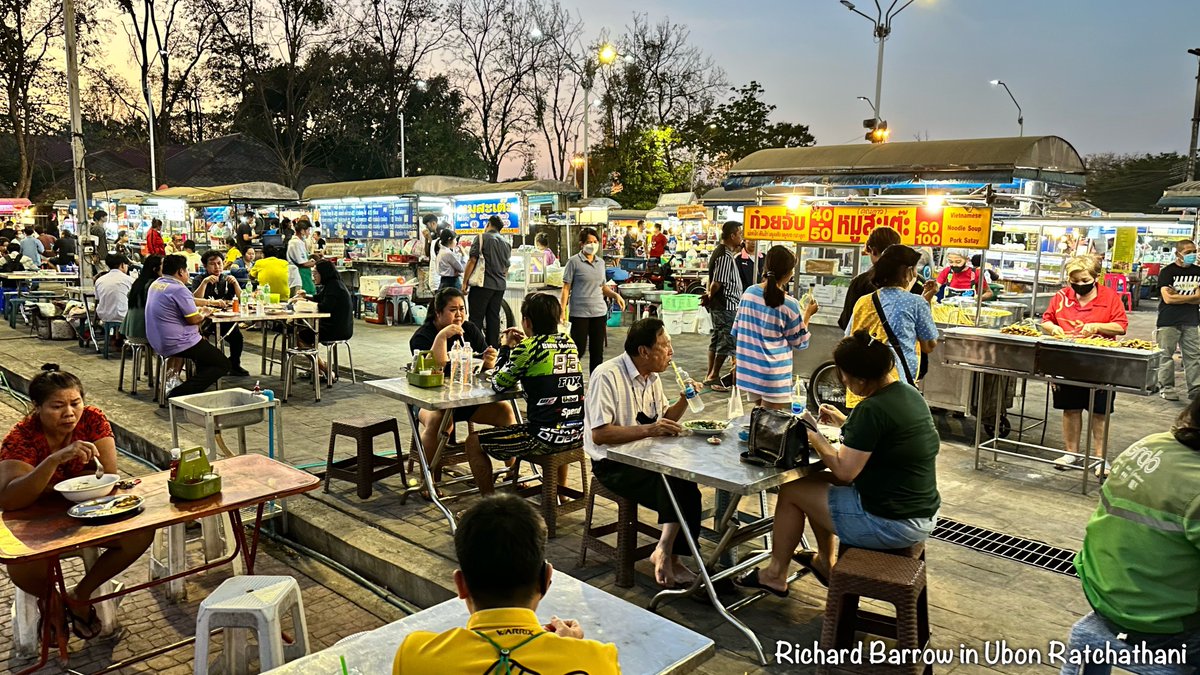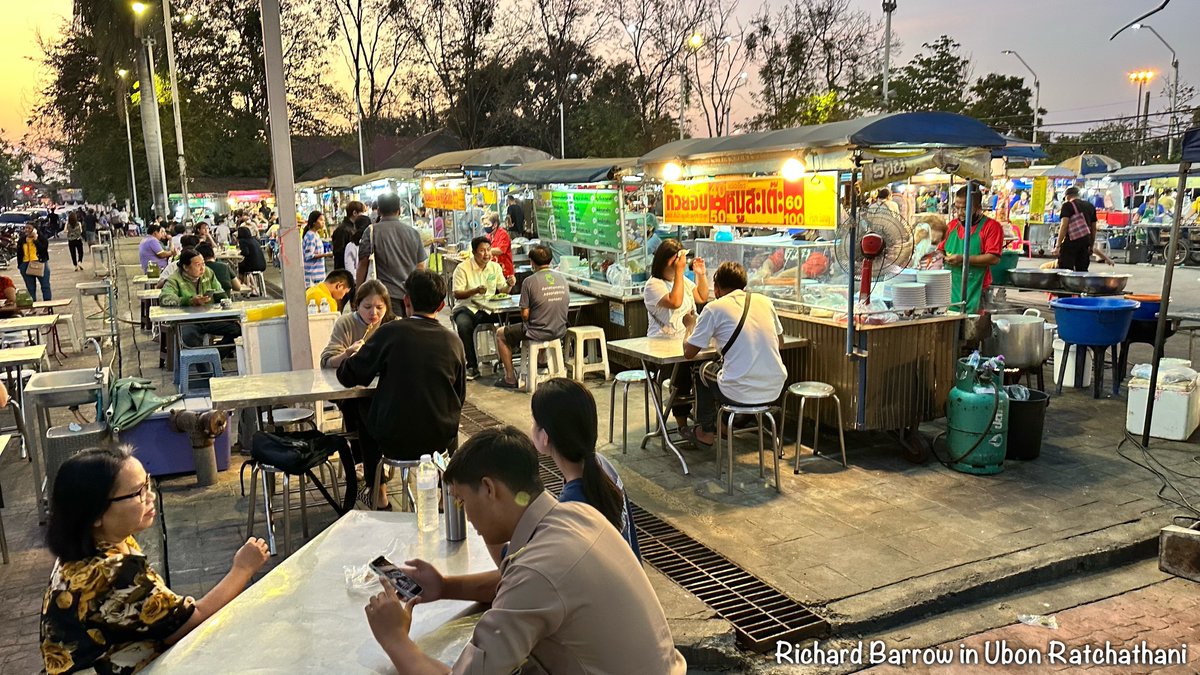 (35) This was the end of my three day train journey to Phimai and Ubon Ratchathani in Northeast Thailand. Time to take the sleeper train back to Bangkok. I hope you enjoy my photos and that I have inspired you to take the train to this region.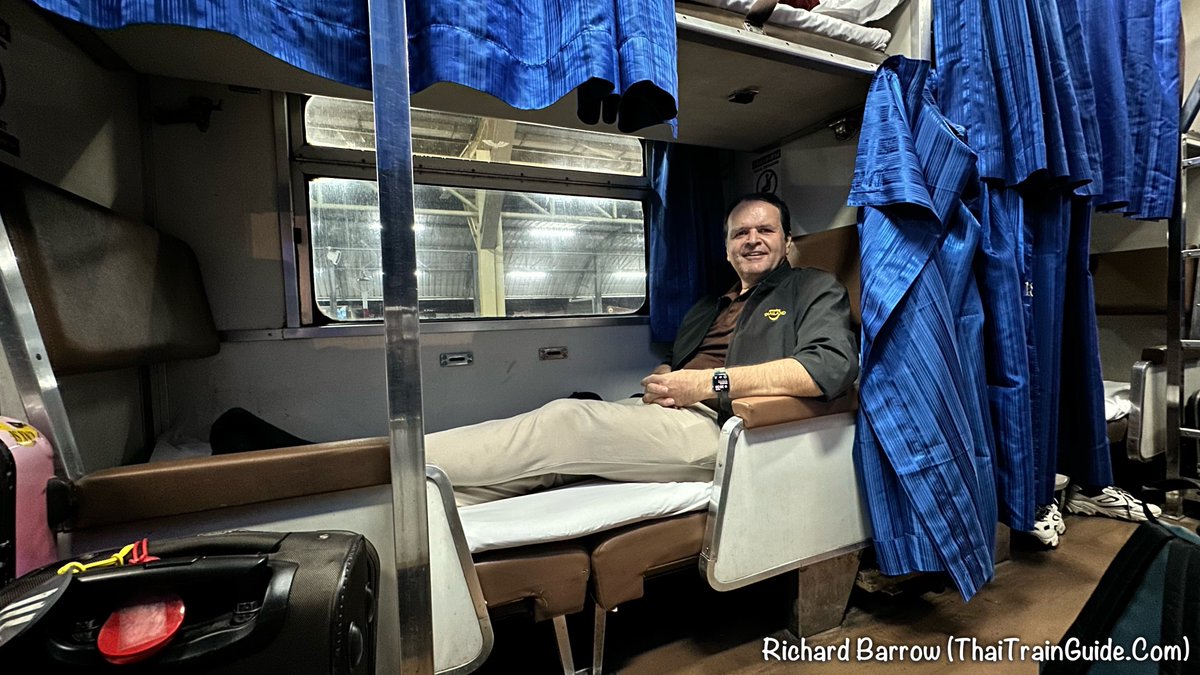 (36) Good morning from the outskirts of Bangkok. I slept well on the train from Ubon. This route also has newer CNR sleeper trains but gets in very early. Rapid No. 140 is better. The berths are slightly longer and wider on this old bed. Cheaper too.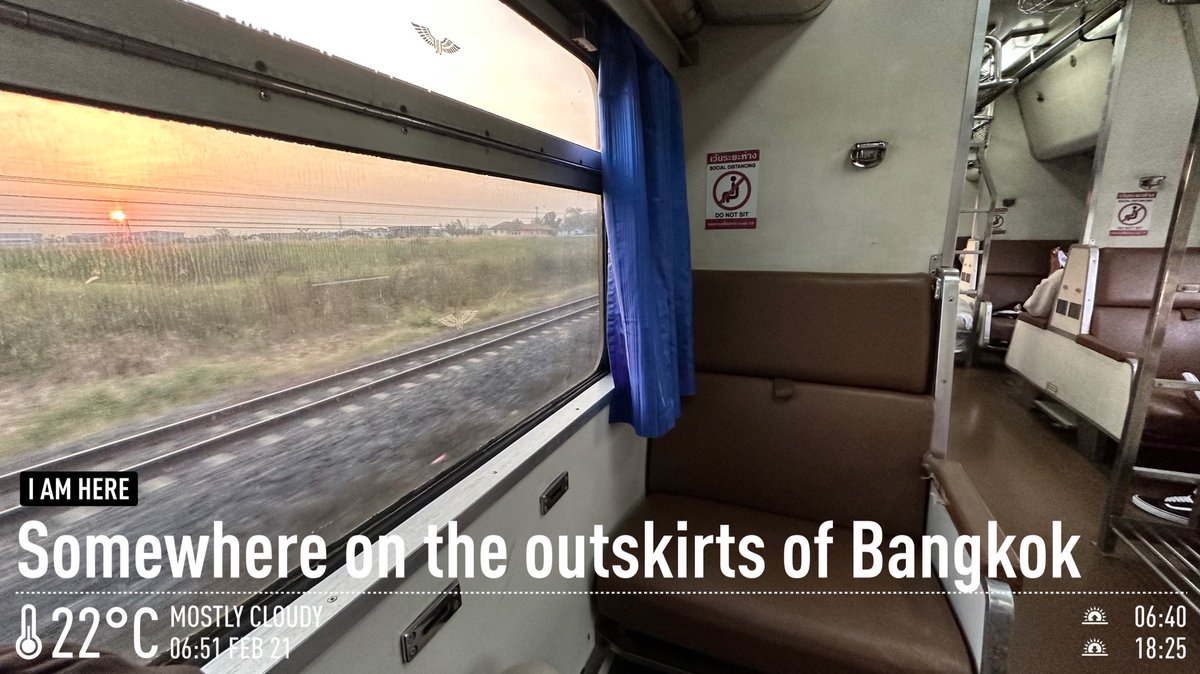 (37) I have arrived back safely Krung Thep Aphiwat Station. Follow @ThaiTrainGuide for more photos and details on the trains I caught. See you on the next trip!